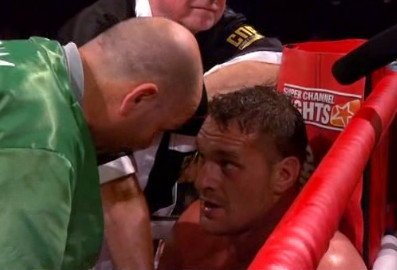 WBO International Heavyweight Champion Tyson Fury and challenger Christian Hammer came head-to-head today at the Cineworld in The O2 ahead of Saturday's big showdown, live and exclusive on BoxNation.
Undefeated Fury's risks his title and WBO mandatory shot against reigning world champion Wladimir Klitschko if he loses to the number three ranked challenger.
But Fury is fully aware of what's at stake and say he'll retire if can't defeat the hard-hitting Germany based Romaninan.
"If I can't beat Christian Hammer I'm going nowhere and may as well retire. If I can't knock him out with one clean punch then something's seriously wrong. I'm on a mission to become world heavyweight champion." Said Fury.
Hammer said, "I respect him for risking his position, but he won't get a chance to beat me. I'm also risking my position to take this fight and to come over here and fight him. I've been waiting a long time for this fight and I'll not waste it."
Promoter Frank Warren added, "This is a significant fight for Tyson and he can't afford to lose because the winner of this fight will definitely get a shot against Wladimir Klitschko after he fights Bryant Jennings in New York. Tyson has to come through against Hammer, he asked for a fighter in top 10 and Hammer is at number three. That says a lot about him that he wants to keep busy for Klitschko."
Tyson Fury's WBO International Heavyweight title defence against Christian Hammer and Chris Eubank Jnr's challenge for the Interim WBA World Middleweight title against champion Dmitry Chudinov headlines a quality-packed card featuring Cromer ace Liam Walsh defending his British and Commonwealth Super-Featherweight titles against rival Joe Murray; Bradley Skeete returning to action and challenging for the Vacant WBO European Welterweight title against Anzor Gamgebeli; big-hitting Enfield star Frank Buglioni makes the first defence, in his second reign, of the WBO European Super-Middleweight title, against Ivan Jukic; plus exciting welterweight Ahmet Patterson defending his English Welterweight Championship against Sunderland's undefeated Glenn Foot; Erith talent Lewis Pettitt; undefeated Manchester light-heavyweight prospect Dempsey Fury; plus the pro debut of Essex super-featherweight prospect Boy Jones Jnr.
Remaining Tickets for Risky Business are available from www.eventim.co.uk and 0844 249 1000 or AXS.com or 08448 24 48 24.
BoxNation will televise live and exclusive on Sky 437/HD 490, Virgin 546 and Talk Talk 525. Subscribe at www.boxnation.com Or watch online at Livesport.tv and via iPhone, iPad or Android.
Fury vs Hammer Press Conference Quotes
Heavyweight division world champion Wladimir Klitschko would be an "easy fight" according to brash-talking Tyson Fury.
The Manchester heavyweight takes on the tough Christian Hammer this weekend at the O2 Arena in London, live and exclusive on BoxNation, and has claimed that a matchup with Klitschko would be a straightforward affair.
26-year-old Fury is the mandatory challenger for Klitschko's WBO belt, and is expected to face the Ukrainian legend in his next bout, should he prevail this Saturday night.
The heavyweight division has seen a resurgence of late following the crowning of a new champion in WBC titleholder Deontay Wilder, with the charismatic American keen to share the ring with Fury, who has his own thoughts on how he wants the coming year to turn out.
"To be honest I'm the man in the division to beat. Everyone wants to fight me because they know I generate interest. People are interested in me probably for the wrong reasons, or the right reasons, but they're still interested – that's why people want to fight," said Fury.
"They want to come to the UK to fight me. [Deontay Wilder's] the world champion but he's the guy who first said he wants to fight Tyson Fury after winning the title. So I must be doing something right, I must be on the right track.
"I would like to fight Wladimir [Klitschko] first because number one he's my mandatory, number two he's the best in the division and number three because he is an easy fight. Then I'll fight Wilder. I won't be taking any interim fights I'll unify straight away," Fury said.
The Fury camp has been a joyful one of late following the recent release from prison of Tyson's dad John Fury after five-years away.
The imposing heavyweight believes that the return of his father will be a major plus for him going forward.
"It's definitely [a boost] to have my dad back, he's been away for a long time, so having him back in the gym and seeing his face every day is very good – it's happy days at Team Fury," he said.
"He gets to the gym at 7 in the morning and doesn't leave till 10 at night; he's definitely putting his misspent time back into practice in the gym. It is nice having him around and seeing his face back in the gym and the smile on it when you're doing good things in boxing.
"Anybody would be proud of what their sons achievements are – whatever they do. You don't have to be so successful but as long as you've got somebody who tries their best in something that they're doing then I think that any father should be proud of their son.
"You don't have to be a world champion, you don't have to be a millionaire but I believe every father should be proud of his own son," Fury said.
Despite talk of a world title fight in the summer, former British and Commonwealth champion Fury is well aware that he cannot overlook 27-year-old Hammer, who has 17 wins from his 20 fights.
"At this level in boxing you're fighting top five opponents and in Hammer the number three ranked WBO heavyweight in the world so nobody is going to be easy, they're all hard fights," said Fury.
"You can say I'm in touching distance of a world title but in hindsight I may as well be 5 million miles away because I'm not fighting Klitschko, I'm not in the ring with him and that fight's not happening in my mind.
"Until I'm in the ring in the opposite corner it's not on so it's just another fight for me, another day in the office. I'm going to go in there and box, move around and win and get out of there," he said.
Fury v Hammer is live and exclusive on BoxNation (Sky 437/490HD, Virgin 546 and TalkTalk 525) this Saturday at 7pm. Visit boxnation.com to subscribe.