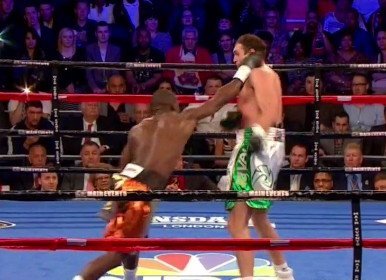 Undefeated heavyweight Tyson Fury (21-0, 15 KO's) is said to be in negotiations with three different opponents at one for his next fight. His promoter Mick Hennessey wants to match Fury against former WBA heavyweight champion David Haye (26-2, 24 KO's), and Fury has even dropped out of his planned fight against Kubrat Pulev just so that he can in the position to get a fight against Haye.
If Fury can get that fight he stands to make £2million, according to Steve Bunce. This is considerably more than the €400,000 he might make for a fight against IBF/IBO/WBA/WBO heavyweight champion Wladimir Klitschko if Fury were able to get past Pulev in the IBF heavyweight eliminator bout that he had been attempting to put together until recently.
The way Bounce sees it, the Haye fight is a win-win for Fury because he'll get a big payday and if he wins the fight, he still gets a big money bout against Wladimir despite not facing Pulev in the IBF eliminator.
If Fury loses the fight with Haye, he still is in position to get a title shot against Wladimir if he can win one or two fights to rebuild himself from the loss. Since Wladimir hasn't been very picky in the types of opponents he's been facing in the last two years, he might be more open to fighting Fury once he sees him get taken apart by Haye this year.
Given how poor Fury looked against Steve Cunningham in his American debut last April, it's likely Fury would last only two rounds tops against a fighter like Haye.
Fury will have to fight a lot better than he did against Cunningham to beat Haye. It's possible in theory that Fury can improve enough to give Haye problems, but not very likely. Fury is mostly just a tall slapper without any inside fighting skills. In win over Cunningham, Fury was able to hurt Cunningham while holding and hitting at point in the fight and that's one area where Fury looked good.