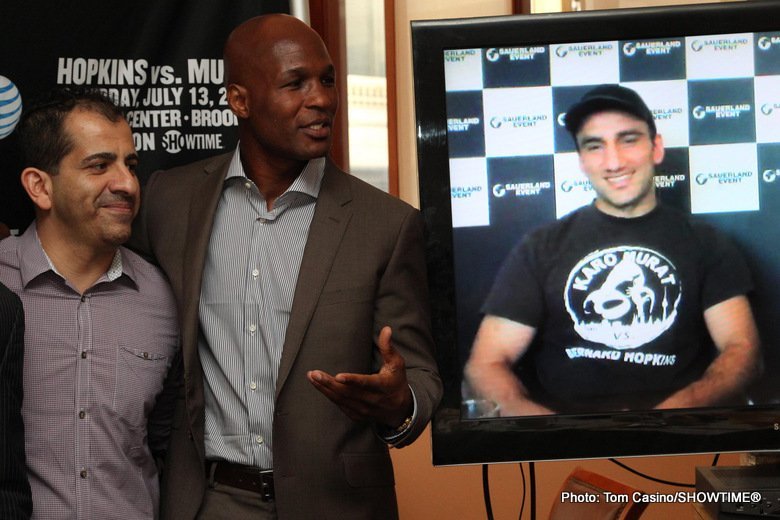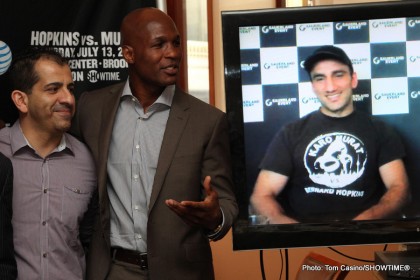 48-year-old IBF light heavyweight champion Bernard Hopkins (53-6-2, 32 KO's) says he's going to go right after his opponent Karo Murat's nose right off the bat on July 13th in their fight at the Barclays Center, in Brooklyn, New York, USA. This will be Hopkins' first defense of his title after beating Tavoris Cloud by a 12 round unanimous decision last March to take his title.
Hopkins was hoping to get a bigger fight against the likes of Carl Froch but he had no other choice but to face Murat (25-1-1, 15 KO's), as he was his mandatory challenger and it was either fight him or risk losing the title by having it stripped from him.
Hopkins said to fightnews.com "He eats jabs. He doesn't move his head…I will be working on the beak."
Hopkins figures to damage Murat's nose causing him to start opening his mouth to breath. At that point it'll be the beginning of the end for him. That's kind of how it played out for Murat in his 10th round TKO loss to Nathan Cleverly three years ago, and in his 12 round draw against Gabriel Campillo two years ago in a fight that many boxing fans felt that Campillo should have won comfortably.
Hopkins has all the advantages in this fight except for in the age department. Murat is 29 and Hopkins is 19 years older than him at 48. However, the age isn't an advantage for Murat because he's not as quick, powerful or as skilled as Hopkins.
Murat likes to fight on the inside and throw body shots. Hopkins might accommodate Murat a little bit by working on the inside at times against him, and it's probably going to be tough on Murat when he does this. It's hard to picture Murat being able to hang with Hopkins if he decides he wants to fight him in close.