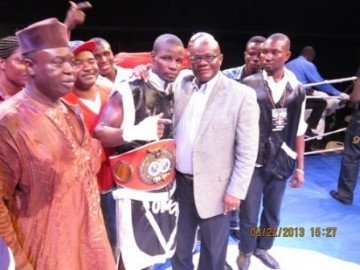 Ghanaian boxing enthusiast, manager and promoter, Alhaji Sally Enusah is convinced hot prospect, Frederick Lawson is primed to be a world boxing champion in the not-too-distant future and is promising to spearhead the bid with all the support necessary for the unbeaten boxer to realize the dream.
The hard-hitting Lawson has written the headlines with his spectacular dismissal of opponents in all of his 20 professional fights thus far, not least last March 22's 3rd round technical knockout stoppage of compatriot Isaac Sowah to claim the IBF Africa Welterweight belt. In all, Lawson has claimed 19 knockouts in his 20 career fights.
The performances of 22 year old Lawson, fondly nicknamed Okumka by his fans has even inspired fear in potential opponents. A purported defence of the IBF Africa title against Burkina Faso's Patrick Sou Toke on Africa Day, May 25 fell through after the Burkinabe pulled out at the last minute.
Getting opponents for Frederick Lawson, apparently is now a big ask, according to Alhaji Enusah but he remains defiant that Team Okumka will work very hard to push the boxer up to threshold of world title glory.
"We have a great plan for him but we have to be meticulous even though we fear no one inside the ring in world boxing. We know what we are doing, we are looking to make him a world champion and Insha Allah, he will be," Alhaji Enusah told www.sportsinghana.com, confidently.
Alhaji Enusah who insists he is part of the managerial team of Lawson, maintains that the process of leading Okumka to world championship glory has to be well programmed involving all parties.
"It's a complete team all working towards making him a world champion so I don't take decisions alone. What is important is to instill in him the character of hard work and discipline. The so-called juju in boxing is discipline and we'll make sure Frederick remains disciplined," Alhaji Sally Enusah affirmed.