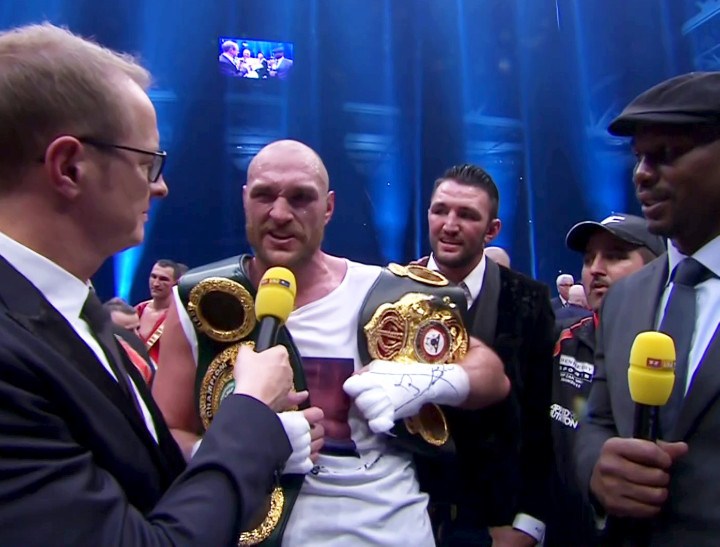 New lineal heavyweight champion, Tyson Fury, will happily trash his IBF title on principle after the sanctioning body threatened to strip him for immediately rematching Wladimir Klitschko, rather than face their #1 contender Vyacheslav Glazkov.
Both Fury's trainer and Uncle, Peter Fury, and Promoter Mick Hennessy have been enraged by the sanctioning body's decision to order a purse bid for the Glazkov fight less than a week after Fury's monumental win over Klitschko, and despite the fact Fury is contractually bound to rematch the 39 year-old Ukrainian next year.
Fury was the mandatory challenger to the WBO/WBA portions of Klitschko's titles and also picked up the IBF strap with his stunning upset win over Wladimir, meaning the rematch clause with Klitschko is independent of that portion of the championship.
The New Jersey-based sanctioning body's decision to aggressively pursue the Glazkov mandatory so soon after Fury's upset win – though while following it's own rules – clearly isn't taking into account the new champion's circumstances re: obligations to Klitschko, and Peter Fury confirms they will not be bullied if they cannot be granted a little leeway and understanding.
"If Klitschko had retired, we could have slipped straight in and dealt with the [IBF] mandatory but it says in the contract we can't have a voluntary so we're in between a rock and a hard place. What can we do about this?," Fury said to Sky Sports.
"I think it's totally unfair and unprofessional from the IBF, because Tyson was crowned champion only on Saturday. With all this carry on, they're giving us no time. They should be happy he holds the belt and is fighting again in the biggest fight out there. The winner would then take the IBF mandatory.
"If they [IBF] still want to take the belt from us in such pathetic and disgusting circumstances, that will result in a public and embarrassing display for the IBF. That's for sure," he said confirming that they will happily publicly throw the belt in the bin – and unlike Riddick Bowe, who famously trashed his WBC heavyweight title in slightly different circumstances in 1992, one imagines it won't be a cheap replica!
"As far as I'm concerned if they want to hustle and bully Tyson into fighting Glazkov, Tyson will end up putting the belt in the bin at a major press conference," promoter, Hennessy confirmed.
"If they force Tyson to fight Glazkov, it will not happen. Glazkov means nothing, he has zero value."
Unbeaten Ukrainian, Glazkov is being touted as an opponent for WBC heavyweight champion, Deontay Wilder's January defense of his title, and official confirmation of that situation is expected shortly.
Twitter @undilutedpoison