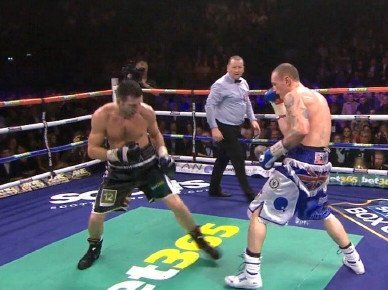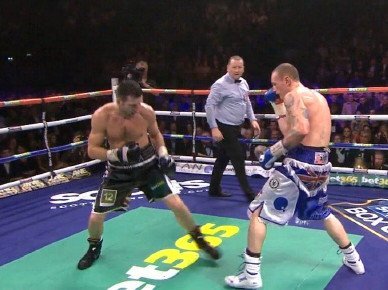 If George Groves (19-1, 15 KO's) is going to get a rematch against IBF/WBA super middleweight champion Carl Froch (32-2, 23 KO's), then it's probably going to take a change of tactics for him to get Froch to start showing interest in giving him a second chance.
Froch says he's not interested in fighting Groves again because he's not shown him the proper respect since their controversial fight from last month in Manchester. Froch won that fight by a 9th round stoppage after he hurt Groves with a series of head shots that caused the referee Howard John Foster to step in and halt the fight.
There's no question that Groves has been talking nonstop about how Froch owes him a rematch due to the controversy of their bout, and he's complained bitterly to anyone that would listen that he was treated unfairly.
Instead of Groves realizing that the referee made what he felt was the correct decision in stopping the fight in the 9th round when Groves was hurt by Froch, Groves has insisted that the referee made a mistake. This in turn has put Froch in a position where he has to either defend the referees decision or agree with Groves and thus cheapen his won victory.
Froch said to the Daily Express via Sky Sports as saying: "Groves has been telling anyone who would listen I have a duty to fight him. I beat him fair and square. The referee stopped the contest and there is no arguing about the fact he was down and out. Of course he wants to fight me again as he wants to make a killing. But why should I? I'm the champion and that means I call the shots."
Froch went onto say that Groves never gave James DeGale a rematch after beating him by what some boxing fans felt was a controversial 12 round majority decision in 2011. DeGale wanted the rematch, but Groves chose to move forward with his career rather than face DeGale a second time.
It seems that Groves is showing his youth by not realizing that a champion like Froch is really the one that calls the shots. With his victory, as controversial as it was, he can move on and he doesn't have to fight Groves a second time. It would be nice if he did, but why should he be nice when he feels that Groves isn't showing him any respect. With the way that Groves is talking in the media, he's just making it easier for Froch to move on rather than doing Groves a favor and giving him a second fight.