Share the post "Richard Schaefer named 2013 Promoter of the Year by Sports Illustrated"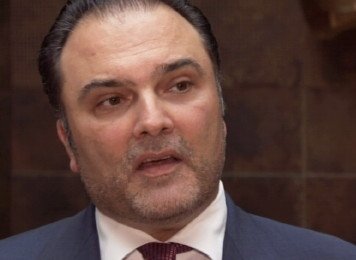 LOS ANGELES (Dec 26) – 2013 was one of the best years boxing has had in recent memory, and as Sports Illustrated recapped the past 12 months, it honored Golden Boy Promotions CEO Richard Schaefer as the iconic publication's Promoter of the Year.
"This is obviously an unexpected award, but I'm very appreciative and honored," said Schaefer. "But I must point out that a single person can't do what Golden Boy Promotions has done in 2013, so I'd like to thank my staff, our fighters, our sponsors and TV partners for their continued support and efforts in 2013. In the end, this is all about the fans of our great sport and I will continue to deliver the best fights and fighters to them in 2014 and beyond."
But that's not all, as pound-for-pound great Floyd Mayweather was named 2013's Fighter of the Year by Yahoo Sports.
"I am proud that my friend Floyd Mayweather has been voted as the Fighter of the Year by Yahoo," added Schaefer. "Floyd personifies that with hard work and dedication anything is possible. Together, we will continue to break records and elevate the great sport of boxing."
Wrote Sports Illustrated boxing writer Chris Mannix of Schaefer,
"Even Schaefer's harshest critics will admit: It's been a good year for Golden Boy Promotions. Banished by HBO — a decision based on Golden Boy's steering of many of its high profile fighters to Showtime — Schaefer has been a driving force behind Showtime's transformation into a legitimate competitor to HBO. With a deep stable at his disposal, Schaefer has put together big fight after big fight, from Saul Alvarez-Austin Trout to Danny Garcia-Lucas Matthysse to Adrien Broner-Marcos Maidana. As Floyd Mayweather's co-promoter, Schaefer was instrumental in the biggest promotion of the year, Mayweather-Alvarez, a fight that generated 2.2 million pay per view buys and became the highest grossing ($150 million) pay-per-view fight of all time. With a young roster — excluding 48-year-old Bernard Hopkins, who will try to become a unified titleholder next year — Golden Boy has a bright future."
Veteran Yahoo Sports boxing scribe Kevin Iole was equally effusive in his praise of Mayweather, writing, "He's one of those guys who will be appreciated much more when he's gone than he is while he's still competing. But he's the best of the best, and he was the best of a very good crop of fighters in 2013. For that, Floyd Mayweather Jr. is the 2013 Yahoo Sports Boxing Fighter of the Year."
Share the post "Richard Schaefer named 2013 Promoter of the Year by Sports Illustrated"