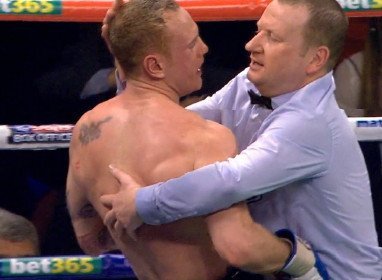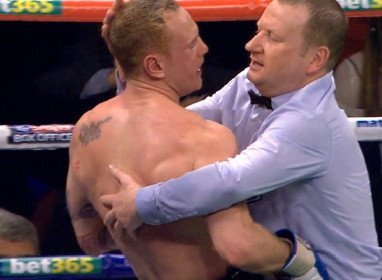 The fallout over last weekend's epic yet controversial Carl Froch-George Groves fight continues. Amid reported death threats aimed at referee Howard Foster – who, as if you didn't know, halted the fight in the 9th-round, instantly coming under fire from just about everybody, the feeling being that he halted the action prematurely – fans continue to talk about a possible rematch between the two British rivals.
Fans also continue to either praise Groves and have a go at Froch, or, is some cases, praise both fighters. But you will be hard pressed to find anyone who is entirely satisfied with what went down in Manchester last Saturday. The only way to end the controversy, the thinking goes, is to get Froch and Groves back in the ring ASAP. But it's almost never that simple in boxing.
Groves has demanded a second shot at the WBA/IBF super-middleweight king, claiming Froch's reputation as a "fight-anyone warrior" will be "lost" should the Nottingham man take another fight instead. Groves, speaking with Sky Sports, said that if Froch decides to retire "then so be it," but Groves stated that Froch will lose a ton of credibility if he boxes on and faces an opponent other than him.
Froch – who suffered a crazy amount of criticism from the very same fans he has thrilled, entertained, made proud and bled for – feels he has earned the right to see out his career the way he wants to (in my opinion justifiably feeling this way) and he told BBC he would be "going over old ground" if he fought Groves, a man he has beaten, again.
Froch says he is motivated by securing his legacy, and is more interested in a spectacular career finale in Las Vegas and/or a revenge fight against the only man he has not beaten in Andre Ward. "To finish in a massive fight would be better than going over old ground," he said.
So who is correct: Froch, who feels he beat Groves fair and square and is entitled to move on and look at fighting Ward (or maybe Julio Cesar Chavez Jr), or Groves, who feels the public will not stand for it if Froch fights anyone but him next? In reality, there is no black and white answer to such a question. Groves would be entitled to feel aggrieved if he never got his shot at revenge, while Froch has the right to close out his own considerable contribution to boxing the way he sees fit – and just imagine if Froch managed to beat Ward in a return; which people who have just jumped off it would be back riding on "The Cobra's" bandwagon in such a turn of events?
Many fans may feel Froch owes Groves and his public a rematch, but throughout boxing history there have been many instances where a great or controversial fight did not have a sequel added to it. Muhammad Ali never gave Doug Jones or Jimmy Young a rematch. Sugar Ray Robinson never fought Joey Maxim a second time (despite actually losing to Maxim, something Froch did not do against Groves). Sugar Ray Leonard and Marvin Hagler never met again. And so the list goes on.
Some fights are not destined to be fought again. Like it or not, this could well be the case with Froch and Groves.