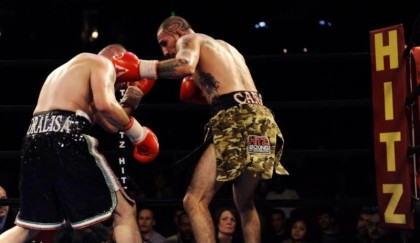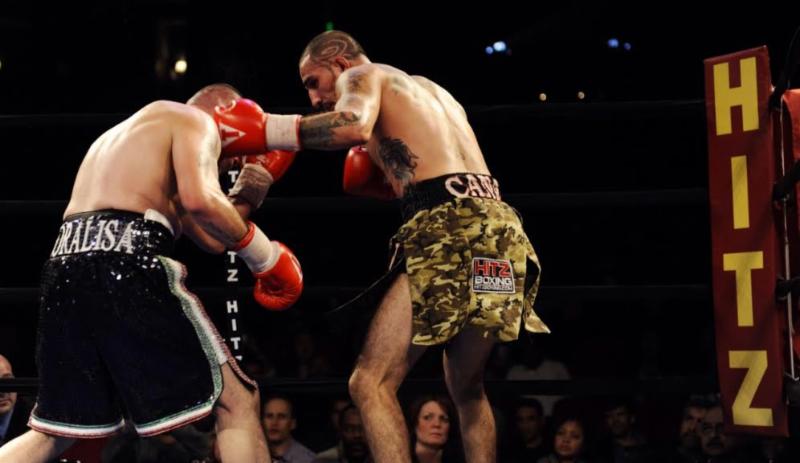 Photo: Tom Barnes/Hitz Boxing – An electric Black Wednesday crowd got more than their fill of pre-Thanksgiving action during Hitz Boxing's "Fight Night at the Horseshoe: The Black Wednesday Battle" Wednesday night in Hammond, IN.
In the six round main event, light welterweight Antonio "Aztec God of War" Canas (9-1-1, 3 KOs) beat the always tough Genaro "G" Mendez (7-2-1, 4 KOs) by majority decision. The two former sparring partners traded punches through the match.
"I wanna be a champion, Chicago's champion," said Canas after the fight. "I am looking at big things guys."
In the co-main event, middleweight Nick "Bad Boy" Ramirez (4-0-1, 1 KO) also won by majority decision in a four round all out brawl against Roy Navarro (3-1, 2 KOs). Following the fight Navarro, who had a large contingent of fans in the house, told ring announcer Ray Flores that he wants a rematch.
"This was a great night of fights, despite losing some key bouts in the last 72 hours, I am so excited about what 2014 holds," said Bobby Hitz. "We look forward to seeing Mike "Hollywood" Jimenez, Dimar "Strongman" Ortuz, Johnny "Wite Boi" Determan and Frank Scalise back in the ring next year."
Jimenez, Ortuz and Determan all had opponents drop off at the last minute.
Lightweight prospect Yakubu "Black Mamba" Amidu (21-4-2, 19 KOs) stopped Rynell Griffin (7-19-2, 2 KOs) at 2:50 into the seventh round. Amidu was coming off a controversial draw at the hands of world lightweight contender Juan Carlos Burgos on ESPN Friday Night Fights in late July. Amidu continued to show he was a world class contender by dominating Griffin the entire fight..
Kristin Gearhart (2-0) defeated Allanna "Hands of Stone" Jones (0-1) in a four round lightweight bout. The Chicago native keeps her undefeated record in tact and her future is bright as she dazzled the fans with her pure boxing ability.
Super featherweight Fidel Navarette (3-0-1, 1 KO) stopped DeWayne Wisdom (3-13, 1 KO) at 2:59 with a technical knockout. He is only the second fighter to have stopped Wisdom in 17 bouts.
Lightweight Jose "Chico" Arambula (6-0, 3 KOs) electrified the crowd with second round TKO of Fred Fleming (0-6) 1:47 into the second round. Arambula utilized supreme footwork and unleashed various combinations ending Fleming's night.
Luis "Sito" Santiago (7-0, 1 KO) beat journeyman boxer Ricky "Da Chosen 1" Smith (1-5) by majority decision in four round welterweight fight.
In his pro-debut lightweight Eddie Ramirez (1-0, 1 KO) stopped Aaron Lucky (1-5) with a first round TKO.