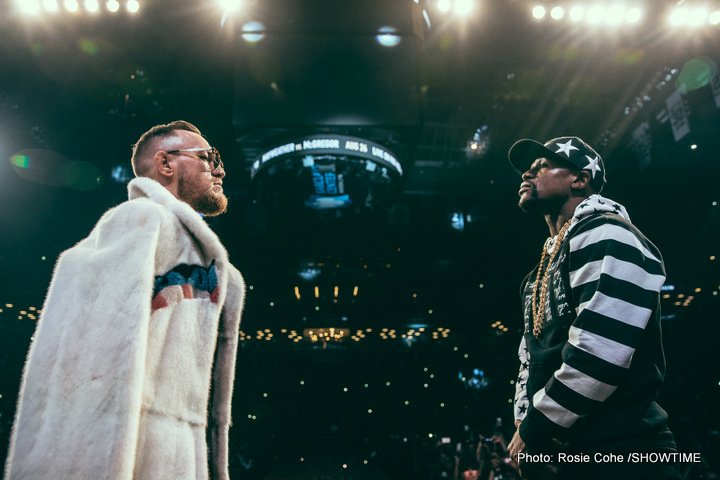 We don't yet know who the third man in the ring will be on August 26, to work the heavily hyped "Super Fight" between Floyd Mayweather and Conor McGregor, but McGregor has brought in a retired boxing ref to teach him the rules he must fight under in his boxing debut.
As per a piece from The Las Vegas Review-Journal, McGregor drafted in "Fair But Firm" Joe Cortez to work the mock fight he had recently with former two-time champ Paulie Malignaggi. Cortez of course worked a number of big fights, including some Mayweather fights (against Ricky Hatton for one big example; you know, the fight where "Fair But Firm" would not allow inside fighter Hatton to fight much at all on the inside). And Cortez said that McGregor "wants to make sure he understands all the rules going into the fight."
McGregor performed well enough according to Malignaggi – who told ESPN how the MMA fighter "has a game plan" going into the Mayweather mega-money match-up – but hasn't the Irishman left it a little late (just one month and four days to go unto fight night) to learn boxing's rules?
"I was highly recommended to [McGregor's] team as a referee to teach them the rules of boxing before the fight against Mayweather," Cortez told The Las Vegas Review-Journal. "So what I'm doing with the sparring sessions, we try to do everything to simulate the real fight from the instructions at the beginning to everything that goes on in a real fight. He has been doing very well. I was pretty impressed with everything he knows."
Cortez went on to say how he expects "an interesting fight," and that McGregor is "a very powerful puncher." In truth, no-one really knows WHAT to expect in August in Las Vegas, but at this late stage, can McGregor possibly learn enough, rules-wise and boxing-wise, to be able to stand any real chance against the finest defensive fighter, some say, of all time?
With a little over a month to go, McGregor could be accused of cramming. Mayweather on the other hand, has forgotten more about the art, and the rules, of boxing than his upcoming opponent will ever know.