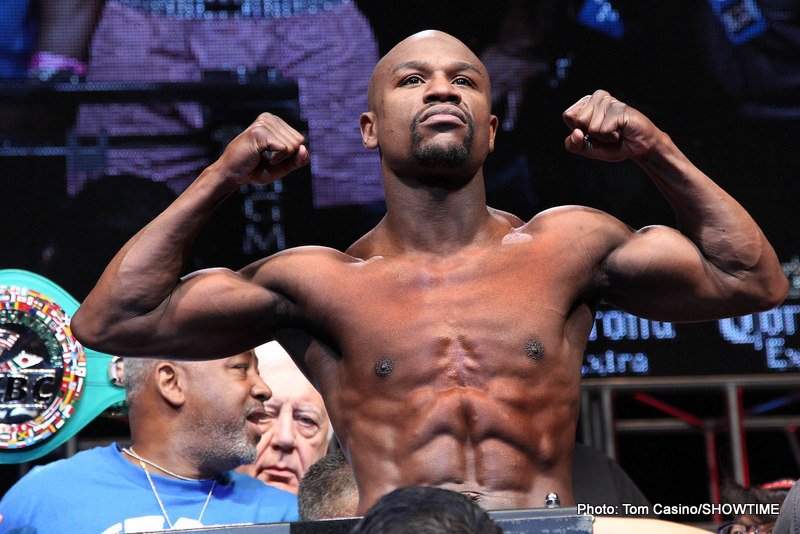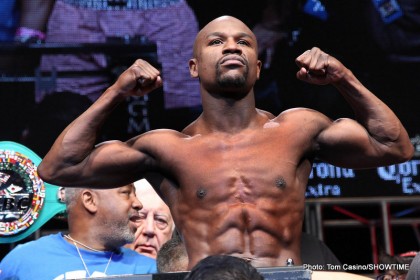 Some people, myself included, felt superstar Floyd Mayweather Junior would perhaps take a pass on his usual September fight due to the tougher than expected (not to mention foul-filled) night's work "Money" had last time out, when he won a decision over a rough and ready Marcos Maidana. But such thinking has been proven wrong, because Mayweather has officially announced how he will next fight on September 13th – the venue and, more importantly, the opponent, will be announced in two weeks.
Leonard Ellerbe, speaking with ESPN.com last night, said a return meeting with Maidana, (who, along with his fans, claimed he was robbed of a deserved decision earlier this month) is a possibility, but that there is a "long list" of potential opponents according to Floyd's right-hand man.
Amir Khan will not be fighting Mayweather, unless he can somehow undergo his Ramadam commitments and be ready to fight that quickly – which is unlikely as Khan himself has made clear. Maybe Khan will get his dream fight next year. In the meantime, fans are speculating on who it will be that gets the call for September 13.t.h
Danny Garcia's name is in the mix, while other names mentioned, or being mentioned as possibilities include: Shawn Porter, Keith Thurman and, dare we say it, Manny Pacquiao!
It would be a massive shock if Mayweather were to announce he is fighting Pac-Man in September, but there has been some talk of it, what with Manny's Top Rank contract coming to an end (of course, Pacquiao has talked of signing an extension with uncle Bob). The favourite to land the September fight, in my opinion anyway, is Maidana. The first fight was an excellent bout to watch and Mayweather's pride has been stung at the way good judges (those aside from the three officials who, depending on who you talk to, either did a great job or a lousy job on May 3rd) had him just barely winning against the Argentine.
As was the case after he'd scraped through against Mexico's Jose Luis Castillo a lifetime ago, Mayweather had the urge to fight his tough adversary again, to show to the world who the better man was. Look for Mayweather to fight Maidana again and to put on a master class that disappoints "El Chino's" fans but pleases Floyd's fans.
As for the September 13th venue, Ellerbe said there are other options aside from Floyd's second home of The MGM Grand in Las Vegas, but it would be a big shock if Mayweather agreed to box anywhere else. Almost as big a shock as the one that would be generated if Mayweather announced a mega-fight with Pacquiao!