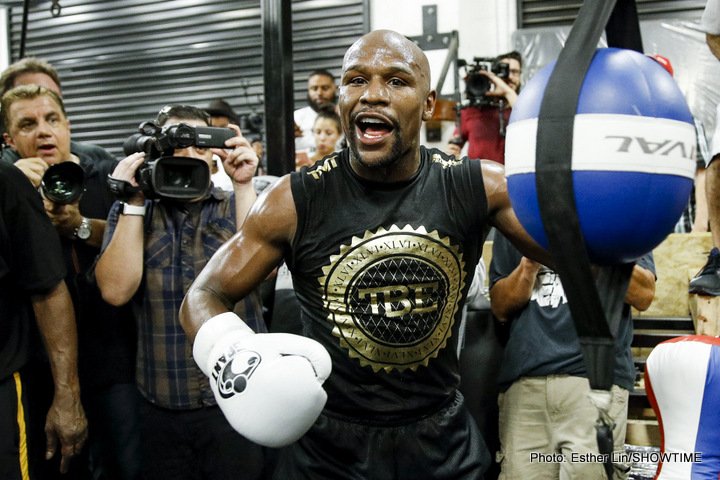 You've seen the images of great and legendary fighters on the WBC world title belt: with immortal fighters such as Muhammad Ali, Sugar Ray Robinson and others being afforded the tribute. Now, "retired" superstar Floyd Mayweather Junior says he wants his face on ALL world title belts; WBC/WBA/WBO and IBF.
In fact, in speaking with FightHype.com, the 40 year old future Hall of Famer who won major belts at five different weights DEMANDED how his likeness should be on all world title belts.
"I got the Emerald belt, I got the Money belt. They create belts, they named a belt after me, the Money belt," Mayweather, 50-0 said. "As a matter of fact, I'm letting the WBC know this right now, I want all the fighters to petition – I need my face on the WBC belt and I need my face on the IBF the WBO and the WBA. I need my face on all the belts. S**t, the Godfather's face should go on all the belts."
Mayweather's ego seems to know absolutely no bounds. The self proclaimed "T.B.E" (and of course you know what it stands for!) recently got into a social media spat with another great (greater) fighter in Sugar Ray Leonard. During the Christmas holidays, Mayweather argued with Sugar Ray, stating how he would "beat them all." Mayweather pointed to Leonard's loss to Roberto Duran in the first fight between the two. "You lost your first fight to a lightweight. TBE has never lost. You're Sugar, I'm TBE. Whether a fighter was young or old, in his prime or past his prime, I beat them all," Mayweather wrote.
Now Floyd is demanding to be featured on all world title belts. It seems unlikely the four governing bodies will accommodate him. As for who was greater, Mayweather or Leonard, I have my opinion, doubtless you have yours. Yes, Duran did defeat Leonard over 15 epic rounds back in 1980, but what would that exact version of Duran have done to even a peak Mayweather?
Again, I have my opinion, doubtless you have yours.