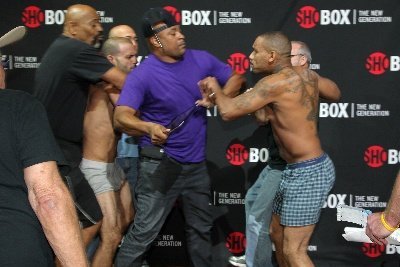 By Prince Dornu-Leiku, photo by Tom Casino/SHOWTIME – Even before he takes to the ring on Friday night against James Winchester, WBC / USNBC Light Middleweight titlist Joey Hernandez is eyeing a fight date against WBC 154-pound champion Saul "Canelo" Alvarez (41-0-1, 31KOs).
28 year old Hernadez, 22-1, 13 KOs, on a 7-fight winning streak, has exclusively told East Side Boxing there is no looking back now as he gets closer to realizing his world title dreams and is promising his fans of becoming a world champion by the end of 2013.
He is therefore pledging a masterclass performance Friday night against Winchester (15-5, 5 KOs) at the Gulfstream Park in Hallandale Beach, Fla., Miami, Florida (live at 11 p.m. ET/PT, on SHOWTIME).
"I finally get the opportunity to showcase myself on a national level since my setback 3 years ago which was not me. This fight is the new beginning of my career, I have what boxing needs and will showcase it Friday night," he said.
The southpaw with Cuban roots and who is trained by Miguel Cotto's uncle, added: "This fight will be the breakthrough for me. A lot of fans and boxing people around the world will want to see more with what I bring to the ring, I'm excited and ready to go after 9 hard weeks of camp in Puerto Rico with Evangelista Cotto."
Hernandez also has a special message for the WBC champion who reportedly is looking for an opponent for his expected return on May 4th, 2013 with a list of three names under consideration – Floyd Mayweather Jr., WBC middleweight champion Sergio Martinez, and former three division champion Miguel Cotto.
"I want big fights, I'm ranked in every organization. Now with national TV exposure on such a good network they will have to see me. I heard Canelo is looking for a voluntary title defense since Lara Vanes had a draw. I want him to be tuned in Friday," Joey Hernadez said.
The man nicknamed Twinkle Fingers continued: "I hold a WBC title, ranking and I'm a real Jr. Middleweight that is on his way up just like him. I am young, charismatic, exciting and I have what TV lacks. This is my time now."