WBC super featherweight champion Miguel Berchelt (37-1, 33 KOs) is ready to utilize his size advantage to turn back the threat that the highly talented Oscar Valdez (28-0, 22 KOs) will be presenting to him tonight.
After weighing in on Friday, Berchelt was wolfing down the food rapidly, and you could tell that he plans on being as big as possible for the fight.
Size might be the only advantage Berchelt has in this fight against Valdez, and he's going to use it to the hilt.
With his two-inch height advantage, the 5'7″ Berchelt looked considerably bigger than former WBO featherweight champion Valdez when the two stood across from each other the stage at Friday's weigh-in.
Berchelt vs. Valdez will be fighting tonight live on ESPN and ESPN+ from 'The Bubble' at the MGM Grand in Las Vegas, Nevada. The boxing action starts at 10 p.m. ET/7 p.m. PT.
Valdez moved up in weight from 126 to 130 in November 2019, but until this fight, he still resembled a featherweight in size.
Valdez has packed the size on his frame during this training camp, and he looks stronger and sturdier. Still, he's likely to be the smaller fighter when he steps foot inside the ring tonight against Berchelt, who looks like he belongs at lightweight.
Berchelt to use his size
"You look like you're chiseled in stone, you look like you're in great shape," said Max Kellerman on Max on Boxing in talking to Miguel Berchelt.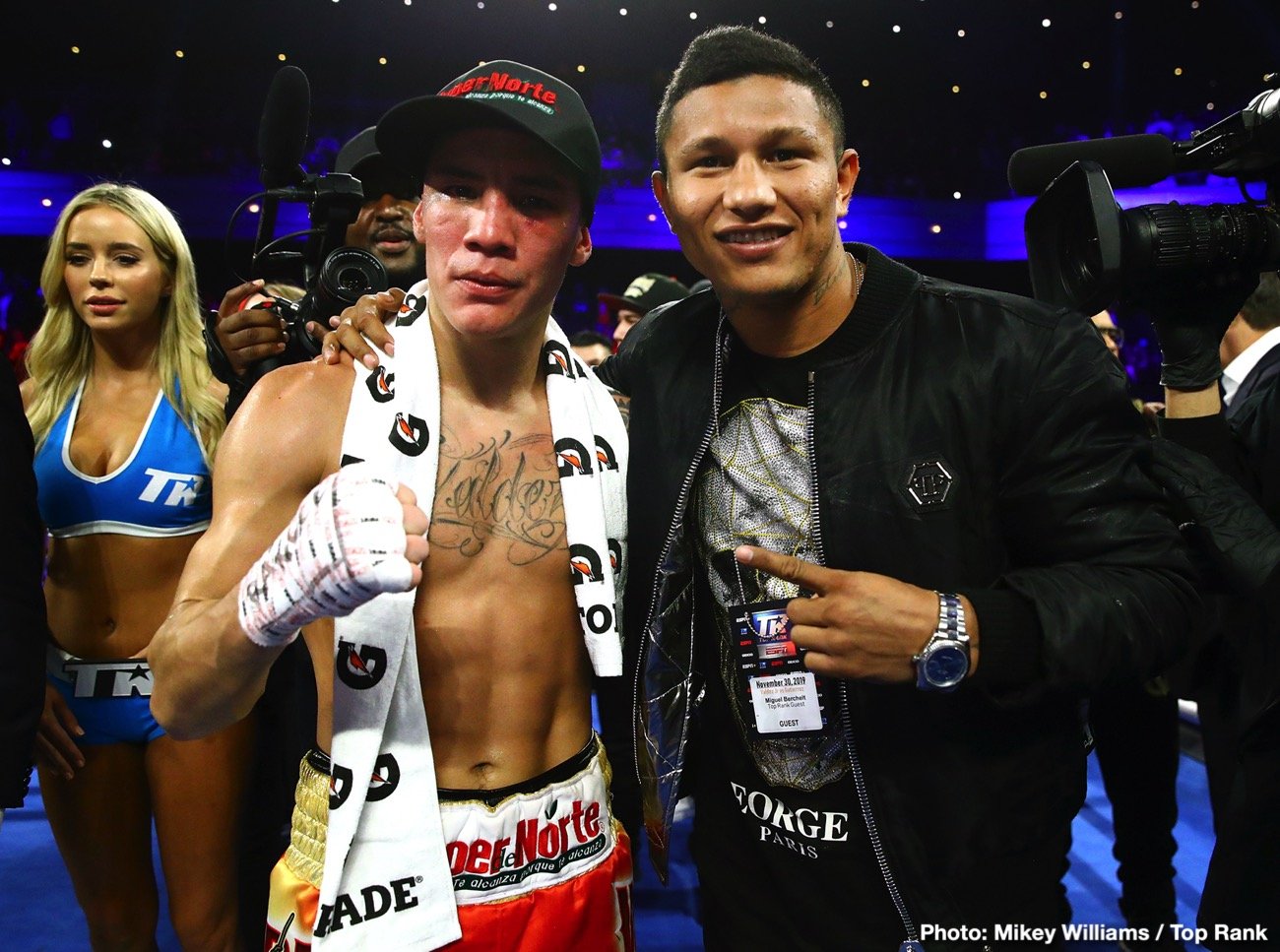 "But it looked like you were very anxious to start eating food and confusing liquid as soon as you weighed in like it was a struggle. Tell me about it."
"Everybody knows I struggle to make the weight, but I always make the weight," said Miguel Berchelt.
"I'm going to gain as much weight as possible after rehydrating, and I'm going to give a great fight on Saturday."
It's nice that Berchelt is open about wanting to get as big as possible for this fight. Some fighters would make little of the fact that they're to use size to win a fight, but Berchelt is upfront about it.
Valdez will have to come up with a different method to win tonight from what he's been doing in his fights since he turned pro in 2012. Oscar has been going to war with almost all his opponents, and it's been costly at times for him.
We saw Valdez get badly stunned by Colombian Miguel Marriaga in 2017, and he's been dropped by Genesis Servania and Adam 'Blunose' Lopez. Berchelt has power similar to Marriaga, but he can throw a lot more punches per round.
"You always give a great fight, Miguel, and your fights against Fernando Vargas, which I called at ringside, were classic wars, and no one doubts that,' said Kellerman to Berchelt.
"But do you think it's an advantage or a disadvantage, a disadvantage in the sense that you obviously have to struggle to make the weight, which must weaken you, or is it an advantage that once you rehydrate that you're the much naturally the larger guy?" said Kellerman to Berchelt.
"I struggle to make the weight, but I see it as an advantage because once I make the weight, I gain a lot of weight too," said Berchelt.
"That's why I see it as an advantage," and you're going to see that."
It's a clear advantage for Berchelt to be bigger than his opposition, and he's been able to get away with it because he's still able to make weight at 130.
So unless Berchelt is suddenly weakened from having made weight, Valdez is going to have a hard time beating him if his game plan is to meet him in the center of the ring to trade leather.
For this fight, Valdez must use his boxing brain to box Berchelt and stay out of the way of his combination shots.
Andre Ward of ESPN sees Berhclet as hittable with how he stands straight up while attacking, but his opponents need to walk through fire to take advantage of his flaws.
Miguel Berchelt to show why he's champion
"I was asking Oscar Valdez in the previous segment about the idea that the boxing world is buzzing right now," said Kellerman.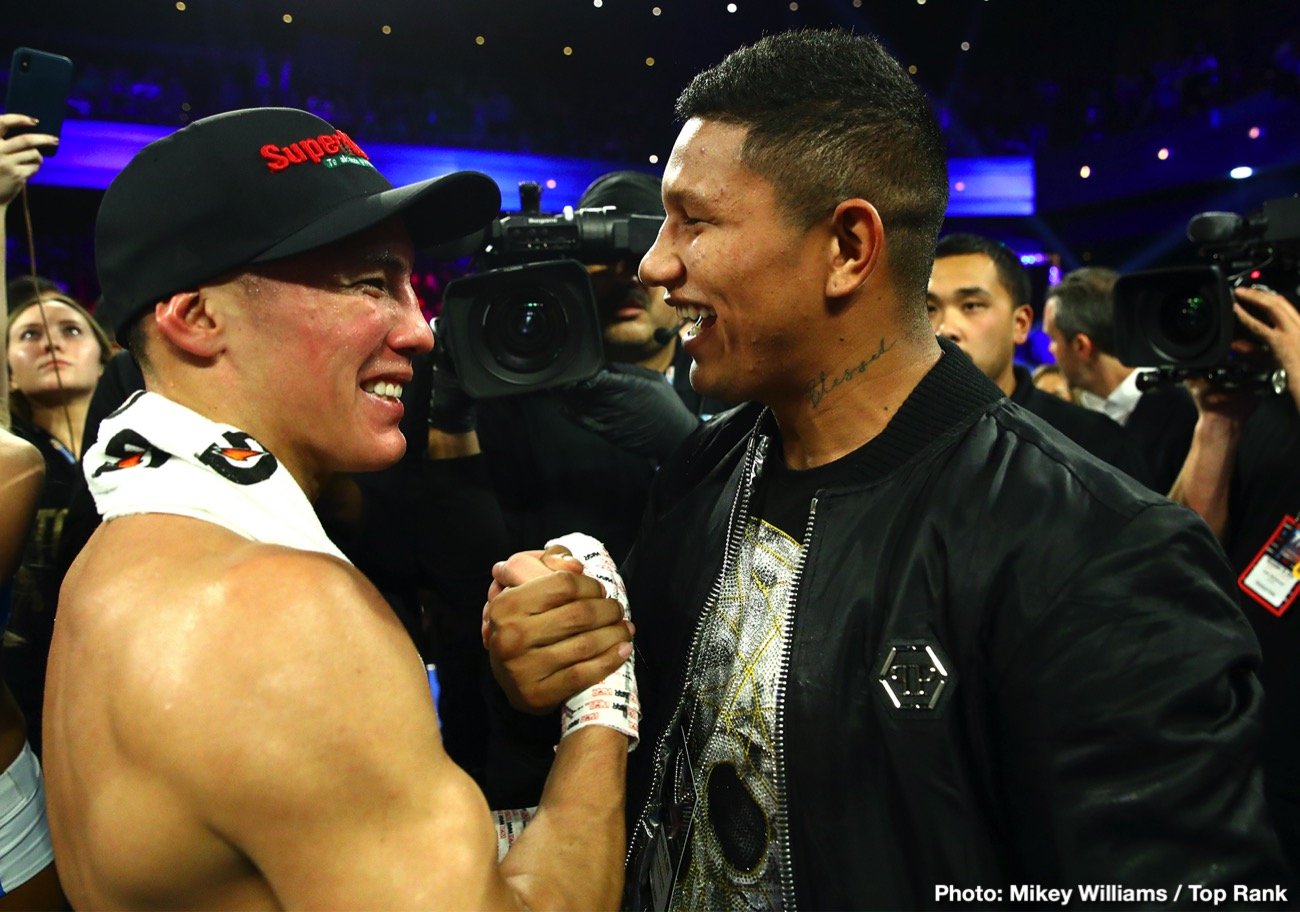 "As this fight gets closer, everyone thinks, 'This is going to be one of those all-Mexican classic wars.'
What do you feel that you're going to get in the ring in a fight that everyone thinks can be a 'Fight of The Year' type of affair?"
"Everyone knows what happens when there are two Mexican warriors in the ring, and I'm going to show why I'm the champion, and I'm going to retain my title," said Berchelt.
"Andre Ward wrote that you felt slighted by the Mexican Boxing Federation where, as an amateur, you weren't given a chance to represent Mexico in 2012, and Valdez was chosen instead. Can you tell me about that?" said Kellmerna to Berchelt.
"Oscar has the experience of being an Olympian in 2008, and because of that experience, I believe that's why they chose him, even though I deserved the opportunity because I was a champion in 2010," said Berchelt.
"But life goes around, and here we are, and I'm going to take advantage of the opportunity right now," said Berchelt.
You can tell that it bothers Berchelt still that he was overlooked when it came time for the Olympic team to be picked for Mexico in 2012.
Valdez got chosen for the second time rather than him, and that seems to bother him still.
Hopefully, Berchelt's bitterness doesn't cause him to fight in an overly aggressive style tonight because Valdez is a smart fighter, and he'll take advantage of that. Berchelt has got to use his intellect and not leave many openings for Valdez to land his shots.
Winning by knockout not important
"Are you motivated at all about that?" said Kellerman in sounding like an instigator. "A lot of times, guys with your style aren't favored in the amateurs.
"You have a very professional style. Were you motivated by that, thinking, 'I'm going to show them,' and now you have the opportunity to prove it in the ring against Valdez?"
"It doesn't bother me at all. He [Valdez] had the experience to go to two Olympic games," Berchelt said.
"Right now, I'm the champion. He was also a champion, but right now, he's at my weight, and as we like to say in Mexico, 'We're going to put on a great fight and leave it all on the line.'"
"You've been quoted as saying, 'Knockouts are the best judges.' Are you going to knock Oscar Valdez out?" said Kellerman.
"I'm not going to go for a knockout, but if the knockout comes," said Berchelt.
"You know, we're going to go round by round, but if it happens, I'm going to take it, but I'm also ready to go for a decision," said Berchelt.
For Berchelt to knockout Valdez, he's going to have to come after him the way he did in his last three fights against Eleazar Valenzuela, Jason Sosa, and Francisco Vargas.
Berchelt used pressure against those three fighters and was looking knockout from the first round.
Valdez will need to use his feet if Berchelt puts constant pressure on him in the same way because he won't be able to stand his ground under that kind of a storm.