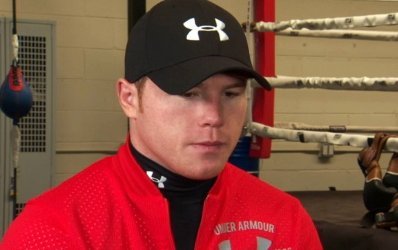 Showtime Vice President of Sports Stephen Espinoza feels confident that the Floyd Mayweather Jr. vs. Saul "Canelo" Alvarez fight will take place on September 14th in Las Vegas, Nevada, as he says the negotiations between Mayweather and Canelo's team are underway.
Espinoza said to AP "I think the biggest fight out there is Mayweather vs. Canelo. So far the negotiations are going well and I think everyone involved is working to make it happen."
There's no word about what weight the fight will take place at. Mayweather would likely want the fight to take place at 147 because if he agree to fight Canelo at his weight of 154, the weight differences between the two fighters could be as much as 25 to 30 pounds by the time they step inside the ring on September 24.
Mayweather came into his fight with Robert "The Ghost" Guerrero weighing 150 lbs. on May 4th of this month, while Canelo scaled in at 172 lbs. That's 22 pounds difference in weight. Mayweather has tried fighting above 150 in the past and he's not looked good carrying the weight.
Canelo fans see it as no problem for Mayweather to bulk up to 170 like Canelo, but Mayweather doesn't have the frame to put on 20 pounds and the weight that he would put on would be a lot of fat and muscle that slows him down.
The only way this fight works is if Canelo moves down to 147 or they fight at 154 with a strict rehydration clause that will keep Canelo from coming in over 160 the night of the fight. Even 165 is too much because Mayweather had problems against Miguel Cotto last year in May when Cotto came into the fight weighing 165.
Canelo has to be kept at around 160 for the fight to be a possibility. That would still give Canelo a comfortable 10 pound weight advantage over Mayweather, and if that's not enough of an advantage for Canelo then he needs to forget about fighting him and focus on having other welterweights come up to 154 to fight him.
Canelo should actually be fighting guys from his weight class or guys near his own weight. 172. There are many middleweights who don't rehydrate that much, and here Canelo is fighting at 154 against welterweights. If Canelo can rehydrate to light heavyweight [175], then that's not really fair for Mayweather or the welterweights.
Canelo is basically a middleweight that dehydrates down to 154 to fight at junior middleweight. Not sure how much longer he can this because taking off all that weight has got to be hard on his body, and he's only 22. He needs to buckle down and fight in the weight class that goes with his body weight instead of draining down to fight much lighter guys.