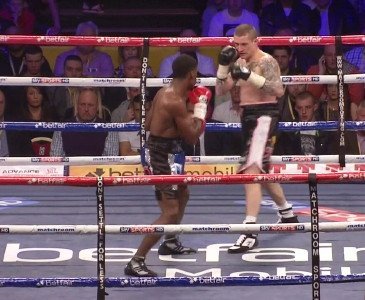 In what appears to be WBO lightweight champion Ricky Burns (36-2, 11 KO's) making a partial excuse for his poor performance last Saturday night in beating Jose Gonzalez (22-1, 17 KO's) by a 9th round stoppage, Burns complained after the fight that he hadn't been able to study Gonzalez going into the fight because of the lack of video out there on the 29-year-old fighter from Puerto Rico.
Gonzalez had been flying under the radar for so long in fighting less than world class opposition during his 5-year pro career that there just wasn't much for Burns to see of him on video.
Burns said after the fight "We couldn't get much footage of him. The only clips we could get were of him knocking boys out. I thought he would be a come forward fighter, but his arms were so long. He caught me with some good shots, but I proved I can take a good shot."
It wouldn't have mattered had Gonzalez been a come forward fighter or not, he still would have given Burns pure hell last night. Gonzalez was so much faster, so much stronger and so much better on defense, the fight was really a mismatch until he injured his left wrist and possibly gassed out.
Let's be honest; Burns was getting totally schooled by Gonzalez until after the 7th. You'd have to be blind to give Burns any of the first seven rounds of the fight because it was just painfully one-sided during those rounds.
When Gonzalez was coming forward, he was really punishing Burns with heavy shots thrown with a lot of speed. I think Burns is kidding himself if thinks he would have done any better had he been able to study Gonzalez's fighting style. The fact of the matter is Gonzalez was just too fast, too strong and too talented before the injury occurred and Burns was getting a major whipping.
Burns will be fighting next in September, but it won't be against Gonzalez. His promoter Eddie Hearn doesn't want to put Burns back in with Gonzalez, and it's pretty easy to see why. Hearn is going to need to be careful with Burns from now on because I honestly don't think he has very much time left as the WBO lightweight champ.
Hearn better look to have Burns milk his title while he can because he's going to have problems when he matches him tough again rather than the easy guys that Burns has been fighting like Kevin Mitchell, Paulus Moses, Michael Katsidis and Nicky Cook, to name just a small handful of the easy fights he's had.