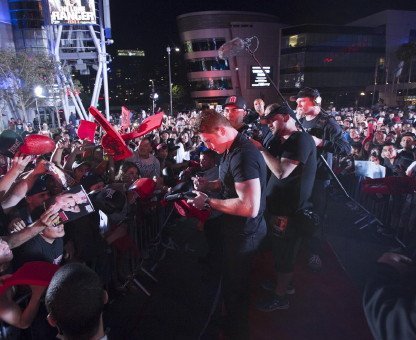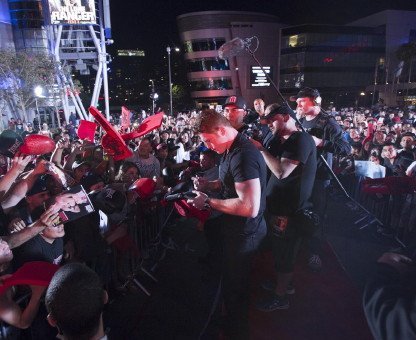 (Photo credit: Esther Lin/Showtime) Golden Boy Promotions has decided to price the upcoming September 14th fight between Floyd Mayweather Jr. and their fighter Saul "Canelo" Alvarez at $65 for standard definition and $75 for high definition pay per view. This is good news. Golden Boy could have gotten really greedy and priced the fight into the $70s for standard definition and boxing fans likely would have purchased the fight in just as high numbers as they will for the $65 fight card.
The recent tour by Mayweather and Canelo will no doubt make the Mayweather-Canelo fight a lot bigger, as will the All Access episodes that will be televised by Showtime. Whether the fight will break the all-time PPV buys record set by Mayweather and Oscar De La Hoya in 2007 is another matter altogether.
It may not be possible for the fight to get that kind of interest. Mayweather was a big part of making that fight a success because he over the top during the press conferences. Unfortunately, he was a lot more subdued during the 11-city press tour with Canelo until they got to Los Angeles.
That was the only time where Mayweather showed any real life. He wasted his opportunities to generate interest in other fighter cities on the tour being saying the same things over and over, and not talking trash. Canelo doesn't have the personality to generate a lot of interest, as he's much to quiet and reserved.
Canelo is a lot like Miguel Cotto in that respect by saying little, showing little motion and keeping his comments short and to the point. I can't expect him to be any different during the All Access episodes.
Canelo would have to come alive during those episodes and stop acting so wooden if he wants to get more fans interested in seeing this fight. The same applies to Mayweather.
He's got to stop playing Mr. nice guy, because both of these guys won't be able to sell this fight by playing the same character. Someone is going to have to step out and generate interest if they want to break the PPV records.
Don't get me wrong; the fight is going to do well on PPV, but if you're talking about it breaking PPV records, then it's going to need both guys to stop acting like they're asleep and show some personality.