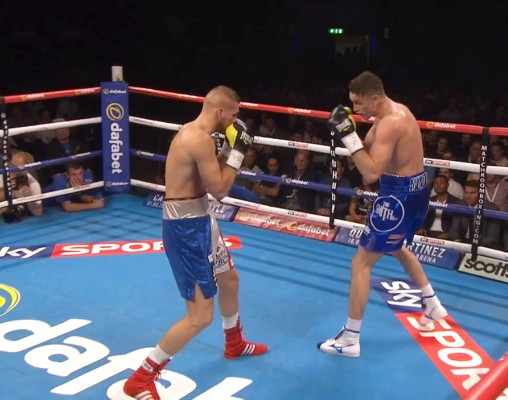 Following the headline performance on last night's All or Nothing card from Liverpool's Echo Arena in which hometown boy Callum Smith came through his first significant test with a points win over Frenchman Christopher Rebrasse, promoter Eddie Hearn has confidently asserted he believes his fighter is now just the one fight away from a potential world title opportunity.
With his WBC #3 ranking going into the fight, Smith is now perfectly placed to be challenging the winner of the upcoming clash between champion Badou Jack and "St." George Groves which is to take place toward the end of August.
Hearn said post fight last night;
"There's been a lot of hype surrounding Callum Smith but that was the perfect fight. Luckily the hype is real and he's going to be #1 WBC now."
"That puts him one fight away from challenging for the world title. George Groves fights Badou Jack in August or September and we feel we're one fight away from that."
One fight Hearn has got half an eye on is the all-Liverpool domestic clash with 168 lb rival Rocky Fielding, who blew away American challenger Brian Vera inside two rounds. It will be a hit among the British fans, that's for sure, yet Hearn possibly doesn't want to risk it now, given how destructive Fielding looked last night;
"The Rocky Fielding fight is definitely a great fight for Liverpool but Callum has his eyes on world titles."
Smith was tested against Rebrasse last night, who was as game as they come all night long, rarely out of the Liverpool man's face and enjoying considerable success throughout the fight, until gradually the greater size and strength of Smith began to tell.
One could be forgiven thinking the scores of 118-110 (x2) and 120-107, all in favour of Smith were slightly harsh.
Smith himself said to Sky Sports of his opponent;
"Rebrasse was very tough. He kept coming but I knew that going in there. I wanted to show my skills. If I go past one round I can still stick to a game plan. I felt like I could have done more but what I was doing was working so I stuck to the back foot."
"I enjoy the first round knockouts but this is what I need if I'm going to be world champion. I feel I'm improving all the time and feel I need this experience."
On last night's showing, it would be wise of Eddie Hearn to hold off on the world titles just yet. There isn't any rush. The clash with Fielding makes all the sense in the world in determining who REALLY deserves to move forward.
For the sake of the fans, that fight should be made.
Twitter @Undilutedpoison