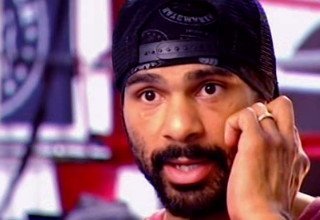 Standing 6 foot 6 inches and tipping the scales for his last fight at a ripped 248 1/2 pounds, the sight of Anthony Joshua is surely not what any boxer wants in the opposite corner when that first bell rings.
After just over a year and a half as a professional, the reigning Olympic super heavyweight champion from Watford has torn through thirteen opponents – all by stoppage. The normally durable American, Kevin Johnson, was recently hammered through the ropes in the first round, somehow surviving a couple more minutes before the referee had seen enough. No opponent has made it to the fourth round.
"Beast" is a word that springs to mind when watching the muscular, imposing Briton, brutally overpower his opposition. The British beast wants a challenge; he wants to be tested, but it is impossible for him to display his full array of skills when those in front of him cannot handle his power.
Twenty nine years ago another heavyweight was in a similarly frustrating position, responding to critics who doubted his stamina and ability to absorb a punch:
"I can't change any opinion. I just have to continue fighting. After seeing this performance, perhaps they still have doubts, but eventually, as I go successfully defeating all the contenders and perhaps the champions, in nearby future, then I will have quietened all doubt…but then still we have a little doubters then", Mike Tyson explained in his post-fight interview, shortly after breaking Jesse Ferguson's nose. Ferguson, like Kevin Johnson with Joshua, had been the experienced foe who was brought in to hopefully extend the young contender the full ten rounds, but Tyson dealt with him easily, notching up knockout victory number eighteen. Just four fights earlier, Jesse had beaten James "Buster" Douglas.
Anthony is searching for suitable, battle-hardened opposition to help sharpen his skills in preparation for facing the heavyweight champion, the king of the division, Wladimir Klitschko. The most high profile heavyweights at the lower end of the international top fifteen rankings consist of: Cunningham, Thompson, Jennings, Arreola, Browne, Perez, and Price. These men may soon be called upon in an attempt to give the Englishman the resistance that he needs. If in the next twelve months Joshua continues to improve and fight regularly, he will then be ready for the division's leading contenders. He need not go to Alabama to fight Wilder though, or travel to Moscow to challenge Povetkin. Britain's own, David Haye, would fit the bill.
Earlier this month Haye confirmed to The Sun newspaper that he is indeed plotting a return to the ring, and once again plans to use his Vauxhall, London, gym as his base. It seems bizarre to think that a boxer that hasn't fought in three years could present Joshua with a final acid test. Haye though, even prior to the Chisora bout had been relatively inactive, fighting only four times between 2009 and 2011. Those who judge Haye solely on the Klitschko loss should re-evaluate his career. In 2007 Haye climbed off the canvas to halt Jean Marc Mormeck in France for the lineal cruiserweight title. Only two other British boxers have won a lineal title on foreign soil this century – Joe Calzaghe and Lennox Lewis. Staggering the 316 pounds underrated Nikolay Valuev in the last round of a twelve rounds points victory, followed by stoppages of John Ruiz and an in-form Derek Chisora should not be overlooked either. A unanimous decision loss to one of the most dominant champions in boxing history does not erase these achievements, especially when that boxer outweighs you by thirty two pounds.
The Hayemaker does not need to fight again, but being still only thirty four years of age, if the desire is still there, two comeback victories and he would likely be back to a sufficiently high level to make a clash with Joshua a monstrous fight in the UK. An exaggeration? Absolutely not. Haye is still a figure that captures the attention of the boxing world, and his appeal has crossed over into the mainstream, where he is now not just a boxer, but a national celebrity, with over a million followers on Twitter. His non-title fight with Chisora drew a crowd of over 30,000.
The ability to ignite desire and motivation is vital in any sport, boxing is no different. Returning from injury to tackle juggernauts like Wilder, Fury, Joshua and Klitschko, Haye will need every weapon in his arsenal. Haye's former trainer, Adam Booth, knows how to unlock his full talent, and rekindling this relationship is probably a key ingredient in making this return a success.
Two or three more spectacular performances and Joshua's star status will also shoot higher. From Jack Dempsey through to Mike Tyson, exciting heavyweight knockout artists have always grabbed the news headlines, in a way that few other athletes can.
"I think he has amazing potential", heavyweight champion Wladimir Klitschko stated, when discussing Joshua's ability with ESPN late last year. "I think he has the size and the weight. He's built like a modern professional warrior and athlete. He has good technique and a good amateur background, which is important". Seldom does Klitschko give praise like this.
The fuse on a Haye/Joshua mega-fight is ready to be lit.
@TripleJabBoxing
FB – Triple Jab Boxing