Eddie Hearn is already off to a fast start in promoting the May 8th fight between Canelo Alvarez and Billy Joe Saunders even before Saturday's match between the Mexican star and Avni Yildirim is done.
WBA/WBC 168-lb champion Canelo is fighting his WBC mandatory Yildirim (21-2, 12 KOs) this Saturday night on DAZN from the Miami Dolphins' Stadium, the Hard Rock. If Canelo wins, which he's overwhelmingly expected to, he'll face WBO super middleweight champion Saunders, on May 8th in a unification fight on Cinco de Mayo.
Canelo will need to win his fight with Yildirim without suffering an injury in the process, as that will delay the match with Billy Joe, but that fight will take place next whether it's postponed or not.
The Matchroom Boxing promoter Hearn is saying that out of all the fighters in the sport that Canelo (54-1-2, 36 KOs) can face, WBO super middleweight champion Saunders (30-0, 14 KOs) has the best chance of beating him.
That's a pretty bold statement by Hearn, though, as he's picking Saunders ahead of David Benavidez, Jermall Charlo, Demetrius Andrade, Caleb Plant, and Edgar Berlanga as having a better shot at defeating Canelo.
Saunders isn't a big puncher like many of those fighters, and he's someone that doesn't always look great.
When he's firing on all eight cylinders, there's few better than Saunders, but we haven't seen the kind of consistent effort from him that would suggest that he can beat Canelo.
Saunders has the style to beat Canelo
"Billy Joe Saunders has said for a long time that he'll beat Canelo Alvarez," said Hearn to Little Giant Boxing. "He has the style to beat him.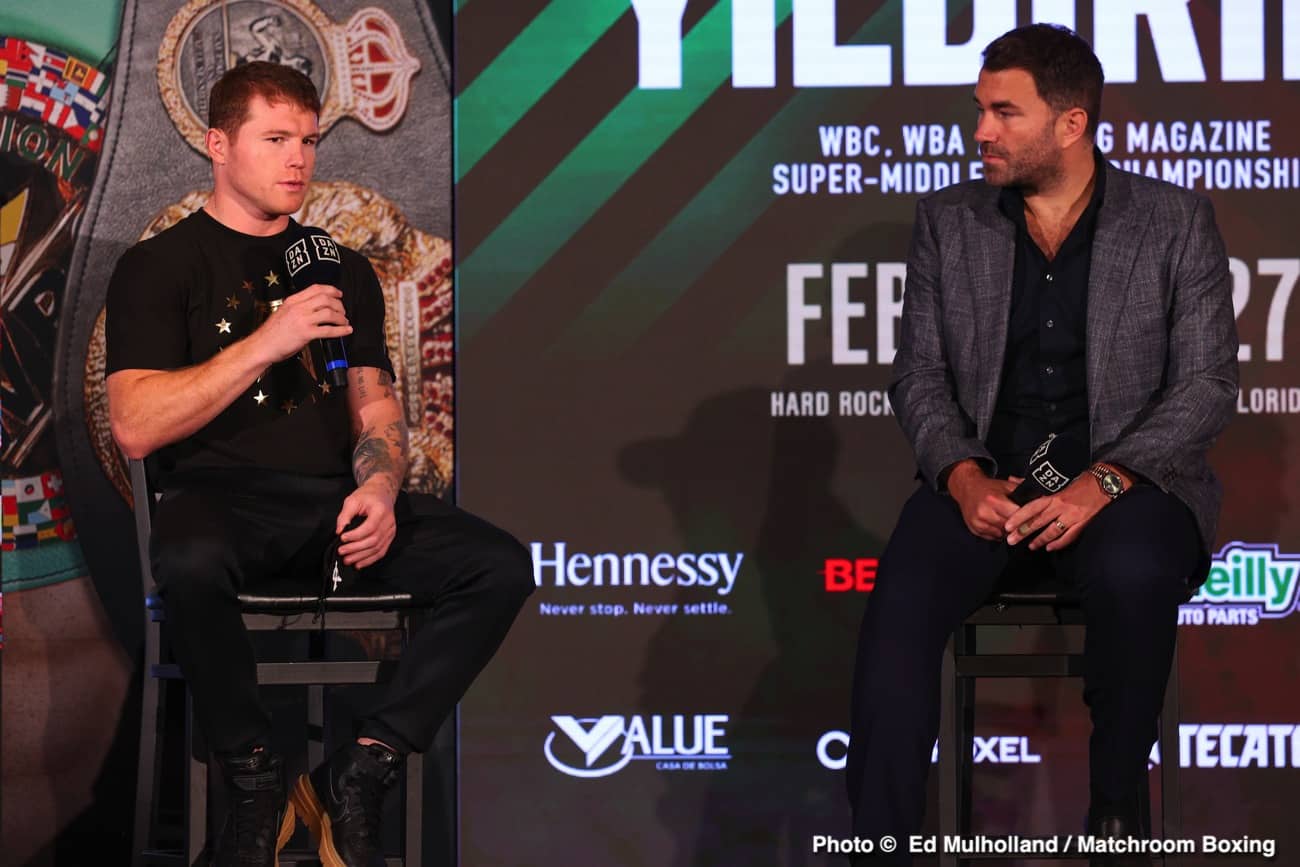 "I'll tell you one thing if there's anyone in the division that will beat or could beat Canelo Alvarez, I think it's Billy Joe Saunders.
"Because he has the style and the movement, and he has something different in his head. No fear, alright? He comes out and he boxes and he moves and flows," said Hearn.
Saunders does possess the style to disarm Canelo in the same way Floyd Mayweather Jr, Austin Trout, and Erislandy Lara did. Billy Joe can outland Canelo and make him look bad, but we don't know if he can win a decision by doing that.
Whether Saunders gets the 'W' against Canelo will largely depend on the judging crew on the night, the venue, and how the fight is scored.
We've seen Canelo get outworked by Gennadiy Golovkin and shut down completely by Erislandy Lara, and yet still win. Saunders wouldn't be in the position to dictate where the Canelo fight takes place, so he'll be at the mercy of the judges on the night.
"I love Canelo," said Hearn. "This is the first fight with Canelo where I can fully celebrate with him because the last time I was promoting a show, but Callum Smith I've promoted since he made his debut.
"He's my friend, alright? But I'm sitting and watching him fight, and I'm just in awe thinking, 'How good is Canelo Alvarez?' I'm thinking, 'How good is this fighter? He can't be beaten.'
"But this weekend, I'm not involved with Yildirim. So when Canelo knocks him out, I can get in the ring and hug and celebrate.
"And then when Billy Joe Saunders fights him, I promote Billy Joe Saunders, so it's difficult. All you can ever do is give people opportunities.," said Hearn.
It sounds like Hearn will be in a difficult position when Saunders faces Canelo. I mean, which one of the two will Hearn be openly rooting for during the build-up?
Even if Saunders were to beat Canelo, he's not going to have his popularity. If Saunders wins in a spoiling way like we've seen from him in some of his fights, there will be a lot of boxing fans that will be crying robbery.
Yildrim has no fear
"Other fighters come out and [try and brawl]," Hearn continued. "The same with Yildirim. This is why this [Canelo-Yildirim] will be a good fight. Yildrim, no fear.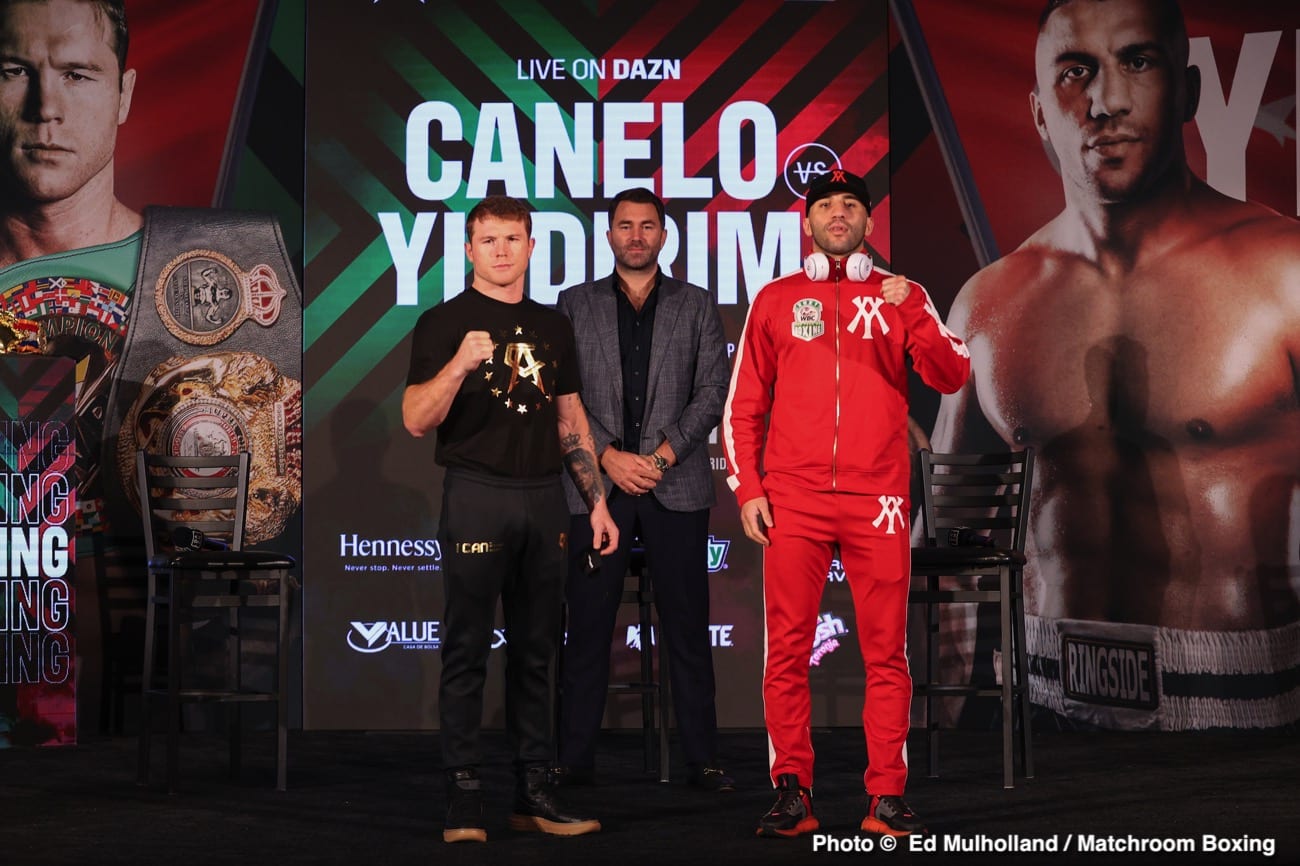 "He won't [fight in a cautious way]. He'll come out, take his time for two or three rounds, and then [trainer] Joel Diaz will say to him, 'Right, nows your chance. Go for it,' and then he'll let his hands go.
"But that's very dangerous, but it's exciting. Of course, but that's what we want," Hearn said when asked if Yildirim is risking everything by fighting aggressively against Canelo.
"Yildirim can punch, Yildirim has plenty of heart, and Yildirim has guts," Hearn said.
Going by what Yildirim's trainer Joel Diaz has been saying, they know that they're not going to win a decision against Canelo. Diaz feels that Yildirim needs a knockout, so it's going to be an all-out war between Canelo and him on Saturday.
Canelo can try and box, but Yildirim will use his Golovkin-esque style of fighting to force him to mix it up.
Yildrim probably won't wait for two or three rounds before he starts attacking Canelo like Hearn is talking about. That's not Yildirim's style of fighting, and I don't think he'll be able to hold back from going on the attack from the outset.
Hearn in awe of Canelo
"Callum Smith is the #1 fighter in the world at 168 or was," said Hearn. "Ring Magazine Champion. It's like, I'm watching him thinking, 'You can't win a round, let alone the fight. So how good is Canelo?'" said Hearn.
The handful of the so-called boxing experts that rated Callum Smith as #1 before he met Canelo clearly have no clue in how to judge talent. It was obvious that Callum wasn't #1 at 168 before fighting Canelo or even #2 or #3.
We saw from watching Callum win a controversial decision over John Ryder in his previous fight that he was a badly flawed champion, and perhaps not much better than Rocky Fielding.
"The problem is as well when you have momentum when you have confidence, and that comes from your team as well," said Hearn.
"So right now, I would not bet against an Eddy Reynoso fighter ever. I think Andy Ruiz can go on and win a world title, and I think Ryan Garcia can go on and beat Gervonta Davis.
"That's the feeling in their camp, and it's a very good feeling for a fighter to know that 'This is our team, and we are unbeatable.'
"But the difference is, you know, going back to the upbringing, you know that Canelo Alvarez can do this for a very long time, probably even longer than that," said Hearn when someone mentioned that Alvarez could fight until he's 50.
"When did Alvarez make his debut? 15? He's seen everything. It's just a shame that Floyd Mayweather is not around," said Hearn.
Eddy Reynoso is a good trainer, but his fighters are all beatable in his stable, including Canelo. Andy Ruiz Jr is not likely to win another world title and, the chances of Ryan Garcia beating Gervonta 'Tank' Davis is pretty much zero. We've already seen Canelo lose to Mayweather and win controversial decisions over GGG, Austin Trout, Erislandy Lara, and Miguel Cotto.
Canelo is beatable but clearly not against the fighters he's been facing recently. Yildirim has a puncher's chance on Saturday, and his power, courage, and engine make him a threat to Canelo.
Saunders could beat Canelo, but as I said, it's going to be very hard for him to get a decision.