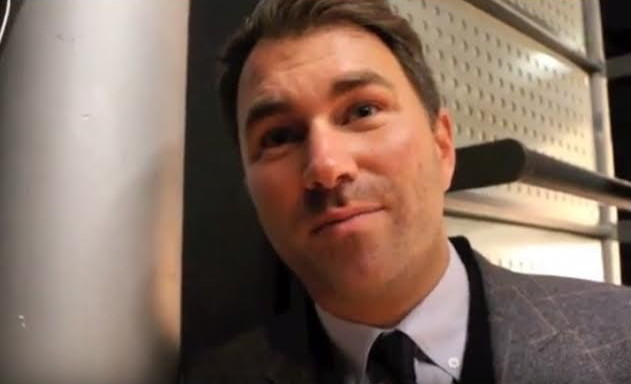 It's arguably THE biggest fight fans want to see take place aside from a return between Gennady Golovkin and Canelo Alvarez: it's Anthony Joshua-Deontay Wilder in what would be a monster heavyweight unification showdown. But the promoter of one of the two fighters says the fight will only go ahead if Wilder agrees to take substantially less than a 50-50 purse split.
Eddie Hearn, as quoted by The Sun, says that there is simply no way the fight, targeted for next summer, will see the two rival heavyweight title holders split the money right down the middle.
"The deal in Wilder's head is a 50-50 split but over my dead body is that ever happening," Hearn stated firmly. "He hasn't had a serious fight yet and he needs to fight someone real before he can start making demands. I want him to fight Dillian Whyte on February 3 at The O2. That would be an absolute tear-up. AJ would buy a ringside seat for that."
Regarding the Whyte challenge Hearn has issued Wilder with, there are at least two obstacles: first, Wilder's promoter Lou DiBella has made it clear he has zero interest in taking this fight for the WBC champ, and secondly, Whyte must first get through his fight on Saturday with Robert Helenius.
But regardless of how Wilder and Joshua get to each other – and we all really do hope this fight happens ASAP – when the time comes, will Wilder be agreeable to the kind of pay-cut Hearn is calling for – should he be? It will likely depend on where the fight takes place, and if it's Wembley, where AJ can shift close to 100,000 tickets, then yes, Joshua should get the lion's share of the purse.
But what if the fight takes place in the US, maybe in Vegas (Wilder says Joshua should fight him in America if he wants to become "global"), would a 50-50 split then be fair enough? Fans don't really care about which fighters gets paid what, they just want to see the best fight the best.
Hopefully money issues will not get in the way of Wilder-Joshua, or a Joshua-Wilder if you prefer. Just who is the A-side in this one?