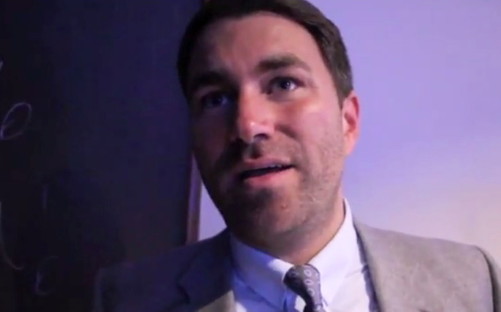 After his 14th one sided victory in a row on Saturday night, which saw him pick up the Commonwealth heavyweight title, destroying Gary Cornish in 90 seconds, Anthony Joshua's December 12th fight with fellow Londoner Dillian Whyte is well and truly on.
While many are predicting that the old rivals will put on a competitive dust-up for the fans, another element, including AJ's promoter Eddie Hearn, believe it doesn't matter who is in front of the Olympic gold medalist, such is his raw ability and heaviness of hand, that Whyte will go the same, brutal way as those who have come before him.
"You are not gonna stand up to his power, simple as. Doesn't matter who you are," Hearn said to iFLtv.
"It doesn't matter if it's Gary Cornish or any heavyweight. I just don't believe that when they get hit like that on the chin, they're gonna carry on."
"What is Dillian gonna do when he gets hit on the chin like that? I mean Dillian's game and he's talented and it's a good test but I just think this guy's (AJ) on another level."
Whyte defeated late-notice former cruiserweight world title challenger Brian Minto on the same card, although a niggling shoulder injury prevented the Brixton man from performing as well as he'd have liked, although he is insistent that he will be ready for December and is ready to repeat his old amateur victory over Joshua when they do eventually meet.
Speaking about December's clash with Joshua, after he had disposed of Minto, Whyte said;
"It wasn't the cleanest, but I did get the job done. My trainer said that (2nd) round was terrible but he knew I was carrying a heavy shoulder injury. I'll show up in December, don't worry about that. If it was on one arm or one leg, I'll show up in December.
"I know the Joshua fight is going to be a good, hard fight but I don't want to fight guys with a losing record, when they're mentally already beaten. I'm in the game to put on good fights, test myself and reward the fans that supported me through my suspension."
The fight in December will also be for the (vacant) British title, and for the winner, will be the ideal launching pad for a big 2016.
A logical, progression for the victor of December's clash will be a fight with new European champion Erkan Teper, who was last seen blitzing David Price to win the title back in July, and following on from that, Joshua – should he prevail – is on record as saying he would like to be in position for world honours by the end of next year.
Twitter @Undilutedpoison