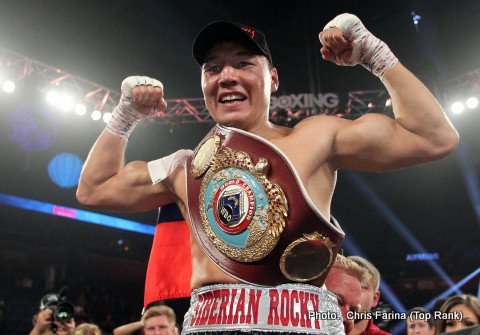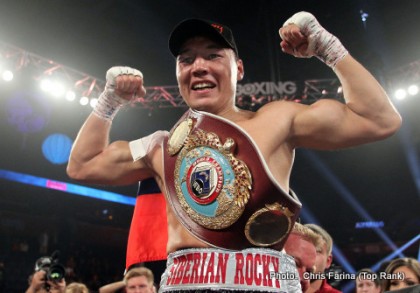 Big punching Siberian Rocky, Ruslan Provodnikov (24-4, 17ko), has confirmed that his team are talking to Amir Khan's about a potential clash for later this year.
Rumours about a mooted bout surfaced early last week, with Khan initially appearing to scotch the speculation, although on Boxnation's UK broadcast of Mayweather/Berto, he acknowledged the possibility, all the while continuing to insist it is Manny Pacquiao he now really wants to fight – seemingly for the size of the pay-day involved, given that his "Money Shot" at the newly retired Floyd Mayweather is dead in the water.
Provodnikov, who fans last saw in the all-action FOTY contender against Lucas Matthysse back in April, would be coming up to 147 for any clash, following Khan's theme of not fighting any genuine welterweights since being knocked out at 140 by Danny Garcia over three years ago, despite the likes of WBA (reg) welterweight champion Keith Thurman, and IBF welterweight champion Kell Brook, repeatedly calling him out.
"My team is taking care of the negotiations, I'm not really sure what's going on at the moment," Provodnikov said to behindthegloves.com, via translator.
"I would be ready to fight him in Dubai or here, my team knows the details but the fight is supposed to be in America."
"He's (Khan) been in some tough fights; he's fought some real great opposition so definitely a great fighter and definitely a fighter I would want to fight because I think it would be a great fight. So I'm hoping the fight happens.
"We were discussing for November."
Provodnikov, while powerful, fights in straight lines, can be extremely hittable, and has been in some tough wars, meaning that on-paper he should be relatively straightforward for a fighter with Khan's hand/ foot speed, good use of angles and high all-round skill level.
However, after promising he would knock-out the light-hitting Chris Algieri in May, before making extremely hard work of the task – getting caught way too often – one wonders if Khan is seriously entertaining the idea of fighting the Siberian, given the potential for fireworks, or if this is all just more bluster to enhance the declining respect for him in the eyes of many fans.
While Khan has indeed absorbed solid shots and stayed on his feet against the likes of Lamont Peterson and Marcos Maidana, if he was to veer from the plan and trade – as he so often does – those famously fragile whiskers could be tested once again to breaking point, making for an entertaining, albeit highly unlikely fight.
I won't hold my breath…..
Twitter @Undilutedpoison