Dusty Hernandez-Harrison 146.6 vs. Mike Dallas Jr 146.6
Luis Orlando Del Valle 122.2 vs. Thomas Snow 121.8
Abner Cotto 137.6 vs. Samuel Amoako 138.6
Darmani Rock 246.6 vs. Carlos Black 231.4
Sam Crossed 186.2 vs. Damion Reed 192.4
Zhang Zhilei 249.4 vs. John Orr 322.2
Junior Younan 172.8 vs. Rodrigo Almeida 174.6
Mike Balogun 230.6 vs. Devon Mosley 212.2
On Tuesday, May 10, Washington, D.C.'s undefeated Dusty Hernandez-Harrison (29-0, 16 KOs) and Bakersfield, California's Mike "The Silent Assassin" Dallas Jr. (21-3-1, 10 KOs) participated in a media workout at Urban Boxing DC in Washington, D.C. in advance of their May 13 fight at the DC Armory. Hernandez-Harrison vs. Dallas Jr. will headline a throne boxing event in a 10-round welterweight bout that will be televised live on BET beginning at 10:00 p.m. ET/PT and streamed live on global music and entertainment platform, TIDAL.com.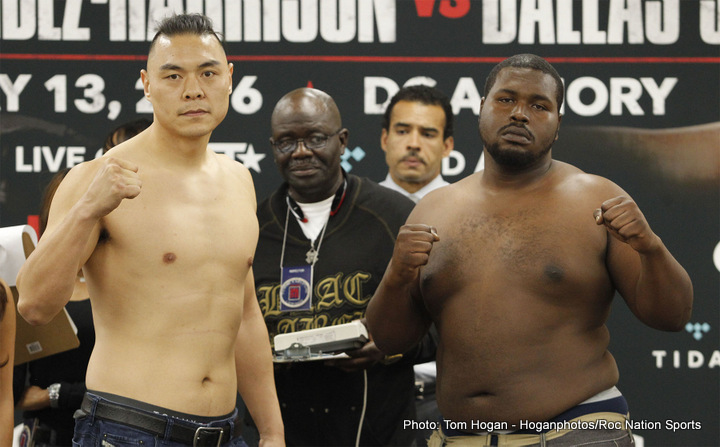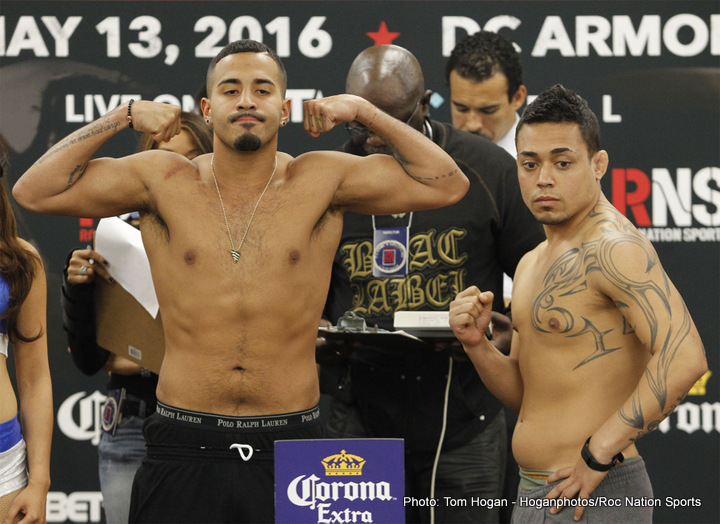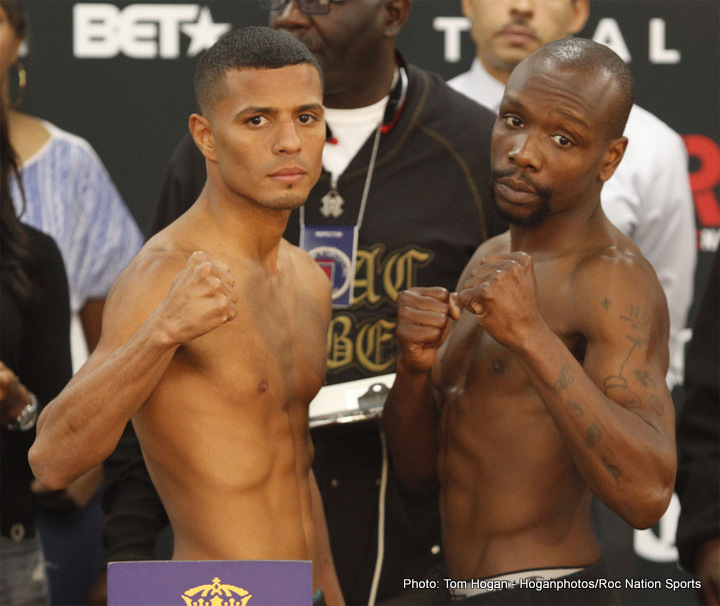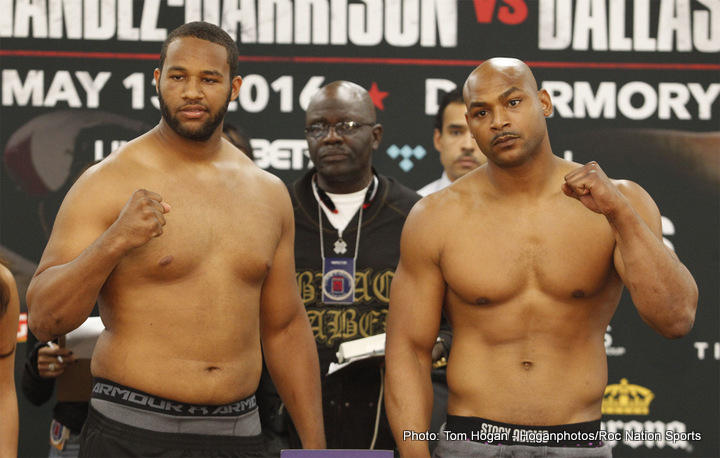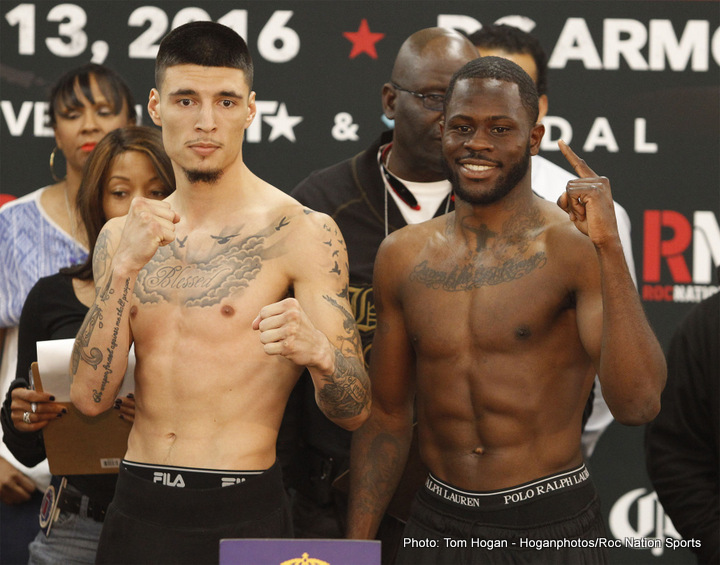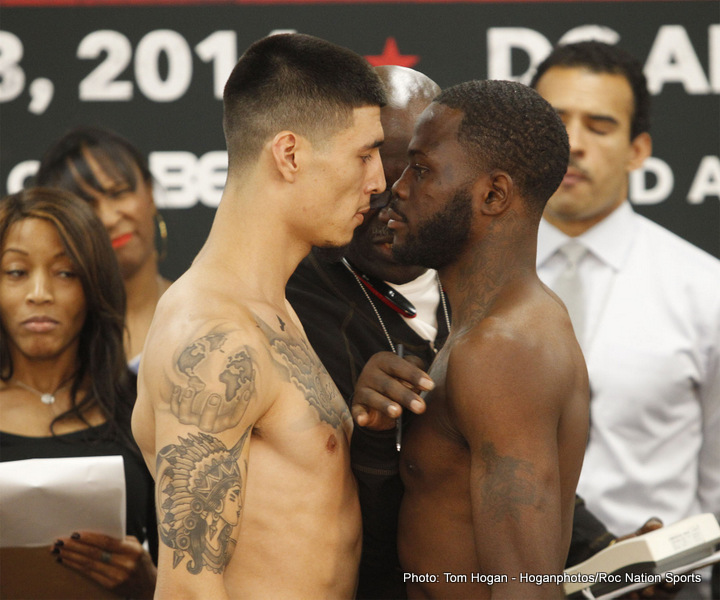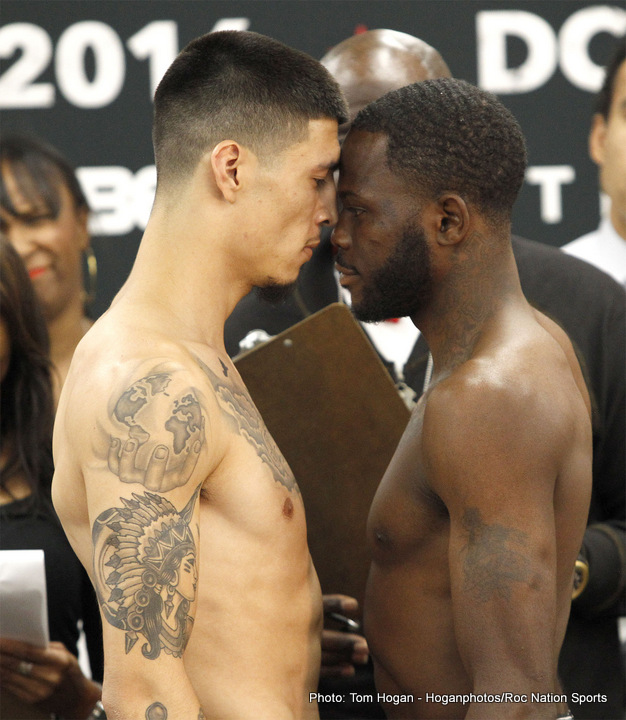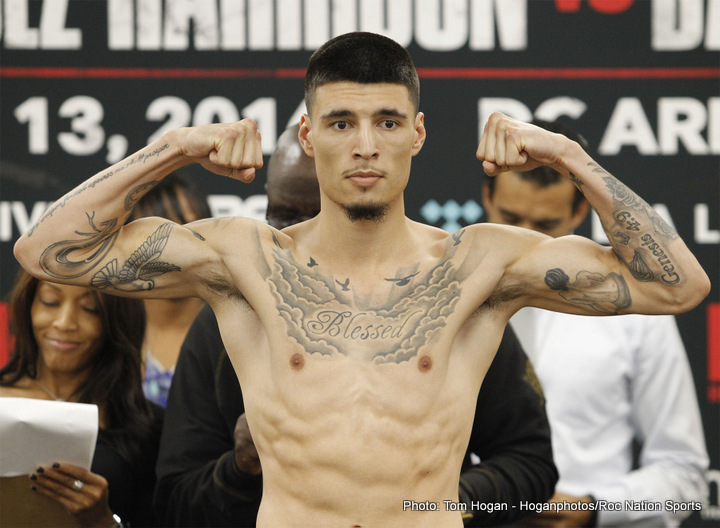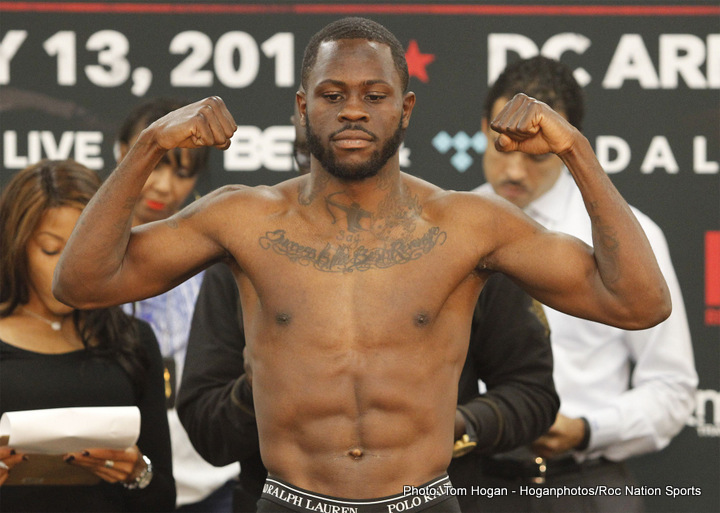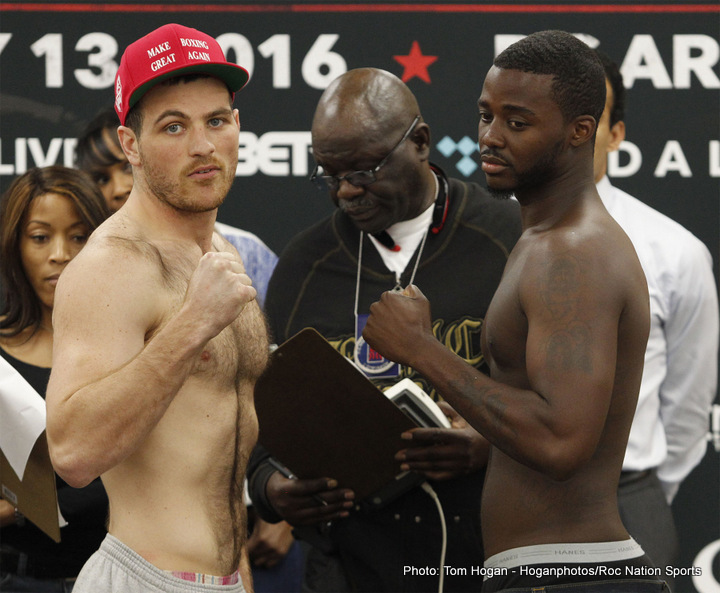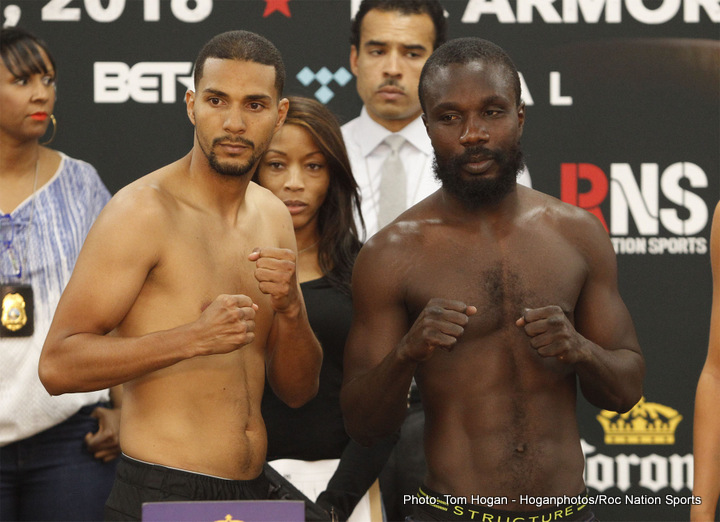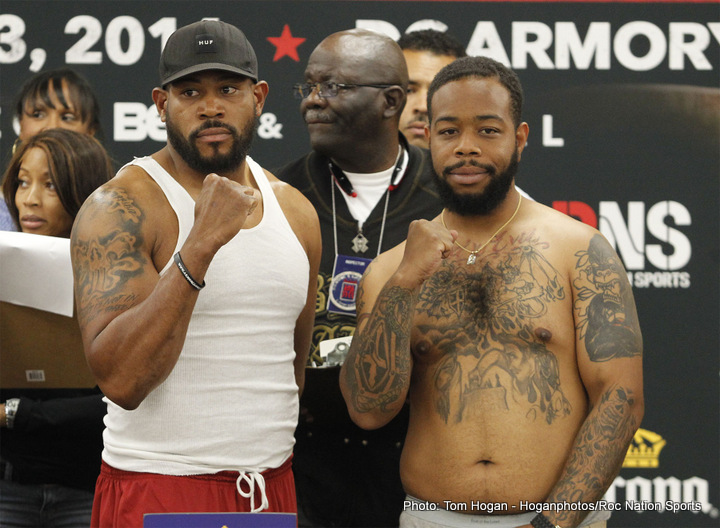 Co-featured fighter Thomas "KO" Snow (18-2, 12 KOs) of Washington, D.C., who faces Dorado, Puerto Rico's Orlando "Orlandito" Del Valle (20-2, 15 KOs), and undercard fighters Mike Balogun (5-0, 4 KOs) of Upper Marlboro, Maryland, who will fight Capitol Heights, Maryland's Devon Mosley (0-4-1), and Greenbelt, Maryland's Sam "Vanilla Gorilla" Crossed (2-0, 1 KO) of who takes on Damion Reed (2-13, 1 KO) of Danville Virginia were also in attendance during the media workout on Tuesday.
After shadow boxing around the ring and a few rounds working the bags, all five fighters participated in interviews with invited media members.
Below is what the fighters had to say during the workout:
DUSTY HERNANDEZ-HARRISON:
"I think a lot of people are underestimating Mike Dallas Jr. I think they're counting him out too early. A lot of times when people come back from a tough loss they train harder, they take it more seriously and erase all the mistakes they made in previous training camps, so that's what I'm expecting him to do. Luckily Barry Hunter [Hernandez-Harrison's trainer] knows him well as a fighter, so I've been going off of what he says.
"I've been getting great sparring in. I came home from sparring Canelo Alvarez and went right into to sparring with Lamont Peterson, Austin Trout, Demetrius Hopkins and other fighters on the card. Just really good sparring.
"I'm excited to fight on BET. It's pretty cool. I think it's good to bring boxing to a new audience. Hopefully, I put on a good fight to get them entertained. And we have Justine Skye performing before our bout. She's got a completely different fan base than I do and I think it's another good way to add a new audience to our event.
"I took a lot of things out of training with Canelo at his training camp. It was good to get a different perspective of a training camp. Usually it's all about me, everything is catered to me and everyone is concerned about me, so it was good to take a step back and see how someone like him at the top level prepares for a world title fight. Luckily, I walked away knowing I've been doing everything right.
"Fighting in my hometown of Washington, D.C. is better for me. I feel like I have more to fight for. I have more to lose, which for me helps. You'll never hear me say "no mas" in D.C.
"At my age, my preparation changes with every fight. I remember fighting in Connecticut in April then Miami in August, which seems really close, but Billy Briscoe [Hernandez-Harrison's assistant trainer] was there and said 'you've gotten so much stronger.' That's just the age that I am right now. I'm really maturing and getting that man strength. Every fight I feel a lot stronger."
MIKE "THE SILENT ASSASSIN" DALLAS JR.:
"I feel very good ahead of this fight…confident and strong. I'm just ready to go out there and perform. There's more pressure on him than me fighting in his hometown.
"I've gotten good training in for this fight. The Bay Area has a lot of good sparring out there right now. I had good training with Ben Bautista [Dallas Jr.'s trainer] and we've been pushing it. I had to dig deep in training to get through it and I'm ready to dig deep in the fight.
"I took some time off to let my body rest and heal and to let my mind get together. Now I feel great. I'm ready to come back and get back on top of things. I'm going to go out there and do my thing.
"I know Dusty is a pretty good fighter. I know he can box. I'm just ready to go out there, be smart and execute the game plan. I'm ready for people to know I'm back and there mentally. I'm ready to get back in the game and take care of these people in these bigger fights."
THOMAS "KO" SNOW:
"I know my opponent [Orlando Del Valle] is a conventional fighter from Puerto Rico. He's a basic fighter…a basic one-two puncher. He's the best opponent I've faced to date. Both of us have two losses, so I know it's a crossroads fight for us. We're going to go in there and do what we came to do.
"I've fought in D.C. a lot of times. It's my home.
"It's awesome because I've known Dusty since he was six years old. We used to run together. We were just talking about that over in the corner. If you watch at any of his amateur fights, you'll hear me in the background cheering him on. I've been in his life for a long time and it's awesome seeing a young guy get his opportunity and make the sport of boxing grow.
"I know our amateur program in D.C. is awesome so you have to give a shout out to all the amateurs. D.C. is about to be the mecca of boxing once again. We will have six, seven or eight champions in the District of Columbia. It's rich with boxing.
"I think fighting on BET is a great thing. I think it's great that boxing is on free TV now and people don't have to pay for it. For those people who can't afford those things, I think it's awesome for them and I think it will make the sport of boxing better.
"I've changed a lot over the years. I'm supposed to be dead, locked up or in jail. Having God in your life, your perspective of life and everything changes. I'm calm and comfortable in my situation. I thank God for the opportunity. I thank Roc Nation Sports for the opportunity and I thank everybody who is supporting Thomas "KO" Snow. We're ready to do it."
MIKE BALOGUN:
"During my career, when I was playing football, I used boxing as another form of training for cardio. After my career was over, it was natural for me to keep training and now we're here. Football is a business. I got released and had another opportunity to play in the Canadian Football League as well as the Arena Football League, but football takes a toll on your body and I played the game for a long time. It was just natural for me to transition. I still needed something to stay active, because without activity, I didn't feel like myself.
"I don't know a lot about my opponent [Devon Mosley]. I know he's a southpaw just like me That's pretty much all I know and all I need to know.
"I've prepared for this fight just like any other fight…hard work and dedicating myself to my craft. At the end of the day I'll reap the fruits of my labor."
SAM "VANILLA GORILLA" CROSSED:
"I don't know much about my opponent [Damion Reed]. I know he is a tall left-handed guy. I only watched a little video of him. I've been sparring a lot of left handers and then we just happened to get a left-handed guy, so it worked out pretty well.
"I'm still a little disappointed about my last performance in D.C., so I am going to come out and put on a show on Friday, May 13.
"Anyone you get in the ring with poses a threat, but at the same time, I am confident in what I have done to prepare. I've been sparring guys with 20 pro fights, so, I think I'm good.
"I played football and baseball growing up. Basically, what got me into boxing was that I got picked on when I was younger and smacked around on the basketball court. I always said when I grow up I want to be able to beat up the dudes that picked on me. What's funny is that a lot of guys that bullied me are now begging me for tickets to my fights."
Two televised bouts and four non-televised undercard bouts will round out the card when Dusty Hernandez-Harrison (29-0, 16 KOs) of Washington, D.C. returns to the ring on Friday, May 13 to take on Bakersfield, California's Mike "The Silent Assassin" Dallas Jr. (21-3-1, 10 KOs) in a 10-round welterweight bout at the DC Armory in Washington, D.C. The fight will headline a throne boxing event that will be televised live on BET beginning at 10:00 p.m. ET and will also be streamed live on global music and entertainment platform, TIDAL.com.
Opening the telecast will be an eight-round featherweight showdown between Orlando "Orlandito" Del Valle (20-2, 15 KOs) and Thomas "KO" Snow (18-2, 5 KOs). The second televised fight will see the professional debut of highly touted Philadelphia heavyweight prospect Darmani "Rock Solid" Rock against the beltway's own Carlos "DC Diamond Cutter" Black (1-3).
The non-televised undercard will feature Caguas, Puerto Rico's Abner "Pin" Cotto (19-3, 9 KOs) against veteran Juan Jose "Pinocho" Beltran (29-25-3, 18 KOs) of Los Mochis, Mexico in an eight-round junior welterweight matchup; Brooklyn's undefeated Junior "The Young God" Younan (8-0, 6 KOs) facing Breedon, West Virginia's Austin "Speedy" Marcum (10-6-1, 5 KOs) in a six-round light heavyweight fight; former NFL linebacker Mike Balogun (5-0, KOs) of Upper Marlborough, Maryland and Devon Mosley (0-4-1) of Capitol Heights, Maryland squaring off in a four-round heavyweight bout; and Greenbelt, Maryland's Sam "Vanilla Gorilla" Crossed (2-0, 1 KO) against Damion Reed (2-13, 1 KO) of Danville, Virginia in a four-round cruiserweight fight. 2008 Olympic Silver Medalist Zhang "Big Bang" Zhilei (8-0, 6 KOs) of Zhengzhou, China will also see action in a six-round heavyweight bout against an opponent to be determined.
Roc Nation Sports will bring names from the entertainment world to the event, which will showcase a special performance by Roc Nation's own breakout artist singer/songwriter Justine Skye. The Brooklyn songstress and social media maven who garnered attention, and over two million YouTube views, with her cover of Drake's "Headlines" and current single, "I'm Yours" featuring Vic Mensa, is currently taking over radio airwaves nationwide. The evening will also feature a DJ set from Roc Nation's multi-talented Cipha Sounds who will keep the energy up between bouts. Darian "Big Tigger" Morgan, afternoon host on Atlanta's V-103, former host of BET's Rap City and 106 & Park, and currently featured on Oxygen's "Like A Boss", will serve as the event's host.
Orlando Del Valle made his professional debut on April 11, 2008 at the Tropicana Hotel and Casino in Atlantic City, New Jersey where he knocked out Rey Rivera in the third round. By October 2009, he had compiled a record of 7-0, including a third-round knockout victory over Christopher Rivera at Coliseo Roberto Clemente in San Juan, Puerto Rico. On June 6, 2011, at Roseland Ballroom in New York City, he notched an impressive ten-round unanimous decision victory over Dat Nguyen in a fight telecast on Showtime's ShoBox. On September 29, 2012, Del Valle, with a record of 16-0, made is HBO debut at the MGM Grand at Foxwoods Resort in Mashantucket, Connecticut against Three-Time World Champion Vic "The Raging Bull" Darchinyan. Darchinyan controlled a majority of the bout, relying on his experience to pressure the young contender. In the ninth round Del Valle's perseverance almost carried the day when he staggered Darchinyan with a tremendous left hook, badly hurting the former world champion. Darchinyan, however, was able to survive the round and hold on for a ten-round unanimous decision victory. After the defeat, Del Valle moved to Mexico City to train with Hall of Fame trainer Nacho Beristain. He rebounded in 2013 with two technical knockout victories over Andre Wilson and Juan Jose Beltran. On May 31, 2014, in a bout televised by HBO Latino from the Tropicana Hotel and Casino in Las Vegas, Del Valle faced another tough opponent in undefeated fellow Puerto Rican Luis Rosa. The ten-round, evenly matched fight went the distance producing a memorable, crowd-pleasing battle. In the fifth round, Del Valle sent Rosa to the canvas with a left hook and in the seventh round Rosa was deducted a point for a late punch, but in the end Rosa was awarded a unanimous decision victory. Since the Rosa setback, Del Valle has won all three of his fights, with none of them going the distance, including his last fight on April 9, in which he scored a second round technical knockout win over Josh Crespo at Rockingham Park in Salem, New Hampshire. Del Valle will look to keep that streak going on May 13 against Snow.
Deeply rooted in D.C. and the capital community, Thomas Snow is an experienced fighter with an impressive record of 18-2 (10 KOs). Snow, who supplements his boxing earnings by working as a floor technician at Holy Cross Hospital in Silver Spring, Maryland, began boxing at the age of ten at Round One Gym in Capitol Heights, Maryland, compiling a stellar amateur record of 129-10, which included three Washington D.C. Metro Golden Gloves championships. In 2004, he took home the national PAL amateur tournament title in the 119-pound weight class. On November 5, 2005, he made his professional debut with authority, knocking out Ronald Viera in the first round at the Lawrence Joel Veterans Memorial Coliseum in Winston-Salem, North Carolina. He would go on to win his next nine fights, with seven of those wins coming by way of knockout, before he ran into fellow undefeated prospect and future world title challenger Teon Kennedy who dealt Snow his first professional loss in July of 2008. A streak of six consecutive wins would follow before he suffered another setback, again against an undefeated prospect in Nate Green. Following the defeat, Snow took nearly two and a half years off from boxing. The southpaw returned to the ring on March 6, 2015 and continued to live up to his "KO" moniker with a first round technical knockout win over Christopher Sanchez at the Omar Shrine in Charleston, South Carolina. Snow followed that win with a second round knockout of Tibor Nadori on December 4, 2015 at the Rosecroft Raceway close to home in Fort Washington, Maryland. He now faces a crossroads fight when he takes on Del Valle on May 13.
At the age of nineteen, Darmani Rock is already drawing comparisons to former heavyweight greats of the past. Rock has received high praise for his powerful jab and ambidexterity. Standing at 6'4", he moves with an unparalleled lightness and speed for a fighter his size. Rock earned nation-wide accolades following a banner year in 2014 when he took home the USA Boxing Junior and Youth Open, Youth Continental and Youth World super heavyweight titles. During the 2014 Junior and Youth Open in Reno, Nevada, Rock shut out the 2013 National Youth Champion, John Luna, 3-0. This impressive performance was followed by another super heavyweight title at the Youth Continental Championships in March 2014 in Quito, Ecuador where he defeated Argentina's Kervin Espinola, 3-0. Rock then took home the gold medal at the prestigious World Youth Championships in Bulgaria in April 2014 by a 2-1 decision over Germany's Peter Kadiru. Rock also took home the 2014 World Junior Amateur Championship and capped off 2014 by being named Philadelphia's Amateur Boxer of the Year at the annual Briscoe Awards. His most noteworthy win, however, came in May 2015 when he beat Cam Awesome, a career amateur who has been called the next Chris Byrd, in Las Vegas for the National Golden Gloves title. Rock also captured the 2015 U.S. National Amateur super heavyweight championship. He ended his amateur career as the number one rated super heavyweight in the United States (and the number five rated super heavyweight in the world) going 19-5 in national tournaments. His assault on the heavyweight division begins May 13 against Black.
Rockville, Maryland resident Carlos Black is better known to capitol region boxing as the "DC Diamond Cutter." Turning professional late in life at the age of thirty, making his professional debut on April 23, 2015 at Tall Cedar's Hall in Baltimore, Maryland scoring a four-round unanimous decision over the more experienced Lonnie Kornegay. Black, however, would fall short of victory in his next three bouts to George Arias on May 8, 2015 at the Prudential Center in Newark, New Jersey, to Dennis Benson by a hard-fought four-round split decision in his return to Tall Cedar's Hall on July 9, 2015 and to Jerry Forrest on September 26, 2015 at the Masonic Temple in Norfolk, Virginia. Tough like his nickname and propelled by his steadfast will, he believes he can one day fulfill his dream of becoming heavyweight champion of the world. That dream will come a step closer to reality should he defeat the highly touted Rock.
Abner Cotto is part of the famous Cotto boxing family of Puerto Rico. Legendary Miguel Cotto is a second cousin, while uncles Miguel Cotto Sr. and Evangelista Cotto were pro boxers themselves. Cotto is looking for his second straight win following a loss in a world-title elimination bout against current WBA Super Featherweight World Champion Javier Fortuna. On May 13 he faces the vastly experienced Juan Jose Beltran who has faced current World Champion Leo Santa Cruz and former World Champions Eric Morel and Rico Ramos.
Brooklyn's unbeaten Junior Younan faces his stiffest test to date on May 13 when he faces Austin Marcum. Younan returned following a nine-month injury induced layoff on March 26 on the Andre Ward vs. Sullivan Barrera undercard by pounding out a four-round unanimous decision over Carlos Lozano. Marcum is riding a four-fight winning streak and plans to take his 20-year-old opponent into unfamiliar territory, as Younan has yet to fight past four rounds.
Former Washington Redskin Mike Balogun looks to make it six straight wins since turning professional as a boxer in October of 2014. Balogun was a standout inside linebacker at the University of Oklahoma and spent a year on the Redskins' roster in 2010. He also played briefly for the Buffalo Bills and San Francisco 49ers before retiring and becoming a full time boxer. Looking to stop Balogun's rise as a pugilist on May 13 will be fellow local fighter Devon Mosley who is seeking his first professional win.
Local favorite Sam Crossed, has limited amateur experience, which his opponent Damion Reed, a 16-fight veteran hopes to exploit. Crossed, who works as bar tender, is expected to have hundreds of supporters behind him as he attempts to go to 3-0. Reed recently lost two hard-fought majority decisions to two cruiserweights and has a draw with Ken Moody.
Standing 6'6" and weighing 250 pounds, Chinese heavyweight sensation Zhang Zhilei has shown boxing skills rarely seen in a big man since turning pro in August 2014. Undefeated in eight fights as a professional, Zhilei was a highly-decorated amateur, winning a silver medal in the super-heavyweight division at the 2008 Beijing Summer Olympics, as well as bronze medals at the 2007 world amateur championships and 2009 AIBA world championships. He faces an opponent to be determined on May 13.
Hernandez-Harrison vs. Dallas Jr., a 10-round welterweight fight which is presented by Roc Nation Sports takes place Friday, May 13, 2016 at the DC Armory in Washington, D.C. This fight headlines a throne boxing event presented by Corona Extra and will be televised live on BET beginning at 10:00 p.m. ET and streamed live on global music and entertainment platform, TIDAL.com. The event is also sponsored by FILA, Corporate Travel Management Solutions (ctms), Glad, Shoe City, Pepsi, RCN and The DC Lottery. In addition to the great action inside the ring, the May 13 edition of throne boxing on BET will feature several notable Roc Nation Sports touches that offer a unique fan experience including a live musical performance by Justine Skye as well as DJ Cipha Sounds and event host Big Tigger who will keep the energy at a high level throughout the event. Follow the conversation using #throneboxing.
For more information, please visit www.rocnation.com. Follow Roc Nation on Twitter @rocnation, on Instagram @rocnation/@rocnationsports and on Facebook at www.facebook.com/RocNation.
###
Below is what the fighters, promoter and other dais guests had to say at the press conference:
DUSTY HERNANDEZ-HARRISON:
"I want to thank Mike Dallas Jr. for coming into D.C. He has my respect for coming into my hometown and fighting. I'm really ready for this fight. I may have gotten in the best sparring that any fighter has ever gotten [for a fight]. I went from [sparring with] Canelo and came home to spar with Demetrius Hopkins, Austin Trout and Lamont Peterson. I don't know if there's better sparring than that. Camp has been great. I'm definitely ready for the fight. I want to thank FILA and Geico for supporting me. I hope everyone comes out on Friday, May 13 at the DC Armory. I know we will put on a good show."
MIKE "THE SILENT ASSASSIN" DALLAS JR.:
"I want to thank God for giving me this opportunity and keeping me strong through hard times. I had a good camp. I want to thank BET for having me on. Come Friday, it's going to be a good fight. I'm mentally and physically there. I dug deep in camp and I'm ready to bring it in this fight. I wish my opponent the best. It's going to be a tough fight. I'm ready to go in there, give it my all and give you guys a great show. Come and watch the fight on May 13."
ORLANDO "ORLANDITO" DEL VALLE:
"I would like to thank God, Roc Nation Sports and their entire staff for believing in me and giving me a second shot at my career. I won't let you guys down. Becoming a world champion will be my only way to thank you guys so after this fight I'm ready for that.
"Thank you BET and TIDAL for allowing us to showcase our skills on national TV and over the internet so that boxing fans around the world can have a glimpse of what the near future holds.
"This fight means a lot to me. It's the biggest fight of my career. I need to win this fight if I really want to get closer to a title shot. I'm in the greatest condition and shape of my life. On Friday night, expect nothing but fireworks from Orlando Del Valle. I guarantee you that a title shot for Orlando Del Valle will be coming. A champion for Roc Nation Sports is very, very close. So once again, thank you all and don't miss the action on Friday night."
DARMANI "ROCK SOLID" ROCK:
"I'm just looking forward to seeing everyone come out on May 13 at the DC Armory when I make my pro debut."
DAVID ITSKOWITCH, COO Boxing – Roc Nation Sports:
"An action packed undercard of emerging and established talent and exciting entertainment from the boxing hotbed of Washington, D.C. telecast live on BET and streamed live on TIDAL.com…May 13 is an event that no one should miss.
"This event would not have been possible without the support of a number of people and organizations and I would like to take a moment to thank the following…our sponsors: Corona, FILA, Corporate Travel Management Solutions (ctms), Glad, Shoe City, Pepsi, RCN and The DC Lottery. I'd also like to thank Stephen Hill, Connie Orlando and their team at BET as well as Greg O'Dell and the staff of Events DC for helping us bring a throne boxing event to Washington, D.C.
"BET's vision and commitment for putting together innovative live entertainment is a big reason why we are here today. We are thrilled to be partnered with BET to bring another throne boxing event to fans across the country. We're also excited about the fact that as a non-traditional boxing network, they have thrown their hat into the ring which we believe has, and will continue to, attract new fans to the sport.
"Events DC works tirelessly to bring high profile events to Washington, D.C. and of late, they have helped to turn the District into a boxing hotbed.
STEPHEN HILL, President of Programming – BET:
"BET Networks is excited to partner with Roc Nation Sports to broadcast the second live throne boxing event on BET. Friday, May 13 will be lucky for us as we get to bring to the world this top-notch sporting event showcase including live entertainment from Roc Nation's own Justine Skye, DJ Cipha Sounds and BET personality Big Tigger, who will be welcomed back to BET with open arms.
"At BET Networks we're committed to delivering more variety and original programming and like throne boxing, our content is engaging, emotional and entertaining. We are thrilled to welcome throne boxing back to BET. We know audiences love live sporting events like boxing, so this partnership fits like a glove.
"Last but not least, thank you to Washington D.C., the birthplace of BET Networks, and myself, for hosting us in this great city. We look forward to a great fight on Friday night."
ERIK MOSES, Senior Vice President and Managing Director – Events DC Sports and Entertainment Division:
"Boxing is back in Washington in a very big way. We have had the pleasure of hosting three championship bouts in the last three months at the DC Armory, which is a great place to watch a fight if you have not been there.
"This fight card in particular has a very special place in my heart, as it should for others from Washington, because it's about as local as it can be. We've got a hometown hero, who, if you have not seen him fight, see him now before you can't afford to see him. Dusty Hernandez-Harrison is going to be a big star and he represents Washington, D.C. in a way that few do. Check him out now before you're paying big money in Vegas to see him fight.
"The fight is also being broadcasted by another home-grown institution, and that is BET. It's great to see sports back on BET, and boxing in particular, coming from the DC Armory as the host venue. Tickets are still available. We look forward to hosting everyone who wants to come out and cheer on all these fighters, but Dusty in particular so we can have another championship fighter in D.C."
ANDREW HUFF, DC Boxing Commission:
"Roc Nation Sports and Events DC are helping to ensure that the legacy of the District's boxing history continues. On behalf of Mayor Muriel Bowser, Adam Weers, who is the chairman of the District's Boxing and Wrestling Commission, Miss Kimberly Lockett, who is another commissioner and myself, welcome to Washington, D.C."