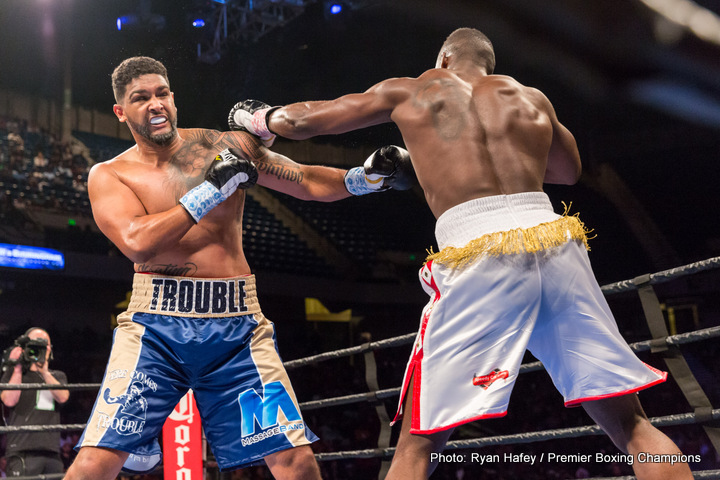 Dillian Whyte, very much in line for a world heavyweight title shot (he has earned one, what with the Londoner boxing and winning two elimination bouts) says he wants one more fight this year ahead of his expected 2019 shot. Whyte sure has no shortage of names calling him out. Dereck Chisora wants that rematch, Jarrell Miller has had his name put next to Whyte's a number of times, and now highly ranked Dominic Breazeale has said a fight between he and Whyte makes all the sense in the world.
Breazeale, beaten only by Anthony Joshua (as is the case with Whyte) has not been able to get himself a fight so far this year, last boxing in December when he stopped Eric Molina (in an elimination bout of his own), and he wants action. Speaking with Sky Sports, "Trouble" says he and Whyte should please the fans and get it on.
"You know, I thought the fight between Dillian Whyte and myself was actually going to happen this year," Breazeale said. "He's bound with the situation with the WBC and his silver belt, and I have the WBC mandatory [position]. I only thought it right for him and myself to get in the ring and square off – the fans would love to see it so hopefully that fight does come here in the near future."
Breazeale, who said he wanted to fight this April, is also targeting a shot at WBC champ Deontay Wilder (with whom he has some serious bad blood), and maybe he feels he can get there with a big win over Whyte. But how many "final eliminators" does Whyte have to fight before he gets his big chance at a world title? Would Whyte risk it all by going over to the US to fight Breazeale when he basically has a shot at AJ all lined up for next April (according to plenty of people, anyway – who say Joshua will fight Whyte in a return at Wembley on April 13, providing he gets past Alexander Povetkin next month)?
Then again, Whyte says he doesn't want to sit idle for the remainder of this year. Who would YOU rather Whyte boxed next: Chisora, Breazeale, Miller, or someone else?