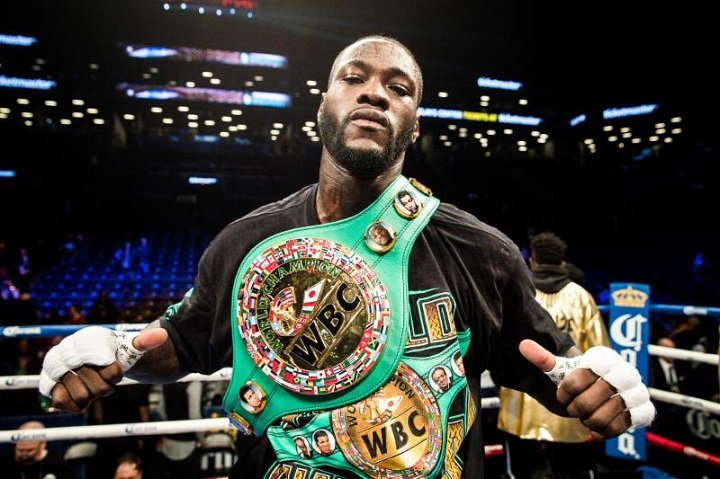 Once again, Deontay Wilder has urged Anthony Joshua to face him in a huge unification clash in America. The reigning WBC king, readying himself for his March 3 defence against Cuban dangerman Luis Ortiz (Wilder admitting that he does have some concern over Ortiz possibly failing another drugs test; this of course ruining Ortiz' challenge of Wilder last November) – says AJ must fight him in America and that he will earn far more money if he does so.
So, should this guaranteed heavyweight explosiontake place in the U.S, the U.K, or some place else? Without doubt THE biggest possible fight that can be made in the glamour division of the sport today, Wilder-Joshua HAS to happen and, all being well for we fight fans, it will happen.
But where?
Wilder seems insistent that Joshua, though he is a superstar in his home country (where AJ is indeed a household name, one capable of selling out 80, 90,000 seat arenas again and again) has to fight in America if he wants to become "global." And Wilder says the tradition of the big, big heavyweight title fights insists their fight goes ahead on U.S soil.
However, promoter Eddie Hearn, very much feels that it is he and Joshua who are in the driving seat with regards to the negotiations that will go ahead if and when this fight becomes a reality (as surely it will). And why would Joshua, and Hearn, give up another guaranteed 90,000 sell-out at Wembley? Joshua-Wilder would certainly attract that many fans, as even the far lass anticipated Joshua-Joseph Parker fight has sold not too far off those numbers at the live gate in Cardiff. Wilder has never fought before such a monstrous crowd and if he wants a colossal payday then maybe it is he who must travel, not Joshua.
Who is the bigger star right now globally, Wilder or Joshua? One thing is certain: Joshua has shifted many more tickets and he has earned far more money than Wilder has picked up during his career so far. Who calls the shots in this one? Hearn clearly feels Wilder does not.
Above all though, let's just hope egos can be put aside when negotiations begin in earnest. This fight is way too big not to happen. Now, can Wilder do the business against Ortiz and can Joshua do likewise against Parker?