Dillian Whyte is being given a second chance tonight in his rematch with Alexander Povetkin, and he's boldly predicting that he's going to knock out the former WBA heavyweight champion.
Whyte (27-2, 18 KOs) and Povetkin (36-2-1, 25 KOs) will battle in Gibraltar in a fight that will be streamed on DAZN in the U.S and shown on Sky Box Office in the UK.
Despite losing to the 41-year-old Povetkin by a fifth-round knockout last summer on August 22nd, Whyte is convinced he'll turn things around this time and come out victorious with his hand raised.
Dillian, 32, will be challenging Povetkin for his interim WBC heavyweight title and with the mandatory spot also up for grabs.
The winner of tonight's rematch will be the mandatory challenger to WBC champion Tyson Fury, but they'll still likely need to stay busy and wait until 2022 to get that title shot.
"I believe I will be world champion one day, but I'll get this done first – I'll knock him out," said Whyte to the BBC Sport. "There will definitely be a different result."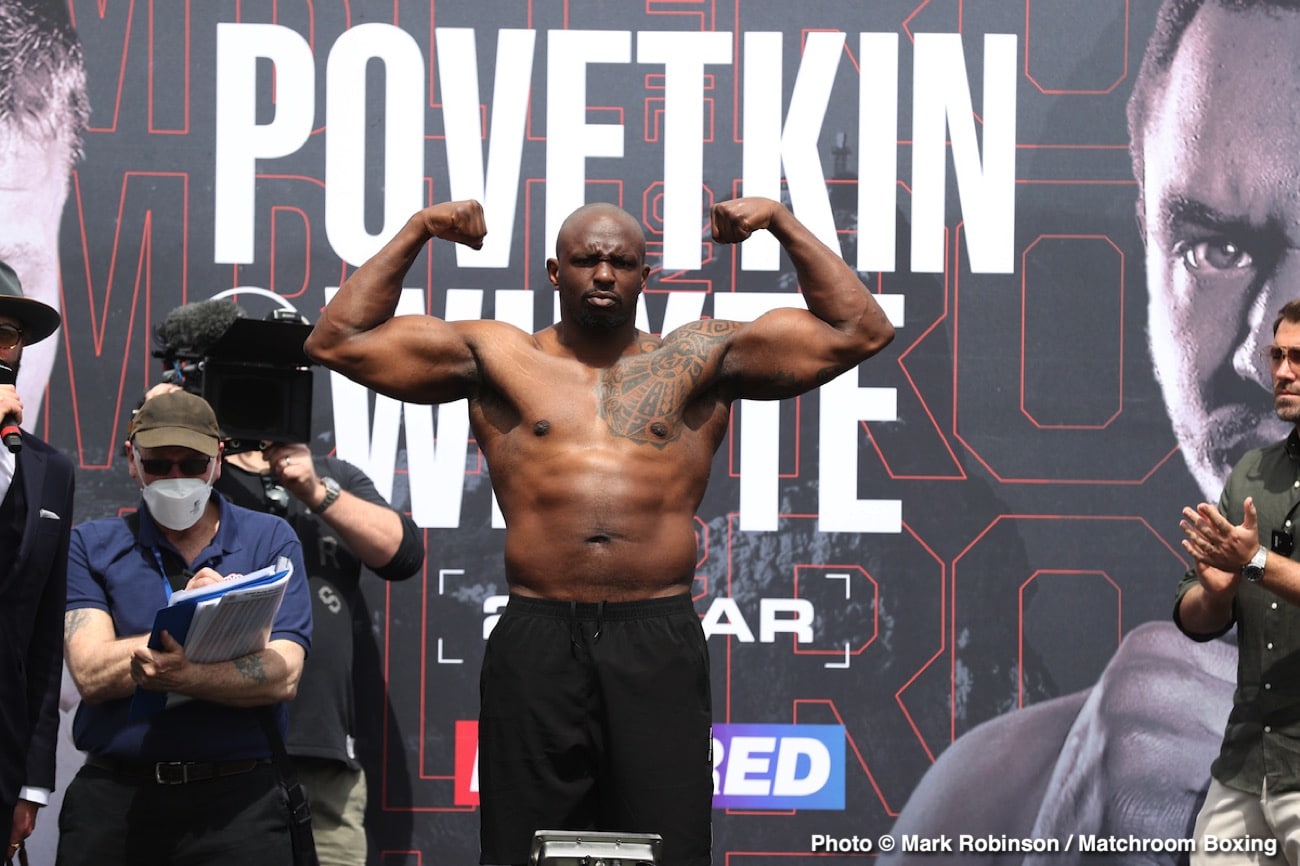 Interestingly, Whyte is speaking in absolutes because he's coming off a devastating knockout against Povetkin.
It's one thing for Whyte to be speaking the way is if he totally dominated Povetkin last time, but that's not how the fight played out.
Whyte had a good fourth round, but other than that, the other rounds were competitive, and we saw how the fight ended.
It's nice that Whyte has a positive, upbeat attitude about the rematch with the 41-year-old Povetkin, but come on, he sounds like he doesn't have his feet firmly on the ground right now.
Although he won't say it, perhaps Whyte's best chance of winning tonight is the fact that Povetkin is coming off a COVID 19 illness that had him quite sick for a period of time in late 2020.
As we saw with his physique last Friday, Povetkin doesn't look nearly as trim as he was last August for the first fight with Dillian.
It's fair to say that the COVID 19 illness that Povetkin battled for months is the chief reason for him not being as toned as he was last time he fought Whyte.
If Povetkin isn't 100% for this fight, Whyte has a good chance of winning, but not because he's a better fighter or destined to win.
It would be more of a case of Whyte taking advantage of the timing of Povetkin's illness. It would be the same thing if Whyte were the one that had come down ill with COVID. If Povetkin fought him immediately after that, there's a good chance he would beat him.
"If you fight good fighters regularly, you will lose sometimes," Whyte said in rationalizing what happened to him.
"You have to be ruthless and fearless – that's how guys get up off the floor and win fights," said Whyte.
It almost sounds like Whyte is trying to give himself a pep talk in discussing his theory about how fighters lose regularly.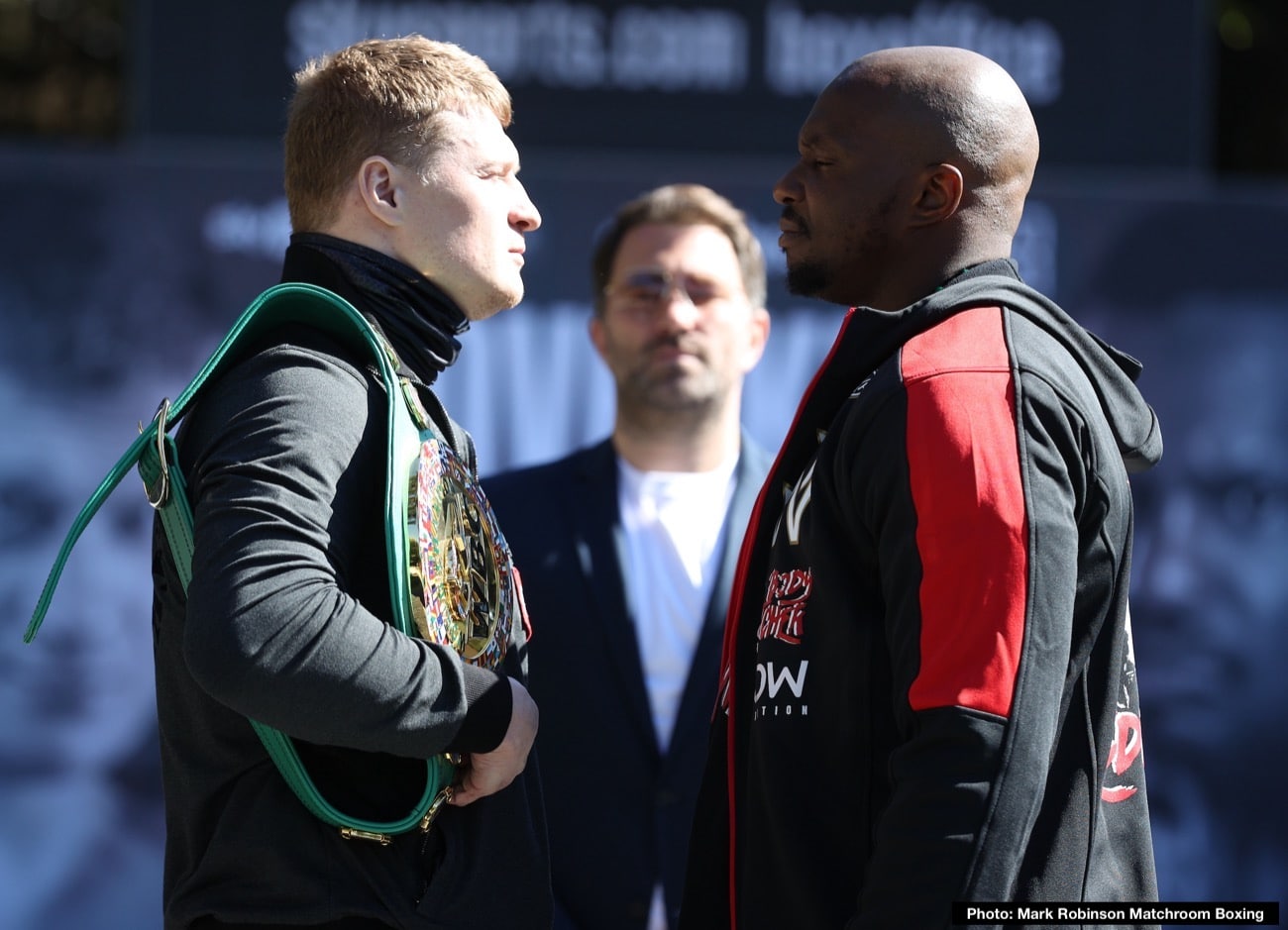 With the way Whyte is still talking about his previous loss, that suggests that he's haunted by the defeat, replaying it over and over in his head like old tape. That's not good.
Whyte needs to quit talking about his loss and get over it already. He got caught by a perfect left uppercut by Povetkin in the fifth round last time, and it's late to change what happened.
For Whyte to still be droning on about that defeat, he is obviously troubled still, doubting himself and trying to assemble what happened to him in his mind.
"I could've taken more advantage of those knockdowns in the fourth last time, but that's heavyweight boxing," said Whyte in a glimpse of what's going on mentally with him replaying old images.
What kept Dillian from knocking out Povetkin in the fourth round last time is the fact that the Russian wasn't hurt badly enough for him to finish the job.
It's pointless for Whyte to be kicking himself for not putting Povetkin away in the fourth round after dropping him twice because he wasn't hurt badly enough.