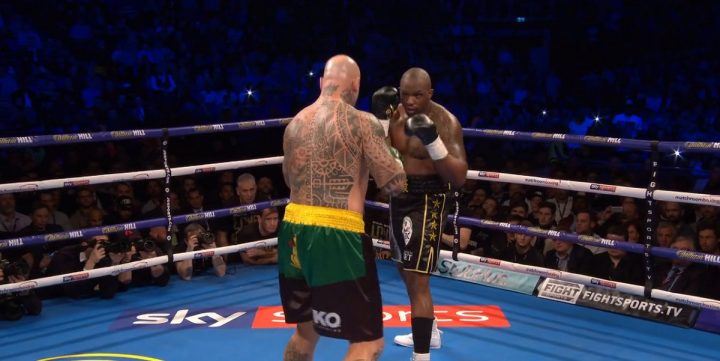 British heavyweight Dillian Whyte, a man who seemingly wants to fight just about everyone – be it Dereck Chisora (again), Jarrell Miller, Deontay Wilder, Joe Joyce and Anthony Joshua (again) – insists that should he face Luis Ortiz in a WBC-ordered "second final eliminator" he would "dismantle" Ortiz and "leave him in a bad way".
Speaking with iFLTV, the once-beaten Whyte says he will get it on with Ortiz if that is what it takes to get a shot at WBC heavyweight king Deontay Wilder.
"Deontay Wilder doesn't want it. He keeps coming up with excuses, he keeps trying to put barriers in-between me and him," Whyte said. "Let's break this down for the people. He [Wilder] just fought Ortiz, [a] voluntary defence. Ortiz is ranked way below me. You knock him out – how can he just get knocked out in a voluntary defence and automatically he's back in title contention again! No. When you lose for a world title, you go all the way down. When you lose you build back again. But like I say, if Ortiz wants it, he can have it. But only if Deontay Wilder agrees to fight me next and nobody else."
A while back, Wilder actually stated how he WOULD fight Whyte, if Whyte fought and defeated danger-man Ortiz the way he himself did back in March. Will Whyte now take on the Cuban southpaw who, despite his age, is always a genuine threat to any man he climbs into the ring with? For the fans, it would be an interesting fight; maybe a great action fight.
Whyte is certain he would beat Ortiz; but then the outspoken Londoner comes across as a man who believes he can beat anyone he fights.
"He'll get tired and I'll leave him in a bad way," Whyte said of Ortiz. "A bad, bad way."
Ortiz does want it, so let's see this fight happen. Fans would stand for a Wilder-Ortiz II or a Wilder-Whyte fight. But which would we get if the two contenders met?