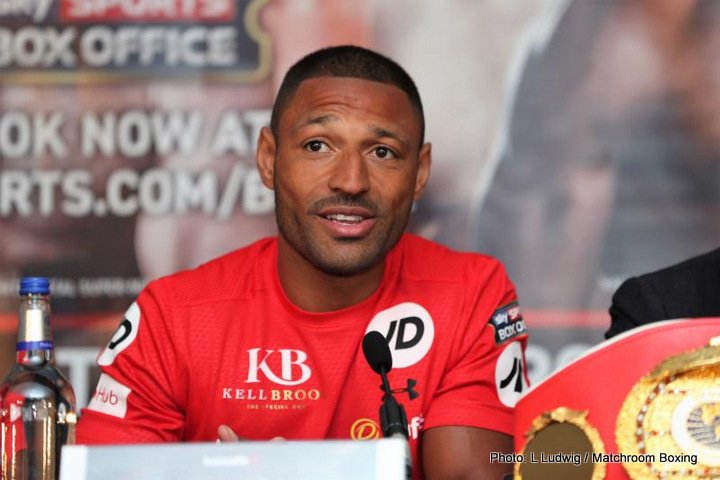 Former IBF welterweight champ Kell Brook got the job done last night against the little-known Michael Zerafa in their 150-pound catch-weight bout, but the Sheffield man is not exactly being showered with praise for his performance. Ring-rust no doubt played a part, but some fans have taken to social media t argue how Brook is "finished." Who knows, maybe at top level he is?
But Brook, who improved to 38-2(26) with his wide decision win over the now 25-3(14) Australian, insists he is far from finished. Speaking with Sky Sports after registering his first win since March, Brook said he wants to "shut up Amir Khan and then move on to the big boys." Though last night's win saw Brook become the mandatory for 154 pound titlist Jarrett Hurd, the 32 year old again called out Khan, and Errol Spence and Shawn Porter.
"I will go down to welterweight, I will do the rehydration, we will do the deal live on television," Brook said last night on the subject of that long awaited Khan showdown. "It's not my fault it hasn't happened. I want the fight. I want to shut him up and move on to Spence and Porter. I want the big boys."
Promoter Eddie Hearn suggests that as average as Brook looked last night, Khan will be calling for the fight now more than ever, convinced as he is that Brook is all but done. Again, maybe Brook is all but done, but fans still want – even need – to see that Khan clash. It's been too many years in the making for it not to happen. Still, Khan has other options (that fight with Terence Crawford having been offered to him) and maybe so does Brook.
Should Brook stay at 154 and go for the Hurd fight, or could he maybe land a rematch with Porter (who he defeated to become IBF champ some years back) or even Spence (who stopped him to take his IBF title)?
It seems neither Brook nor Khan has too long left (both are now aged 32) and maybe they should end their careers by facing each other.