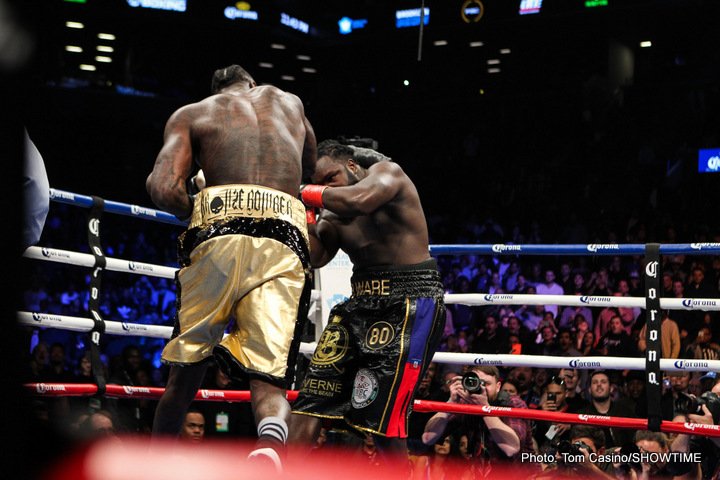 WBC heavyweight champion Deontay Wilder wants an 50-50 split of the money for a unification fight against IBF/WBA heavyweight champion Anthony Joshua (20-0, 20 KOs) next year. It's unclear whether Wilder is serious about wanting a 50-50 split of the money for the fight or not.
Wilder isn't the one that does the negotiating. He's got his management that will be trying to work out a deal with Joshua's people. However, if Wilder has given his advisers Al Haymon and Shelly Finkel their marching orders not to accept anything less than a 50-50 cut of the revenue for the Joshua fight, then we have a big problem.
Wilder's stance on wanting half the money for a fight with Joshua could be the straw breaks the camel's back. Joshua's promoter Eddie Hearn doesn't feel that Wilder is in the same league as Joshua as far as what he brings to the table for this fight. Hearn doesn't rate Wilder as being anywhere close to the same commercial fighter Joshua is in the UK.
"We're not going to get less than what it is," said Wilder to 78SportsTV. "It's a 50-50 fight, period, point blank. No matter what he's got going on his country, I'm the man to beat. Everybody knows this. Everyone knows I'm a beast. I'm their worst nightmare. When it comes to Deontay Wilder, me and Joshua will be big in 2018," said Wilder.
If Wilder is 100 serious and ready to walk away from the negotiating table, then it puts Joshua and his promoter Eddie Hearn in a tough situation. They can give Wilder the money he wants or go in the opposite direction towards fights against Tyson Fury, Jarrell Miller and Dillian Whyte. Wilder could put himself in a better position to negotiate if he opts to let Joshua defend his title for a little while longer before he attempts to put together a fight with him again.
The way that Joshua is fighting now, it's only a matter of time before he loses his belt to one of the contenders. Joshua's stamina is getting worse with each fight, as puts more muscle. He's not fighting as well as he did when he first turned pro in 2013. Joshua is slowing down as he approaches 30, and he's looking beatable against older guys like Wladimir Klitschko and Carlos Takam. Joshua could lose to an in shape and motivated Tyson Fury or even Jarrell Miller. All it takes is one loss for Joshua and that'll put Wilder in a great position to get the 50-50 deal that he's asking for right now.