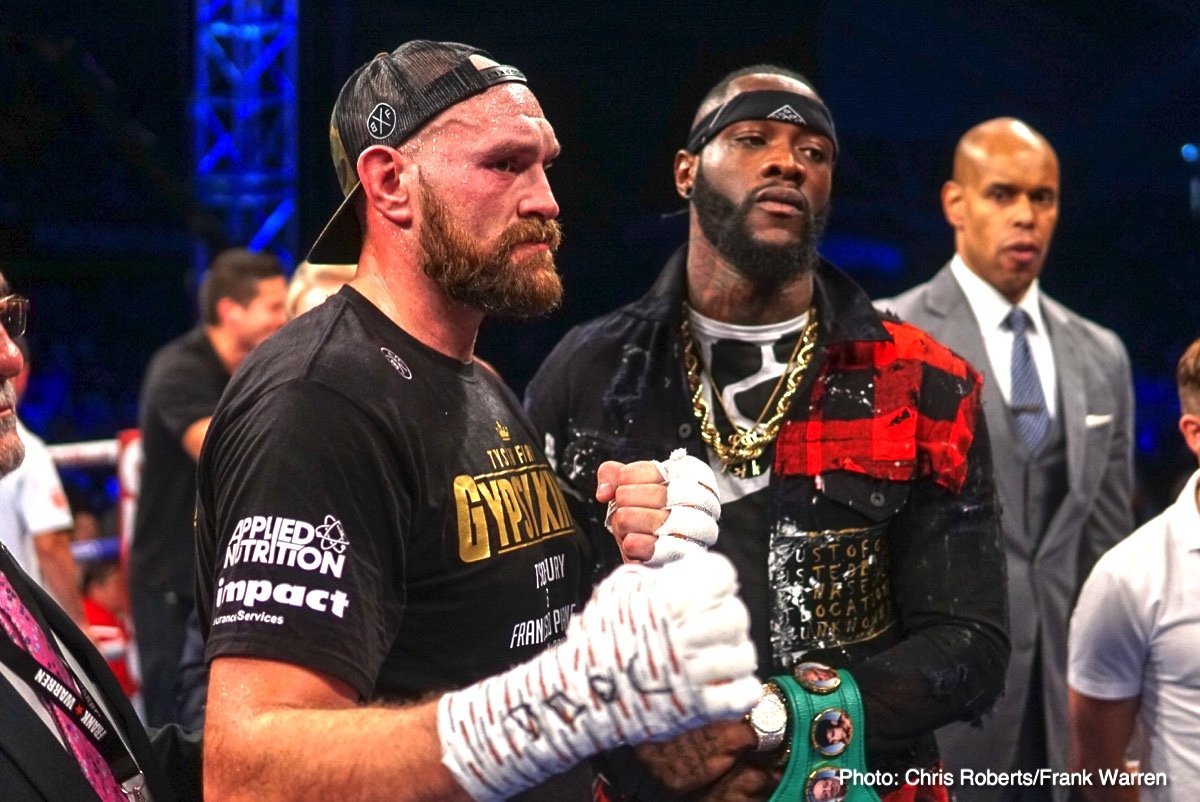 Deontay Wilder and Tyson Fury have signed their contracts for their December 1, and their fight is now official for that date. Wilder-Fury will be shown on pay-per-view on that date. Wilder (40-0, 39 KOs) will have his World Boxing Council heavyweight title being defended against former IBF/WBA/WBO and Ring heavyweight champion Fury (27-0, 19 KOs) at a still to be determined venue on the 1st and December.
Both fighters signed their portion of the contract and the fight is now golden for December 1. There's a 3-city press tour beginning on October 1 in London, England. From there, the press tour will travel to New York City, New York and finish in Los Angeles, California.
There's a lot of excitement about this fight, as pits two of the biggest heavyweights in the division. Deontay Wilder takes on the best heavyweight in the division from three years ago. Fury unseated former unified champion Wladimir Klitschko in 2015 in beating him by an impressive 12 round unanimous decision.
Fury's offense consists of a lot of slapping shots that he likes to land. For Fury to beat Wilder, he's going to need to land a lot of his shots. That's the tricky part. For Fury to beat Wilder, he'll have to put himself in danger for 12 rounds in order to land enough slapping shots to win a decision. There's little chance that Fury will knockout Wilder because he doesn't hit hard enough. Fury is risking it all in taking his fight with Wilder.
Tyson has only had two fights since he returned from a 2 ½ year timeout from boxing, and those fights were against weak opposition in Sefer Seferi and Francesco Pianeta. Although Fury won both fights, he looked rusty in both of them and not like the fighter that beat Klitschko. Even if Fury was at the level that he was at back then in 2015, he would still have a lot of problems with Fury's size, power and hand speed. Wilder isn't afraid to let his hands go. Fury looked good against Wladimir because the Ukrainian was afraid to let his hands go. It's going to be a lot tougher for Fury against Wilder. He's going to be looking to poleaxe him with every shot.
Wilder, 32, is going to have to figure out how to land his right hand, which is main weapon, against a moving target in Fury. Three years ago, Fury was able to neutralize Wladimir's powerful right hand and left hook with his movement. Wladimir was unable to land his jab as well. Back then, Wladimir had better hand speed than Wilder does now. If Fury was able to take away Wladimir's two main weapons, he should have little problems negating Wilder's right hand.