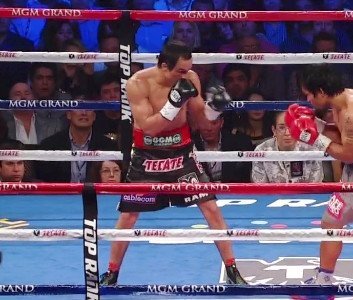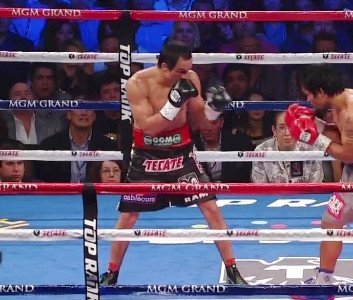 By Rob Smith: Juan Manuel Marquez riding high right now after knocking Manny Pacquiao out cold in the 6th round of their fight this month. Marquez avenged his two earlier controversial decision losses to the Filipino and did it in dramatic fashion by knocking Pacquiao completely out cold.
Marquez reportedly had promised his wife that the fourth fight with Pacquiao would be his last fight of his career and that he'd retire after that, but Marquez is now considering fighting on. For him to do that, however, he's going to have to convince his wife, who wants him to hang up his gloves for good.
Marquez told the record.com.mx "I wish my wife would give the green light to continue and seek a fifth world title. I am trying to convince her."
There won't be any titles on the line for a fifth fight between Marquez and Pacquiao, so this would mean that Marquez is considering facing another opponent besides Pacquiao next year. The only one that's a logical fit for Marquez is WBO welterweight champion Tim Bradley, because he's a Top Rank fighter and Bob Arum of Top Rank would likely go for that fight.
It's understandable that Marquez's wife would want him to retire especially given the way that Marquez knocked Pacquiao out. She saw how dangerous boxing can be for a fighter in that bout, and that probably wasn't a pleasant experience.
The fight wasn't that easy for Marquez either. Up until the moment he knocked Pacquiao out, things were looking bleak for Marquez because he was bleeding from his nose, and he was taking a lot of punishment in the 5th and 6th from Pacquiao. Marquez had knocked Pacquiao down in the 3rd, but other than that the fight had been pretty one-sided with Pacquiao dominating with his faster shots. He was much faster than Marquez and landing a lot of shots.