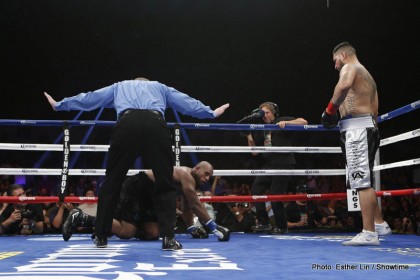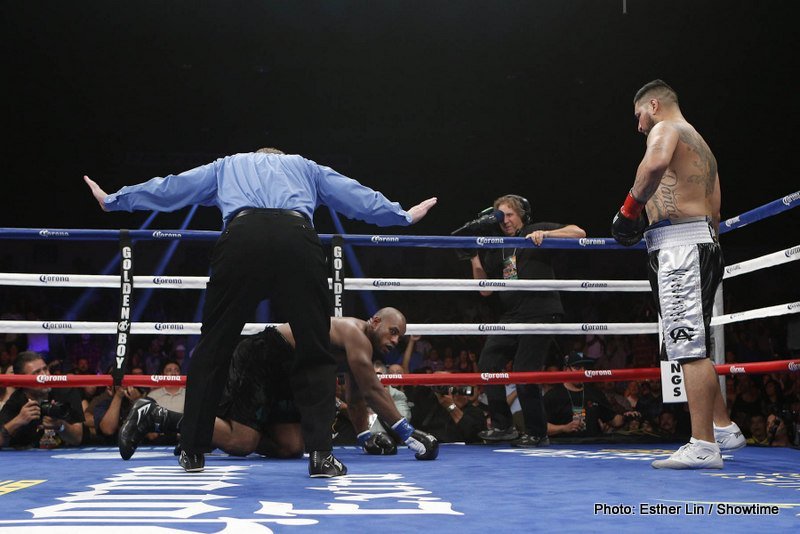 Unbeaten heavyweight Deontay Wilder (29-0, 29 KO's) can already smell fear coming from Chris Arreola (36-3, 31 KO's) now that he's in a position where Golden Boy Promotions is trying to match him up against him. Arreola destroyed Seth Mitchell (26-2-1, 19 KO's) in a 1st round TKO in Indio, California.
Deontay saw the fight he's licking his chops at getting Arreola in the ring to face him, and he's hoping Oscar De La Hoya of Golden Boy Promotions will be able to get Arreola to accept the fight.
Oscar sent out a twitter message to Showtime to see what they thought of the idea of Arreola and Deontay mixing it up. There's no question they'll go for the idea, especially after the God awful mismatch they televised tonight between Arreola and Mitchell.
Areola vs @BronzeBomber anyone? @SHOsports @GoldenBoyBoxing

— Oscar De La Hoya (@OscarDeLaHoya) September 8, 2013
@oscardelahoya @goldenboyboxing @shosports MAKE IT HAPPEN!!!!! Aerrola scared of me tho he's already trying to run

— Deontay Wilder (@BronzeBomber) September 8, 2013
Deontay is a whole different fighter than Mitchell, and I can see this fight going badly for Arreola due to Deontay's power, speed and reach. We saw how Bermane Stiverne was able to break Arreola's nose, put him on the canvas, and turn him into a meek punching back last April. Deontay is an even bigger puncher than Stiverne, and I could see this fight getting out of hand quickly due to Deontay's power and Arreola's lack of speed and defensive skills.
Hopefully Arreola doesn't say no to the fight with Deontay, because he's being called out now and if he doesn't accept the fight with the 6'7″ Deontay, it's going to look bad. Arreola will have a much different fight on his hands with Deontay compared to Mitchell, and it'll be fun to see how quiet Arreola gets in the lead up to the fight. Against Mitchell, Arreola was talking mucho trash, but then again he didn't have much to worry about with Mitchell because he'd already been exposed in the past by other heavyweights. With Deontay, I think Arreola will slip back into the passive mode he was in when he faced Vitali Klitschko and turned into a punching bag for him, and ended up blubbering nonstop after he got whipped by him.