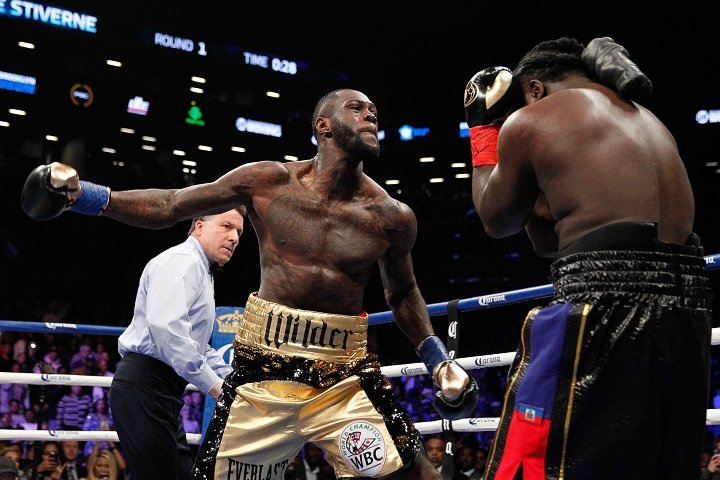 WBC heavyweight king Deontay Wilder has always insisted he would defeat Anthony Joshua, the reigning WBA and IBF champion, should they do as we all want them to, and meet in a super-fight showdown. But now, "The Bronze Bomber" has gone further: stating how he will not only defeat Joshua, 20-0(20) but that he will "end" his career.
Speaking with ESPN's Sports Nation, Wilder, 39-0(38) also stated how Joshua has "had it easy" in his career compared to him.
"Joshua, let's make this fight happen, man," Wilder said. "This is one of the biggest, most exciting fights in the history of the world. We could make records, we could set history on the time of the fight whenever it happens. I'm ready, I don't know about you. You've had it easy, it's been breezy for you. You're ready to fight low opposition and get paid millions of dollars and you don't want that gravy train to end, but I'm the man that's going to end your career."
It's quite strange how Wilder accuses AJ of having had a "breezy" time of things, opposition-wise. The exact same thing could be said, indeed has been said, of Wilder's quality of opposition. Joshua has overcome tough tests from Wladimir Klitschko (would the Klitschko that rumbled with AJ this April have possibly beaten Wilder) and Dillian Whyte (the man promoter Eddie Hearn wants Wilder to face next), while Wilder, the critics say, has just one impressive win on his resume: the first, decision win, over Bermane Stiverne.
Wilder is right about one thing though – a fight between he and Joshua would be huge (maybe not "one of the biggest, most exciting fights in history") but big enough. But will it happen, and if so when?
Wilder really is going all out to try and get Joshua to bite and agree to the fight, and it's now seemingly – hopefully – a matter of time (and money of course). Will Joshua make Wilder eat his words, or will the WBC champ really administer such a bad beating on Joshua that his career does indeed come to an end? That seems unlikely, and instead we might get two, maybe even three fights from these two big punchers.
Heavyweight boxing could certainly do with its next great rivalry. Maybe, just maybe, Wilder and Joshua are the men to provide it.