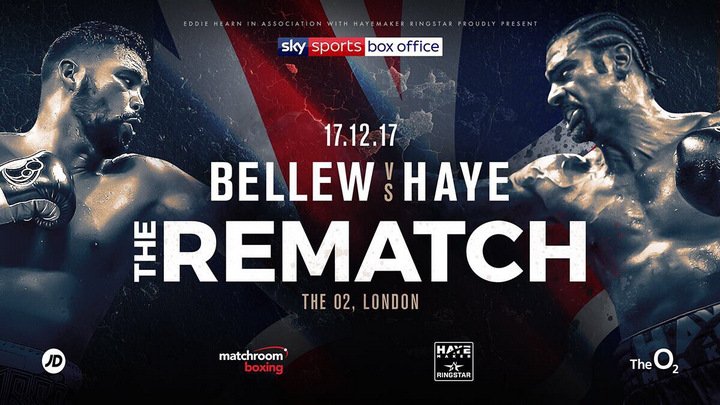 Tony Bellew (29-2-1, 19 KOs) believes David Haye (28-3, 26 KOs) will come in at the lightest weight in many years when the two face each other in one month from now on December 17 at the O2 Arena in London, UK.
Bellew, 34, thinks that Haye will lean for their rematch so that he can go all out in the early rounds. In Haye's previous fight with Bellew last March, he came in at 224 pounds, and he appeared and slow.
Haye was unable to land his right hand power shots on the surprisingly quicker Bellew. Haye later blew out an Achilles tendon in round 6, and was at the mercy of Bellew until the fight was stopped in the 11th round after he slipped out of the ring.
"Haye will be at his best and he'll be at his lightest in about five years. He'll be his lightest since I would say he's moved up to heavyweight," said Bellew to skysports.com. "I'm just going to go in there and do my job. I expect David to be fast, vicious, dangerous, but I will see that out, I will see through that period, and then I will take over in the fight," said Bellew.
5 years ago, Haye weighed 210 pounds for his fight with Dereck Chisora in 2012, and he was more than powerful for than fight. Haye didn't do much until he opened up with his left hooks and right hands in round 5. He quickly took Chisora out. It wasn't even a fight once Haye unloaded his power shots. If Haye fights like that on December 17, Bellew won't have much of a chance.
You can expect Bellew to fight mostly in brief spurts in the early going just like he did last time. Bellew will look to get away each time Haye comes forward, and use movement to avoid his big power shots. When Haye is doing little, Bellew will look to land one or two shots, and then move away.
For Haye to be effective with Bellew using that style, he'll need to pursue him around the ring the way that Adonis Stevenson did in November 2013. Stevenson didn't allow Bellew to move away from him without being pressured and cornered constantly. Stevenson was willing to take whatever shots he had to in order to land his own big punches. By the 6th round, Bellew crumbled under the pressure and was stopped. Haye can't let Bellew get away from him when he attempts to hit and move the way he did in their fight on March 4. Haye must chase Bellew until he lands his shots, otherwise the fight will play out just like their previous one.
Haye's fitness level will be key for this fight. He didn't look like he was in shape for the first Bellew fight. The weight that he came into the fight at slowed him down to the point where he was unable to get to Bellew quickly when he would move.
There have been injury rumors about Haye having some injury. Bellew doesn't believe the rumors. He thinks that Haye is trying to get into his head to throw him off from his training. There were rumors that Haye had suffered an Achilles injury the last time they fought, and that turned out to be true.