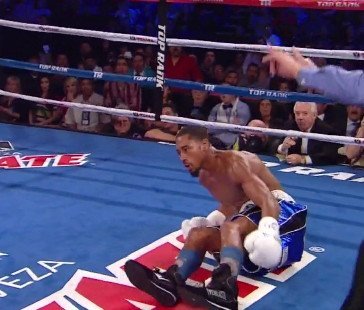 If anyone asked the newly crowned WBO Junior Middleweight Champion how he envisioned the opening stanza of his first major title opportunity playing out prior to Saturday night's match-up with Vanes Martirosyan, "getting floored" would have been the furthest scenario from the former Olympian's mind.
Although no fighter wants to overcome the adversity of getting caught by a sneaky left hand in the first round, it was the best thing that could have happened to the crafty southpaw.
In the outset of the highly anticipated contest, the fighter more affectionately known as "Boo Boo" seemed to be loading up on shots, while throwing just one punch at a time. After falling out of position while anxiously trying to land hard leather on Martirosyan's chin, the Armenian-born fighter countered with a perfectly timed left hand that dropped Andrade.
"He caught me early, but I stayed focused," admitted the 25 year old title holder. "I started using the jab from that point forward and began to pick him apart."
From the opening seconds of the following round, the talented and athletic fighter from Providence, Rhode Island began to implement a much more tactical fight plan that seemed to "freeze" the Los Angeles based pugilist.
Whenever Andrade was able to land his long, rangy jab with regularity, he kept Martirosyan at a safe distance while dictating the pace of the championship bout. But every time the 2008 Olympian would utilize the straight right hand with less rapidity, Vanes Martirosyan was able to let his hands go in combination; moving in and out of range with relative ease.
According to "CompuBox" statistics, Andrade threw 769 total punches and landed 219 of them. In contrast, Vanes Martirosyan only attempted 443 shots through twelve rounds of action, and connected with 97 total blows. More specifically, Andrade threw 469 jabs and landed 108, while Martirosyan only attempted 110 jabs and landed only 9 of them.
After twelve rounds of boxing, the judges rewarded Andrade with a split decision victory. Although one of the official scorecards reflected a Martirosyan victory with a 115-112 total, two of the three kings at ringside scored the bout 114-113, seven rounds to five, and 117-110, 10 rounds to 2, in favor of the new WBO Junior Middleweight Champion.
One of Andrade's promoters, Artie Pelullo of Banner Promotions, had much to say concerning his fighter's title winning effort.
"I'm so proud of Demetrius," stated the Philadelphia based fight promoter. "He really showed a lot tonight in his first big fight. Getting off the floor and finding a way to win is what champions do."
"He did a heck of a job tonight. This is the kind of fight that greatly helps a fighter grow mentally. He's only 25 years old, and he learned how to win by fighting through adversity. Vanes Martirosyan is a very smart fighter who is avoided by most in the Junior Middleweight division. He's a difficult style match-up for anyone, and Demetrius beat him."
Although Andrade just won his first world title in the Junior Middleweight division, his future might reside within the land of the Middleweights. Despite owning a piece of 154 pound hardware, more options could be available for him at 160 pounds.
The twenty five year promoter expounds on his young champion's future.
"Demetrius is going to see how he feels about making 154 pounds, and discuss it with his father, Paul Andrade, and his manager, Ed Farris, but it's entirely up to them," explains Artie Pelullo. "I believe he could be competing at 160 pounds very soon. He's a big Junior Middleweight fighter and is only 25 years old."
"Whatever he decides to do from this point forward, sky is the limit for this kid."