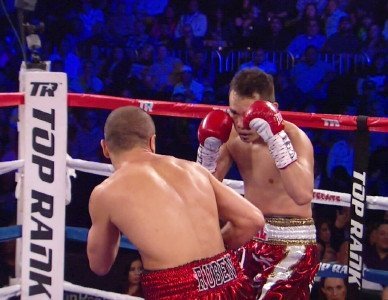 Saturday night at the American Bank Center in Corpus Christi, TX started slow with an ugly affair between two unbeatens, Demetrius "Boo Boo" Andrade (20-0, 13 KO's) and Vanes "Nightmare" Martirosyan (33-0-1,21 KO;s). After witnessing their ugly affair, you wondered how they stayed undefeated for so long. Vanes is trained by Freddie Roach, he was supposed to be the aggressor. Apparently no one told him that. His corner tried to, but their pleading between rounds fell on deaf ears. Viewers wanted him to do more, to do something to stop Andrade's clumsy attempts at controlling the action.
Early on there was hope as the "Nightmare" surprised "Boo Boo" with a counter left hook that left him on the seat of his pants. After that the unpleasantness set in and there was only one boo, and that was coming from the crowd. The crowd was justified. These two guys did their best to uglify their chances to capture the vacant WBO light middleweight title. How can anyone accurately describe the scene? How about trips, stumbles, wild misses, shoves, elbows, late hits, and an out of breath referee named Jon Schorle. Two judges scored the fight for poor Boo Boo only because he at least was doing something, albeit offensive as it was. Judge Javier Alvarez scored the fight 115-112 for the Nightmare. His view of the fight was frightening for HBO announcer Max Kellerman. He definitely got worked up over Javier's scoring, but it wasn't worth the effort. In fairness to Javier, he might have given Vanes a whole bunch of penalty points for all the infractions committed by Boo Boo. Regardless, it wasn't worth worrying about, because everyone wanted to shove memories of that fight off to the side and move on to the promise of something good with Donaire vs. Darchinyan and Garcia vs. Martinez.
Several years ago Nonito Donaire scored a spectacular one punch knockout of Vic "Raging Bull" Darchinyan. According to Vic, that kayo win propelled Nonito along the path to stardom. Prior to that, it was Vic who was knocking everyone out. He seethed over the years about that black mark on his record. Since then he had lost, but only in close contests with top flight opposition. He felt the need for revenge. He studied film of the first fight, over and over again. He began to formulate a plan on how to avoid that big left hook and beat Donaire. The idea of doing so became his passion, his mission. Saturday night was his chance to right things and regain his spot at the top of the super bantamweight division. Initially the fight lacked punch volume, but no one seemed to mind, because viewers knew each man was carefully studying the other, looking for that one opening when he could end things. The tension was clearly visible in each man. They were wound tighter than a beautiful virgin on Fat Tuesday. She might be one kind of knockout, but these two guys had a completely different kind of knockout in mind. They wanted to be impressive in a totally different way. Theirs was a contest involving the most brutal kind of elimination, a lights out switched off endeavor. In a way, great fighters like these two, present somewhat of a conundrum. First, a fire is lit under them. That's what fans want. It results in some heated exchanges. Then, with two knockout artists, the temperature rises, and the heat of one extinguishes the light of the other. This rematch had many heated moments. Darchinyan seemed to have the better of it, as the southpaw cracked over some pretty good straight lefts, managing to get under Nonito's counter left hook. But, then Nonito got through with some good straight right hands. He wobbled Vic a few times, but overall Vic was controlling the action. The little Raging Bull even managed to employ one of his trainer's MMA techniques when he thew Nonito to the canvas. Tension remained high as each man landed good shots, with Vic holding a slight edge. Robert Garcia, trainer of Nonito, wanted more movement and feints from his fighter. He wanted Donaire to box more, and to use his height, reach and speed advantages. Donaire would try for a while, but his instinct to battle would take over, and he would end up stationary, planted, ready to land the big one. As it turned out, Vic was the one to land the first big one. Actually, it was a combination that hurt Donaire. But, just when it looked like Vic was going to be able to pounce, Donaire came back with his favorite weapon, the left hook. It was the punch Donaire wished he could have landed on Guillermo Rigondeaux. The hard punch put Vic down. Referee Laurance Cole administered the count, which Vic beat. Cole looked closely at Vic's eyes, while holding Vic's gloved hands in his. He wiped them off on his shirt, and then release them and stepped back. He instructed Vic to step towards him, while he asked him if he was all right. Instinctively, Vic answer that he was okay. Cole detected some unsteadiness, but he wanted to give the little Raging Bull every chance, so he allowed the fight to continue. The Filipino Flash swooped in like an eagle on a lake trout. He started wailing away on his wounded victim. He wasn't about to let him get away. Vic managed to block several shots to the head, but he didn't see or defend against the uppercuts that followed. The punches came unobstructed to his chin, and once again that unsteadiness returned, and Vic looked like he was out on his feet. Referee Cole jumped and stopped the fight. Nonito came away with a TKO win at 2:06 of the ninth round. He now has only one goal, and like Vic took into this night's action, Nonito wants revenge. There's only one guy out there that he wants, and that's his nemesis Rigondeaux.
The main event between Roman "Rocky" Martinez and Miguel Angel "Mikey" Garcia promised lots of action, and carried forth the rivalry between Puerto Rican and Mexican fighters. Martinez had more pressure on him, because WBO super featherweight belt was the only one held by a Puerto Rican. He promised to be the aggressor. He dismissed all the build up about the abilities of Mikey Garcia. He seethed when hearing he was the underdog. He would prove that was a mistake.
This fight started somewhat like the Donaire vs Darchinyan fight. Both men studied each other, looking for an opening, feinting and moving, probing and testing, gathering information. Rocky's longer, thinner build landed to him looking more lanky and loose. Mikey, as always, looked solid, moving just enough, always set. Toward the end of the first round, Rocky started to open up a bit, throwing more jabs, and trying to shoot a body shot in once and a while. It's fair to say that no fighter will get away with throwing something at Mikey, and not get something in return. When Rocky tried to increase the number of his jabs, Mikey followed the return flight of the punch with his own counter right hand. Mikey would invite a right hand, so he could reciprocate with his left hook. Sometimes he would try to anticipate the right and beat Rocky to the punch, but in the second round his counter punch efforts backfired on him, and Rocky caught him with a short right hand. The punch didn't travel very far, but it had enough juice on it to deposit Mikey on his backside. His expression was one of disbelief. He looked to his corner and exhibited a look of reassurance to them that he was alright. He easily beat the count, and did all the right things, letting referee Laurance Cole know that he was okay. As fans have come to expect, Mikey steadfastly increases his attack as he reads and times his opponents. The same was true with his efforts against Rocky. As the fight progressed, he gained greater accuracy with his punches. His hard jab got through at least half of the time. That allowed him to change it into a hook, followed by the right hand. Rocky began to look more and more befuddled. He tried to tough things out and fire back wild shots, that Mikey would successfully counter. Soon it became apparent that the end was quickly approaching. More and more, Mikey landed punches. First, it was the jab. Then the jab and the hook. Then the attack involved three and four punch combinations. Rocky was being battered all over the place. But, he continued to demonstrate his toughness and what a good chin he possessed. Toughness is not enough. A fighter can't continually take the kind of punches Mikey was delivering. Time was running out. Rocky kept raising his gloves for protection, and when he bent in at the same time, Mikey seized the opportunity to fire over a devastating hook to the liver. Down went Rocky, and from the painful expression on his face, you knew he wasn't going to beat the count. You knew the fight was over. Mikey might have been knocked down for the first time in his career, but he proved he knew how to handle that as well as everything else he does in the ring. His bit of revenge came in regaining a belt. He lost the featherweight belt on the scales, not being able to make weight. But, tonight he once again could be called champ, as he took Rocky's WBO super featherweight belt.