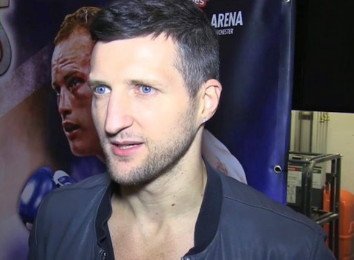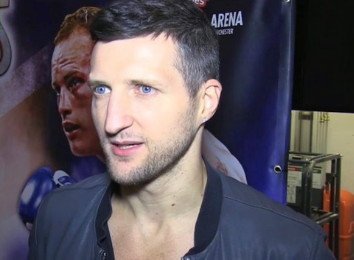 James DeGale thinks George Groves (19-0, 15 KO's) is wasting his time with his efforts to try and unnerve IBF/WBA super middleweight champion Carl Froch (31-2, 22 KO's) before their fight this month on November 23rd in Manchester, UK. Groves has Froch pretty flustered looking in their meeting on Sky Ringside last Thursday to the point where Groves felt that Froch was on verge of tears. DeGale thinks Froch is too good to lose to Groves .
DeGale said to the Daily Mail "George really believes he is going to win this fight but I have no idea where he gets his confidence. He comes across on TV like a cocky schoolboy but he's kidding himself that he's getting to Carl psychologically…I want him to knock him out. And I believe he will do that."
DeGale lost to Groves by a close 12 round majority decision two years ago. DeGale fought too passively in the first six rounds of the fight, and lost his chance to win it by not doing enough. In the 2nd half of the fight, DeGale took the fight to Groves and dominated the action. Froch will need to do what DeGale did by making Groves back up and fight on the defensive because he'll have problems if he lets Groves fight in his usual in and out style. Groves does well when he's able to move around and pick his spots where he wants to attack. Froch should be fairly familiar with Groves fighting style from their sparring from a few years ago. Froch knocked Groves down with a glancing shot during one of their spars. Groves says that he can back a couple of days later and gave Froch a pounding in another spar.
Groves has improved a lot in the last two years, so this fight could be interesting if he can take Froch's power shots without hitting the canvas. Groves will need to be able to prove that he can hurt Froch if he wants to gain his respect. If Froch doesn't respect him then he's going to make things miserable for Groves for as long as it lasts.
Groves does look like he's gotten into Froch's head in their meetings, and that might play a part in this fight if Froch comes out looking to get even with Groves. If Froch forgets himself and goes gunning for a knockout, he could run into a big shot from Groves and end up getting dropped. Groves made not get a knockout, but if he can drop Froch then it might be the deciding factor in him winning a decision if it's at all close.