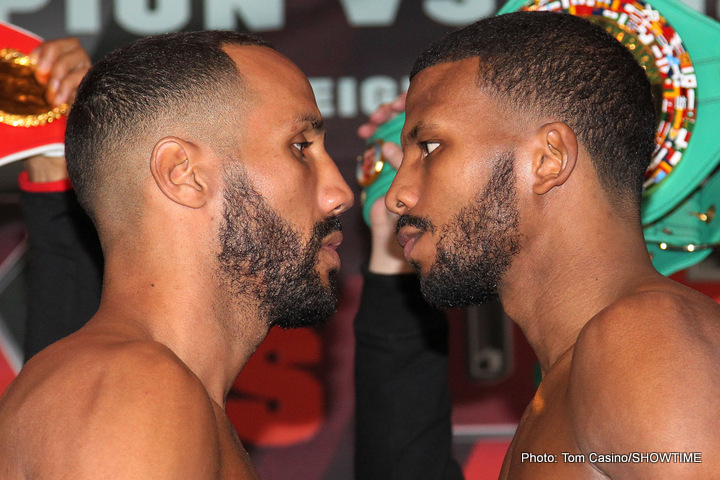 James Degale and Badou Jack meet in Brooklyn to find out who is the best fighter in the super middleweight division. On paper, Degale is the more skilled pugilist of the two while Jack is more consistent overall. The co-feature matches junior lightweight champion Jose Pedraza with a prospect beaming with potential in Gervonta Davis. This card is perfect way for the 2017 year in boxing to kickoff on Showtime for the fans and media alike.
In the past two years both main event fighters forged a turnaround in their careers after facing sizable adversity. James Degale lost a close point's decision to George Groves in a fight that probably happened too early at that stage. Badou Jack suffered a loss much more damaging via early knockout from a right hand by journeymen Derrick Edwards.
Degale rallied himself to several victories and eventually made a statement by stopping then unbeaten prospect Brandon Gonzalez. A year later he found his way to a championship shot against Andre Dirrell. Since becoming Great Britain's first Olympic Gold Medalist to win a world title belt, Degale defeated Lucian Bute and Porky Medina.
Badou worked his way back to a title opportunity versus Anthony Dirrell. After dispatching Anthony, Jack earned a tough victory over George Groves and fought to a disputed draw with Lucian Bute. Neither fighter had an easy path which makes this 168 pound fight for supremacy all the sweeter.
As far as the X's & O's each man's style is completely different then the other. Badou Jack has a straight-forward approach preferring to start with a jab aimed to the head and stomach regions. Jack's right hand is a tad underrated, utilizes it to the body and up top quite well. Jack is also a steadier and more consistent fighter throughout a 12-round bout compared to the spacey Degale. Badou fights using minor movement and keeps a good distance usually at a range to be able to land punch at all times.
James Degale is a hard nut to crack style-wise and very awkward with his punching angles. Degale's jab is snappy and he's got good hand speed to boot. The problem for James is staying the course for majority of the rounds.
Degale tends to go into cruise-control mode after hot starts. It's as if he gets bored in there, losing focus not to mentions points on the scorecards. When fully tuned in Degale is a handful with top-level skill throwing hooks, uppercuts, and landing pot shots on the move.
Even with Badou Jack sitting at a +240 underdog, this should be a very compelling unification main event. Look for Jack to stay even with the Londoner until late on. Once Degale begins to calculate and time Jack, he will likely pull away in the championship rounds.
My Official Prediction is James Degale by Majority Decision.
Also, on telecast is a power punching prospect named Gervonta 'Tank' Davis challenging 130 pound champion Jose Pedraza. Pedraza is a clear favorite due to experience as a pro and his ability to stick and move. Davis is very athletic and explosive when he contains his technique. Too often in past fights, Tank has a bad habit of reaching and getting too wide and sloppy with his power punches. Don't be surprised if Davis gets down on the cards early only to be saved by his impressive power. This scribe will side with the skill and experience of Pedraza.
My Official Prediction is Jose Pedraza by Unanimous Decision.
Side Note: The overall card is stacked from top to bottom. Not only the Showtime portion but prior to the doubleheader, Showtime Extreme features two interesting matchups: Amanda Serrano vs. Yazmin Rivas (woman's title bout) and Ieugen Khytrov vs. Immanuel Aleem in a battle of unbeaten middleweight prospects.
Written by Chris Carlson Host of the Rope A Dope Radio Podcast available at blogtalkradio.com/ropeadoperadio or Subscribe on iTunes. Visit The Rope A Dope Report YouTube Channel & Follow on Twitter @RopeADopeRadio