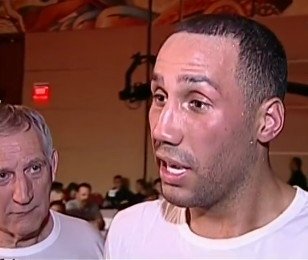 Boxing fans will be seeing #1 IBF, #4 WBO James DeGale (19-1, 13 KOs) stepping into the ring to fight #11 WBC Marco Antonio Periban (20-2-1, 13 KOs) on 11/22 at the Echo Arena in Liverpool, UK. DeGale's promoter Eddie Hearn made the announcement that DeGale-Periban has been added to the Tony Bellew – Nathan Cleverly 2 card as likely the chief support. Periban is a decent, but hardly great opponent.
It would be a lot more interesting to see DeGale fighting the guys that recently beat Periban in Sakio Bika or J'Leon Love. Hearn obviously doesn't want to take any chances of DeGale getting beaten by matching him against someone with a decent chance of beating him like Bika and Love.
DeGale needs a win over Periban for him to stay alive in his hunt to fight for the International Boxing Federation super middleweight title, which is currently held by Carl Froch. Either Froch will face DeGale on January 31st next year or he'll vacate or have the title stripped from him by the IBF for failing to defend it against DeGale.
If Froch doesn't fight DeGale then we'll be seeing DeGale facing one of the top contenders for the vacant IBF title. It's quite likely that DeGale will get an even weaker opponent than Periban to fight for the vacant IBF title unless someone like Gilberto Ramirez, #4 IBF, agrees to fight him.
The fight card will be shown on Sky Box Office and it'll be a pay-per-view. It's kind of a controversial move on Hearn's part top ask boxing fans to pay to see the card because it's hard for some fans to get excited about paying to see the likes of Cleverly and Bellew fight when both of them were recently exposed in knockout losses. It's a nice domestic level fight, but it's very difficult to picture the winner of the Bellew-Cleverly 2 fight moving on to beat any of the cruiserweight champions.
If this fight is as good as it gets for these two then it's not ideal in the minds of some fans that the card is a PPV one. The Bellew vs. Cleverly 2 winner could challenger WBO cruiserweight champion Marco Huck in the near future. I hate to say it, but Huck is bad news for either of these two guys. That's just the way it is.