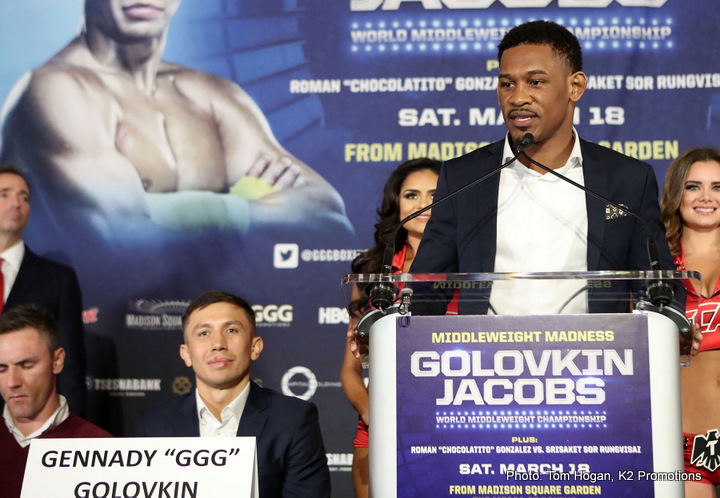 Former WBA middleweight ruler Danny Jacobs still believes, and he is still hoping. "The Miracle Man" fully believes he executed the perfect game-plan when he boxed world champ Gennady Golovkin back in March and that the 12 round decision that went to GGG should have gone to him – or, worst case scenario, the fight was a draw.
Jacobs, 33-2(29) in speaking with Premiere Boxing Champions, as quoted by RingTV.com, said he is absolutely certain he wins the rematch with the unbeaten Triple-G if there is one.
"That was a 50-50 fight, and I win the rematch, 100-percent," the 30 year old said. "I know how to fight this guy now, with no hesitancy because I've already experienced his best, and I'm still learning at 30 years old. But he's an older guy, and it's tough to teach and old dog new tricks. It's hard to knock out GGG, but we already know I have the speed advantage. I need to be more aggressive from the start. If I apply a little more aggression, stand my ground and keep his jab accuracy to a minimum, I win a decision."
Easier said than done, perhaps? If Jacobs, who was too cautious in the March fight in the opinion of plenty of fans, does open up more, he runs the risk of getting tagged and tagged hard. Can Jacobs really improve on his earlier performance? If we don't get to see GGG-Canelo II next May, maybe we will get to see this rematch instead – or maybe Jacobs will fight the winner if GGG and Canelo do clash again in May; as we all want them to do.
But right now Jacobs feels he beat Golovkin in their fist fight:
"I really feel that I executed the game-plan and gave myself a two-round edge in the scoring, but it comes down to how the judges score the rounds," Jacobs said. Golovkin was known as the power-puncher, and they like aggressive fighters. At worst it should have been a draw."
Again, can Jacobs possibly do any better in a rematch?