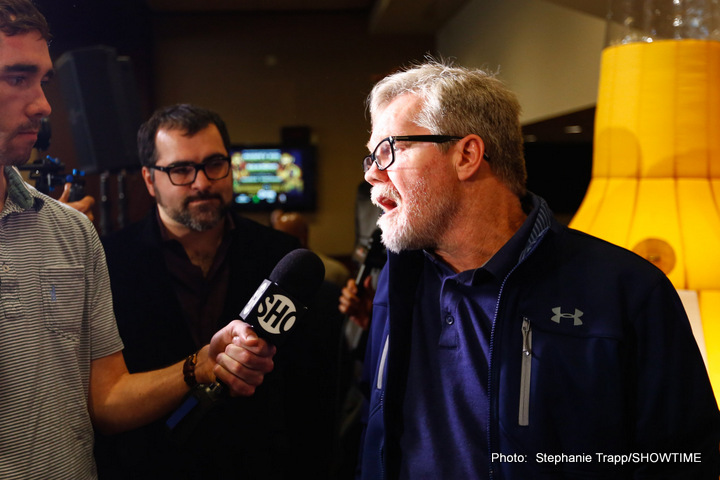 As fight fans know, the great Miguel Cotto – arguably THE greatest Puerto Rican fighter in history – is just one fight away from retirement. Cotto will face Sadam Ali on December 2 and then, that's it the four-weight king has said many times. Cotto's trainer Freddie Roach feels the timing is just about perfect and, as quoted by fighthype.com, he feels his other star fighter Manny Pacquiao might want to follow Cotto's lead and retire also.
"I think it's a good time for him [Cotto] to retire right now. I kind of wish Manny Pacquiao would follow his lead and retire also," Roach said. "Being a pro boxer and a senator at the same time is very difficult. He still wants a couple more fights. He's doing a good job as a senator right now, but not as a boxer."
Indeed, as Roach says, it is "almost impossible" to do two jobs if you're an elite-level boxer as Pac Man is. Or was? When you're long-time trainer, the guy who knows you better than anyone, is strongly advising you to call it quits, you'd better listen. But will Pacquiao? Does he still love boxing? Does the notoriously generous Pacquiao need the money?
If Pac Man does never fight again, he of course goes out a loser; dropping a debatable and controversial 12-round decision to Australia's Jeff Horn in Australia back in July. A rematch was widely expected (and could still happen) but so far, Manny has been attending to his political work and nothing much else.
Roach has always said he will support his fighter's decision, so if Pacquiao – who turns 39 next month – wishes to have one more, maybe two more fights, it's likely Roach will support him and work with him. If he does hang 'em up, Pacquiao will of course be sorely missed by the world's fight fans.
In his prime, back in 2008 to 2010, Pac Man was just about unbeatable. A slam-dunk for The Hall of Fame when the time comes, Pacquiao at one point had experts suggesting he should be placed somewhere in the sport's top-10 pound-for-pound best ever. With all that he's achieved, is there really any reason for the multi-weight king with the 59-7-2(38) record to fight again?
Freddie knows, but does Manny?