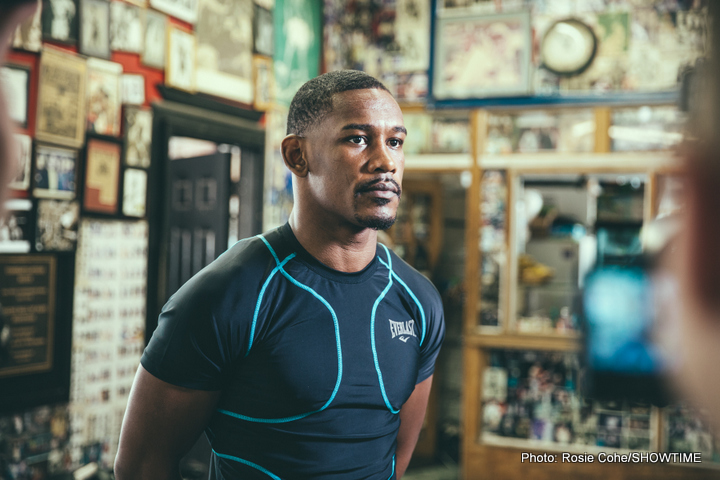 WBA (reg) middleweight champion, Daniel Jacobs (30-1, 27ko) believes that he will have a decisive edge over Brooklyn rival Peter Quillin on Saturday night at New York's Barclays Center, saying he is the fighter with the greater speed and skill set.
The winner of the fight will [still] be in the unenviable position of being mandatory challenger to Kazakh wrecking machine, Gennady Golovkin, who holds the top tier WBA strap as well as the IBF 160 lb title he ripped away from David Lemieux in October.
Yet with neither Jacobs, or former WBO titlist, Quillin, having appeared keen to sign on for a clash with Golovkin previously, fans hold little hope of this fight between them changing anything in that regard for the future, meaning that for many, the bout is being seen as of little immediate consequence to the middleweight division to anyone outside of New York.
"Skills pay the bills, I have a lot of skills over 'Kid Chocolate.' I think speed is my biggest advantage," Jacobs said via fighthub.
"We're both power punchers, he's probably a bigger puncher than I am, 'cause he's heavier than I am naturally, but that's an advantage to me 'cause the more muscle mass you have, the slower you are. With all that power, he has to get to me. It's no good just being a bigger puncher, he has to land those shots.
"If I can end it with a knockout, then that's what I'll do, but my main focus is to use my skills and use my advantages [to win]," he added.
Speaking about the future, Jacobs is making no secret of the fact that a Golovkin fight is not on his radar – at least for now – should he emerge victorious over the fellow Al Haymon advised Quillin, saying;
"I've just been focused on this [Quillin] fight for so long, so I'll have to wait and see who is the main man I'm gonna call out next. A lotta people say that's GGG, so as I'm working my way up the ladder, I feel that maybe I can get the Andy Lee's [WBO] or maybe the Canelo's [WBC], before ultimately getting 'GGG, you know what I'm saying?"
Jacobs/Quillin will be screened by Showtime (US) & Boxnation (UK)
Twitter @undilutedpoison