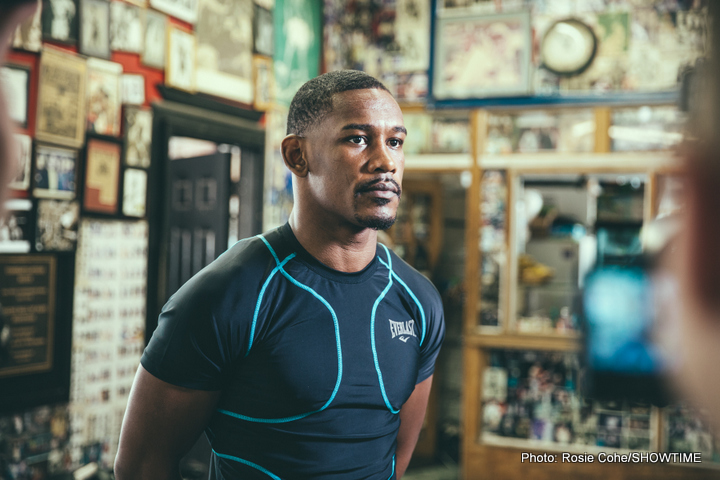 Shortly after the completion of the Canelo-Khan fight, Gilberto Mendoza, (president of the WBA) said he was waiting for his counterpart WBC Mauricio Sulaiman, to make the most expected fight between Saul Alvarez and his "mandatory" Gennady Golovkin.
Unfortunately, we all know what happened, the Mexican fighter gave up his middleweight title days after his famous post interview (after knocking out Amir Khan in 5 rounds) in where he challenged Triple G and went too far stating that it was time to stop "F around" and that he was ready to put his gloves on and get it on that same night.
Days later, Daniel Jacobs (who holds the WBA world title at 160 pounds), appeared on Facebook, taunting and mocking Alvarez in a video and made fun of the act of leaving the title and going down to the super welterweight division.
Ironically, now is Daniel Jacobs who is infected with the "Canelo's Syndrome" when he told FightHype.com," The fight against Triple' G 'will come at the right time. Whenever this fight arrives, it will be fine for me in all aspects, and that's the only reason why the fight has not been made. I know it will happen very soon. I'd say in the next year and a half or something like that. I want to pick up the belts, and then go for taste. It will be much more valuable rather than just do it at this time. I'll fight anybody, and I want to fight Triple 'G'. My point was that I wanted to fight BJ Saunders or possibly Canelo, and then go for Triple "G."
How Jacobs will be able to obtain all those middle titles? Golovkin owns the WBA super champions belt, the IBF and WBC. The other one (the WBO belt) is owned by BJ Saunders. We do not understand how Jacobs will be able to collect all the belts without going through Golovkin.
In fact, Golovkin is the mandatory opponent for Jacobs. The Kazakh is the WBA super champion, and Gilberto Mendoza, said they were ready to order that fight. Now, with the aim of Jacobs to wait 18 months to be ready to fight Triple 'G', is another "slap" to the face of the boxing fans.
Apparently, Jacobs, 28 years old, wants to wait longer because right now, he feels the fight is not offering the amount of money he wants to make. Jacobs believes that waiting for about two years, the fight is going to pay for itself and it will be a fight that HBO will love to build up. In the meantime, we would have to waste our time watching this called "soap opera" of Jacobs and Canelo trying to convince the fans that a fight of either one versus GGG needs to be marinated.
What is quite clear, at least for us; is that the virulent "Canelo's Syndrome" is invading boxing like a plague in such unprecedented speed, which threatens to bring down the most anticipated fights, and a shameful and even puerile way, boxers assume that boxing fans are taking their words for granted.