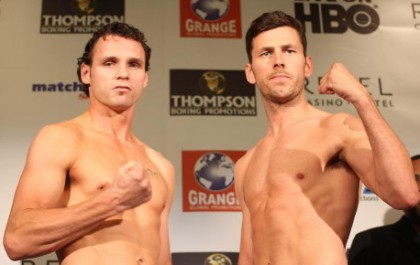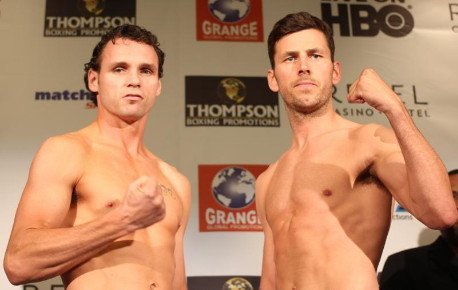 "Give me your tired, your poor, Your huddled masses yearning to breathe free, The wretched refuse of your teeming shore. Send these, the homeless, tempest-tost to me, I lift my lamp beside the golden door!" – Emma Lazarus, 1883
After being a professional fighter for almost nine years, 32 year old Daniel Geale will finally take his first steps through the "Golden Door" and showcase his talents on the "biggest stage of boxing" this weekend.
On Saturday night, August 17th, at the Revel Resort in Atlantic City, New Jersey, USA, the effective aggressor from "Down Under" will defend his IBF Middleweight strap against the always crafty Darren Barker in the main event of the evening, which is slated to be broadcast on HBO with a start time of 9:45PM EST/PST.
Despite currently holding the distinction as the most accomplished title holder in the talent enriched 160 pound weight division, outside of universally recognized champ Sergio Martinez, The Real Deal" still finds himself competing for the affections of the mainstream fight fan. With much of the media attention currently being directed towards WBA and WBO Champs Gennady Golovkin and Peter Quillin respectively, Daniel still seemingly has much to prove to the boxing community.
It's a status the humble but confident IBF Champ whole heartedly embraces.
"Over the years I've been underestimated a lot, and I enjoy being in that position," professes Daniel Geale. "That's when I'm at my best."
On September 1st, 2012, the "Tasmanian Devil" took on a seemingly insurmountable task by fighting incumbent WBA Champion Felix Sturm on a Sturm-Box Promotions fight card in Oberhausen, Germany. Although Geale was the reigning IBF title holder in the highly anticipated unification contest, most fight scribes and ringside experts felt that Geale ostensibly needed a knock-out to retain his title in the German fighter's backyard.
But with a firm belief in his abilities as a fighter and a champion, Geale proved his naysayers wrong by winning the WBA title, taking eight of twelve rounds on two of the three ringside judges' scorecards.
"No one thought I could win a decision in Sturm's backyard, especially after seeing how his controversial fights with Macklin and Murray played out. But it felt great to win that fight. We worked so hard to prepare for that big unification bout. Felix was so confident going into that fight, almost to the point of being a bit smug."
"But they underestimated me, and that was their shortcoming. There was no way I was going to lose that fight. The German fight fans knew that I had rightfully won the contest. They were very quiet throughout most of the fight as a result. If I had lost the majority of those rounds, they would have sounded much different throughout the fight and after the decision was announced. So it was nice to silence the pro-Sturm crowd in attendance and become a unified Middleweight Champion."
Although the Aussie native remains one of the more exciting and fan friendly fighters in the division and a legitimate 160 pound champion, most pundits and ringside experts don't view the continuously underestimated fighter as a serious threat to the universally recognized Middleweight throne.
This controversial sentiment is probably an indirect result of the painstaking decision made earlier this year by Geale's handlers to relinquish his WBA title and rectify the lone blemish on his resume, rather than defend his belt against his mandatory challenger; the undefeated and current WBA title holder, Gennady "Triple G" Golovkin.
Daniel reflects on what went into making that very difficult "business" decision.
"It was very disappointing to be stripped of my title after we worked so hard to win it," admits Daniel Geale. "But my team and my promoter felt that it just wasn't the right time for a fight of that magnitude to take place."
The proud IBF Champion wants his fans and the entire boxing universe to understand that his team's decision to give up the belt is definitely not an admission of defeat.
"That's the fight I think most fans want to see and that's the fight that will eventually be made. I want to fight Golovkin and I'm very confident that the fight will happen sometime very soon. I think it's very important the fight fans realize that I ultimately want a unification bout with Triple G."
Geale's eventual plans for Middleweight supremacy begin this Saturday night in Atlantic City.
Although most die-hard boxing fans are very familiar with the aggressive-minded Aussie Champion, few outside of the boxing community are aware of the current IBF Middleweight title holder's plight for super stardom.
Daniel's bout with Darren Barker this Saturday night on HBO is a conscious effort to create the demand for a big money showdown with Gennady Golovkin.
While many boxing pundits have openly criticized the Geale gameplan, Gary Shaw and company are right on target with their assessment in properly cultivating an eventual Golovkin vs. Geale mega-fight. A fight as impactful as the WBA Champion versus the IBF Champion deserves to be recognized as one of great importance and demand. As it currently stands, there isn't much demand for the consequential bout.
Daniel Geale is hopeful that an impressive showing against a very crafty fighter like Darren Barker on the biggest stage of boxing will spark interest among casual fight fans and ultimately create a mandate for a "Real Deal"/"Triple G" super-bout.
"I definitely think this fight against Darren Barker is going to help my cause," affirms Daniel Geale. "Although I think it's important to look impressive on HBO, I'm not going to do anything foolish against a very smart fighter like Darren. Winning the fight and retaining the title is my number one objective."
Those in the know of boxing realize that a convincing win over the defensive minded British challenger will indeed be an impressive feat, and Daniel's die-hard fans are well aware that the proud Aussie Champ can't help but fight in an exciting and captivating manner.
Will Daniel's performance on Saturday night create the much needed buzz that Team Geale is searching for?
Only time will tell.
But a main event appearance on HBO is definitely a step in the right direction.