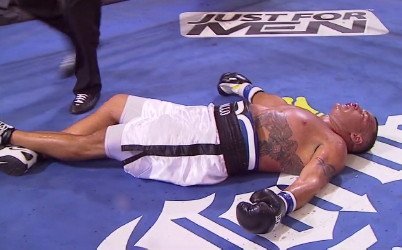 Light heavyweight contender Andrzej Fonfara (24-2, 14 KO's) kept himself in position for a title shot by defeating 34-year-old veteran Gabriel Campillo (22-6-1, 9 KO's) by a 9th round stoppage on Friday night at the U.S. Cellular Field, in Chicago, Illinois, USA. Campillo was pretty much finished in the 8th round after getting hit with a right hand that hurt him by Fonfara.
Campillo barely made it out of the round. But in the 9th, Fonfara knocked Campillo down with a right hand. The referee halted the fight at that point.
It was a good win for Fonfara, but the fight showed pretty clearly that he doesn't really have a complete game. Fonfara can't fight in reverse, he covers up like a sparring partner when attacked, and he doesn't have a lot of power. If you let Fonfara throw a lot of punches the way that Campillo did, he'll give you problems. But if you back him up and stay on top of him, Fonfara doesn't look good in that situation.
***
The co feature bout was an exciting heavyweight match-up with undefeated Artur Szpilka (16-0, 12 KO's) defeating Mike Mollo (20-5-1, 12 KO's) by a 5th round TKO. Szpilka knocked Mollo down with a left hand to the head in the 5th, and the fight was then stopped with Mollo still down on the canvas badly hurt. The official time of the stoppage was 1:41.
Mollo and Szpilka already fought last February with Szpilka stopping Mollo in the 6th round. You got to wonder why Szpilka isn't moving on with his career. When you knock a guy out, you're supposed to move forward with your career instead of turning around and fighting the guy again. That seemed a little strange. If this is as good as it gets for Szpilka then I can understand him fighting Mollo over and over again, but if he wants to try and accomplish something with his career then he's going to need to start fighting other guys with more talent.
Szpilka might have problems beating guys better than Mollo, however, because he was dropped by Mollo in the 3rd round, and that's not a good sign.
Szpilka needs a lot of work on his defense because he's too easy to hit, and he's not very quick either. Szpilka can't do anything about his lack of speed, but he can work on his terrible defense. Unless he fixes that, I can't see Szpilka ever becoming a good contender.
***
Other action on the card:
Adrian Granados TKO 6 Mark Salser