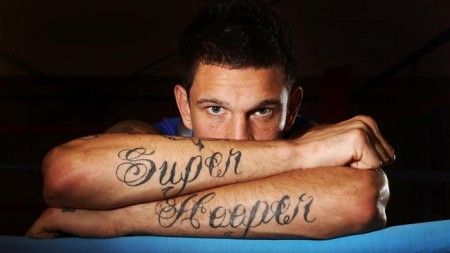 Australian Olympic team representative Damien "Super" Hooper is chomping at the bit to turn professional, just days after inking a management agreement with Xcite Fight Promotions. Viewed by many as potentially the most promising prospect out of the London Games, Hooper accounted for American Marcus Browne in the first round before being beaten by eventual Gold medallist Egor Mekhontsev in a close points decision.
At just 20 years of age, the Light Heavyweight is readying himself to get back into peak condition for his professional debut. "I can't wait to get in there and start putting people to sleep," he said. "The Olympics was an incredible experience and I've enjoyed a well earned break. But now it's time to get serious and become a professional fighter. I've just signed up with my new management team and I can't wait to get back into the gym". Hooper's professional career will be guided by Philippe Fondu, Brendan Bourke and Matt Clark.
Hooper will be trained by Gareth Williams, who guided him as an amateur and also trains a number of professionals such as Hooper's Olympic team-mate Cameron Hammond, currently promoted by Hatton Promotions Asia Pacific and Welterweight prospect Paddy Murphy. "Damien has the potential to be a world champion, there's no denying that," Williams offered. "It's up to him though to stay focused on his boxing goals and I think he's ready to do just that".
"Quite simply, Damien Hooper is the most exciting talent to come out of Australia in a long, long time," added Bourke. "There's a long way to go obviously, but we're hoping he can become Australia's third ever Light Heavyweight champion, after Jeff Harding and Danny Green. We're looking forward to building Damien's profile and hoping fight fans enjoy the journey. We're looking at a professional debut in March, but we've got to arrange the details".
"I'm looking to move to Brisbane shortly and begin training," said Hooper. "Tell all the readers on Eastsideboxing.com to follow me. I'm going to start making some noise at 175lbs very shortly. I was putting people to sleep in the amateurs with those pillows for gloves and head guards. I'm excited about becoming professional. I'm pretty confident that boxing fans are going to enjoy my style".