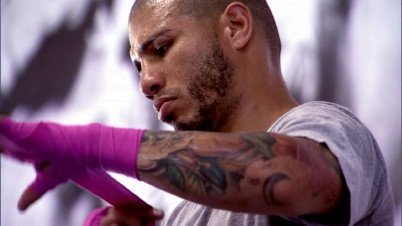 By Rob Smith: Boxing star Miguel Cotto (37-3, 30 KO's) has the experience going for him against WBA World junior middleweight champion Austin Trout (25-0, 14 KO's) but that might not be enough for Cotto to get the win when the two of them meet up on December 1st at the Madison Square Garden in New York, New York. Cotto is dealing with youth, speed, size and just pure athleticism against Trout. I mean, let's face it; Trout is the better athlete and you can see that just from watching one round of action from one of his fights.
Trout is the more skilled fighter and just looks natural. In contrast, Cotto looks like a fighter wearing a bad pair of shoes that are too small for him. It's pretty painful to watch Cotto move around the ring, because he looks like he's on a pair of pair of ice skates for the first time and isn't really sure of his footwork. Trout isn't someone that Cotto is going to be able to overpower like the guys he's beaten in the past.
The problem Cotto will have is Trout's defense and size. He doesn't get hit a lot because he's got such long arms and knows how to keep his opposition on the outside. And Cotto isn't going to win this fight by jabbing Trout. Cotto may have a good jab, but he can't win this fight with that weapon because Trout has a lot more than that in his arsenal. Cotto is going to be forced to take chances and it's going to be difficult for him because of how elusive Trout is.
This is just a really bad match-up for Cotto. If he had really thought this out he would opted to fight someone like Saul "Canelo" Alvarez instead because that guy is more suited to Cotto's style of fighting compared to Trout.