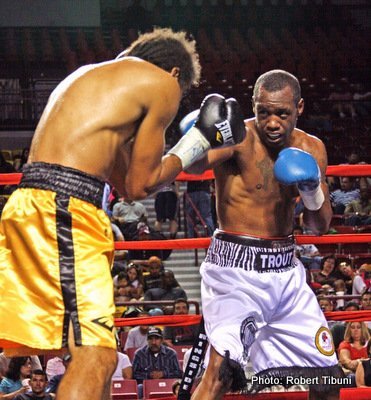 By Joseph Herron – With less than two months until the highly anticipated face-off between three division world champion Miguel Angel Cotto (37-3, 30 KOs) and Austin "No Doubt" Trout (25-0, 14 KOs), many fight scribes and boxing fans are concerned that the Caguas warrior picked on the wrong Junior Middleweight title holder.
The current WBA Junior Middleweight Champ is quite certain the future Hall of Famer made a miscalculated decision in selecting him as an "opponent".
"First of all, Miguel Cotto is a warrior who has never backed away from any challenge, and I've always had the utmost respect for him as one of the best representatives of the sport," admits Austin Trout. "I am very grateful for the opportunity to fight him on December 1st at Madison Square Garden. But with that said…he messed up."
"He shouldn't have done it, because I'm going to win this fight. I honestly don't see how I can lose against Miguel Cotto."
Although the Las Cruces, New Mexico resident is always confident before a big fight, Austin seems eerily self-assured that he will indeed be successful on December 1st.
"Without taking anything away from Miguel Cotto, I just feel that I will be the faster, stronger, taller, and better technical fighter on fight night. I believe that I have better attributes on many different levels. I know he is a very good puncher and a smart fighter with a lot of experience in the ring, but he's also 5'7" with a short reach."
"I know how to use the ring effectively against an aggressive fighter. I know how to use my jab against smaller fighters and take away all of their weapons in the ring. It's going to be a very long night for Miguel Cotto."
The 27 year old title holder will undeniably enjoy a three inch height advantage and a five inch reach advantage when he and the eleven year veteran meet in the ring. But the Puerto Rican favorite has been able to overcome similar disadvantages facing larger Junior Middleweight fighters in previous match-ups.
In June of 2010, Miguel Cotto originally won the WBA Junior Middleweight title when he defeated the 5'11" Yuri Foreman in Yankee Stadium by placing intelligent pressure on the fleet footed Belarus native.
During his title winning effort, the 31 year old fighter cut off the ring effectively and worked his way inside Foreman's defense by using his forceful, piston-like jab sporadically. Under the tutelage of legendary trainer Emanuel Steward, Cotto also took away the defending title holder's height advantage by shooting his left hand to the eyes and forehead of the much taller fighter; ultimately forcing the rangier boxer to crouch down to a smaller level.
But will Miguel Cotto be able to use his jab effectively against the technically proficient Austin Trout?
In his previous outing against the always formidable Delvin Rodriguez, the current WBA Champion used his southpaw stance and brilliant footwork to negate the customarily effective jab of the 32 year old fight veteran.
According to compubox statistics, Delvin was only able to land 6 of 160 jabs thrown throughout the twelve rounds of action; a staggering 4% connect ratio. Without the benefit of a successful jab, Rodriguez was unable to set up any significant offensive attack during the entire championship bout.
Will Miguel Cotto be able to apply his usual brand of intelligent pressure without the use of his primary weapon? Will Austin Trout be able to successfully negate the lead hand of the most experienced and decorated fighter he's faced to date?
According to the young title holder, there's no doubt he will be able to take away Miguel Cotto's entire arsenal of punches on December 1st.
"I know everyone keeps saying that I've never had to face a fighter on Miguel Cotto's level, which is true. But Cotto has never faced a fighter quite like me either. I'm a complete fighter. I can take the lead and also use the entire ring proficiently. I can be the matador or the bull. I have deceptive power in both hands. I can use my height and reach extremely well and can also fight on the inside effectively when I have to."
"I've been preparing for this fight my entire life and I will be victorious on December 1st."