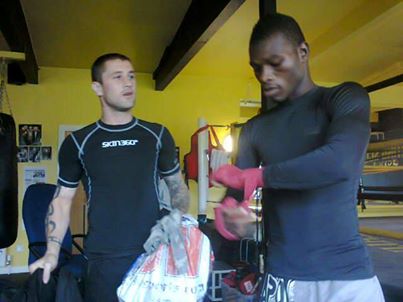 Highly rated boxer, Richard Oblitey Commey returned back home to Ghana last Friday to a gargantuan welcome at the Kotoka International Airport after beating Paul Truscott in London on July 13 in a final eliminator for the Commonwealth Lightweight title.
With new surprise recipient of the particular belt, Derry Matthews scheduled for his first voluntary defence against Curtis Woodhouse on September 21, Commey has returned home to train and possibly fight for the IBF International title before the eventual clash for the Commonwealth championship by close of year.
But perhaps the biggest gain of their journey to the United Kingdom may have been the one-week sparring and training camp they had with WBO Lightweight champion, Ricky Burns in Scotland as Burns prepares for the defence of his world title against Raymundo Beltran on September 7 in the United States.
"The trip was so great. We promised to win against Truscott and we did it so we know we are moving unto the next step from there. It's also so great for a world champion and his team to call us for sparring for their title defence. It has helped us too," Commey's trainer, Coach Lokko said.
"For them to call us, that means they have recognized what we are doing and is a good shot in the arm. We were excited because it is a good help to our camp as a whole and especially the boxer. It was a good exercise against quality, now he has been in there with the best so it gave him the chance to assess himself. Now he knows what he needs to add to reach that level," Coach Lokko added.
On the huge crowd that were at the airport to meet them, the trainer has only words of gratitude, same for Michael Amoo-Bediako, Commey's London based manager.
"Special regards to our manager, Mr. Amoo-Bediako, his commitment and support is unique. We also respect the GBA and the fans for coming to welcome us. For them to still come to the airport when we fought a long time ago, like 3 weeks before we come back and a lot of people still came. The media in general have been very helpful," Carl Lokko signed off.